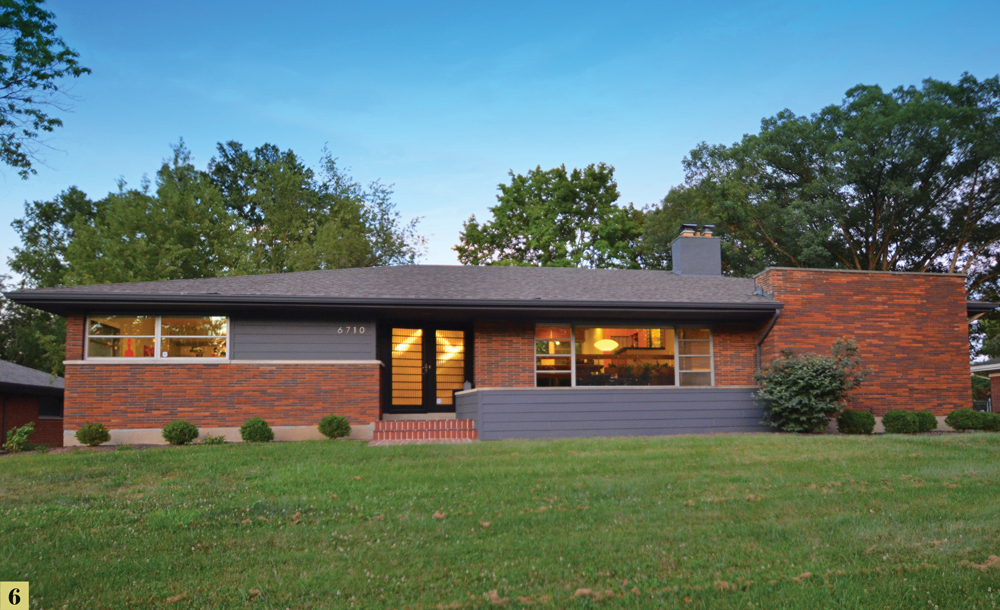 Nationwide, Mid-Century Modern homes are making a major real estate comeback. Originally built between roughly 1933 and 1965 and inspired by the work of architects like Walter Gropius, Ludwig Mies van der Rohe, and Frank Lloyd Wright, MCM home design reached the pinnacle of its U.S. popularity post-WWII, thanks in part to the baby boom and government-subsidized suburban development.
At their most basic, Mid-Century Moderns are modest, single story structures with open main living spaces. The era's most successful architects also worked diligently to make their homes efficient, architecturally interesting, and harmonious with nature, outside and in. Unfortunately, the style fell out of favor for several decades when home buyer tastes shifted toward transitional architecture, combining open floor plans with more square footage and more traditional architectural features.
But design is cyclical, and Mid-Century Modern is once again having a moment. Case in point, this 1953 Amberley Village home by Abrom Dombar, with updates by Chris Magee, which sold last summer in one day after six competing offers. Dombar, by the way, was a Cincinnati native who studied architecture with his brother Ben at Wright's Taliesin before returning home to practice here.
---

Six Elements of a Mid-Century Modern Home
1. The use of natural materials
A major hallmark of Mid-Century Modern design was the use of natural and organic building materials, "so the homes would blend into the landscape instead of popping out at you," says Cincinnati Preservation Association's Margo Warminski. This home features new cork flooring and the original vaulted mahogany ceiling, brick fireplace, and brick half-wall. Longer Roman-style bricks were the Dombars' hallmark, notes listing agent and MCM aficionado Susan Rissover.
2. Creative fireplace design
Thanks to the open floor plan concept, fireplaces in MCM homes often bridged more than one living space. Architects likely used that as an excuse to get creative, often including see-through or corner fireplaces in their designs.
3. In Cincinnati, split-level floor plans dealt with challenging lots
Though most Mid-Century Moderns weren't big on ornamentation, occasional flair was not unheard of; this original Hollywood Regency-style staircase with a curved railing is a good example. Split-level floor plans were also a common architectural response, says Warminski, to the "oddly shaped, hilly, or leftover lots" on which many MCM architects chose to build. Here in Cincinnati, such lots were a regular way of life for architects like Carl Strauss, Ray Roush, and the Dombar brothers.
4. Integrating the home with nature
An awareness of and integration with nature was a common goal for MCM architects; this would have been especially true for the Dombars after studying under Wright. This home achieves both through abundant aluminum frame windows and two indoor planters in the greatroom.
5. Use of built-ins
In a nod to more utilitarian architectural principles, MCM homes often included built-in furniture like this bench along the home's upper-level railing.
6. A sleek, low profile
This home's sleek, unassuming exterior, sited on a half-acre lot in Amberley Village, is Mid-Century Modern all the way thanks to the mostly brick facade and built-in planter beneath the main window.
Facebook Comments