In the market for a new home? Whether you're buying a starter house, stepping up in size, or downsizing, here are the best neighborhoods in Cincinnati you should check out, including a few outside-the-box suggestions.
Starter Homes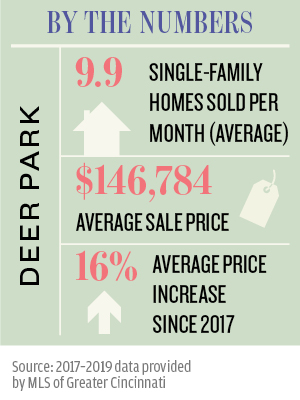 Deer Park
After years of first-time home buyers snatching up houses in Oakley and Pleasant Ridge, the overflow is edging farther north along Montgomery Road, to a place you might not expect: Deer Park. The main reason? The price is right. Adorable brick Cape Cods and ranches—some rehabbed, some not—are listed under $200,000 and selling fast. The small Cincinnati neighborhood is safe and walkable, with festivals, live music, and kids' events at Chamberlin Park, a draw for young families. While there aren't many restaurants, bars, or shops in Deer Park, Kenwood is right next door and everything on the east side is an easy commute.
---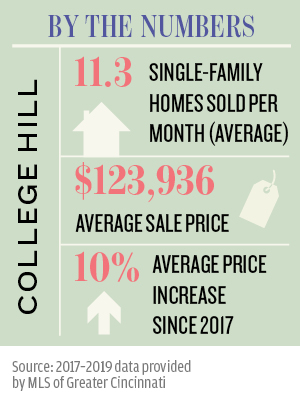 College Hill
Along Hamilton Avenue, Northside has been the place where the cool kids hang out. Just up the hill, however, College Hill is on the verge of becoming a spot worth a serious look for first-time home buyers. The College Hill Community Urban Redevelopment Corporation is working to revitalize the business district, with much success. Brink Brewing opened in 2017, followed by Tortilleria Garcia and Kiki restaurants. The tree-lined residential streets have affordable homes in a range of styles—Tudors, Craftsmans, and Cape Cods—loaded with character and just a short walk to the business district.
---
Step-up Homes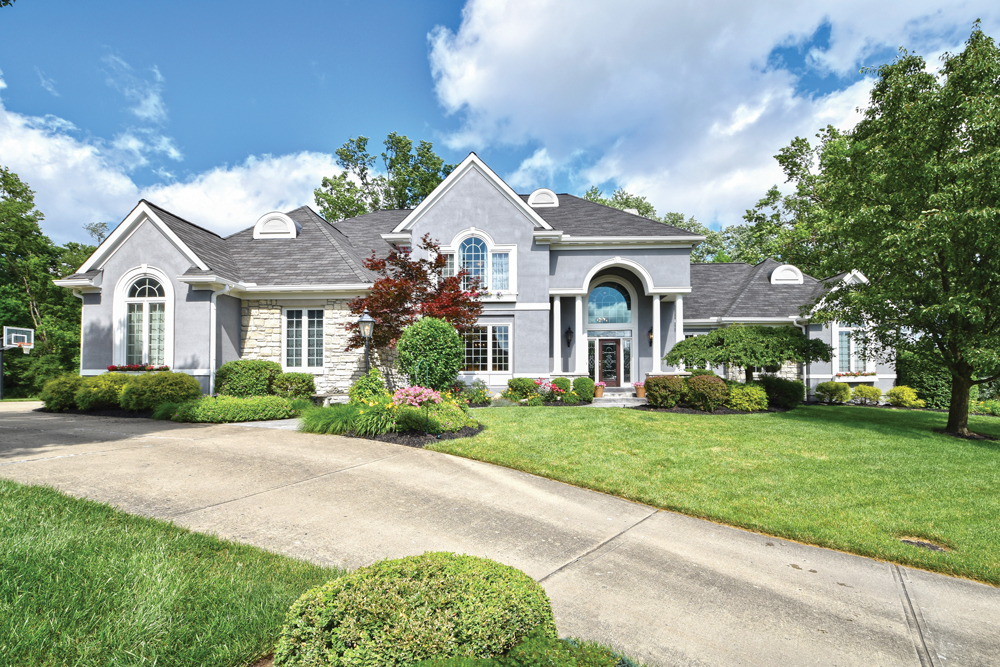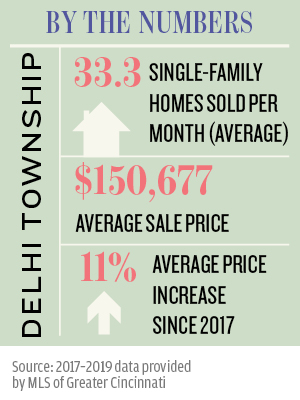 Delhi Township
The west side has finally gotten into the redevelopment game in recent years, with Westwood's business district overhaul and Price Hill's Incline District action dominating the headlines. If you're unfamiliar with that part of town, however, you've probably missed the growth of upscale subdivisions along Rapid Run Road and Cleves Warsaw Pike putting three-, four-, and five-bedroom homes on the market between $300,000 and $700,000—bargains compared to similar east side suburbs.
---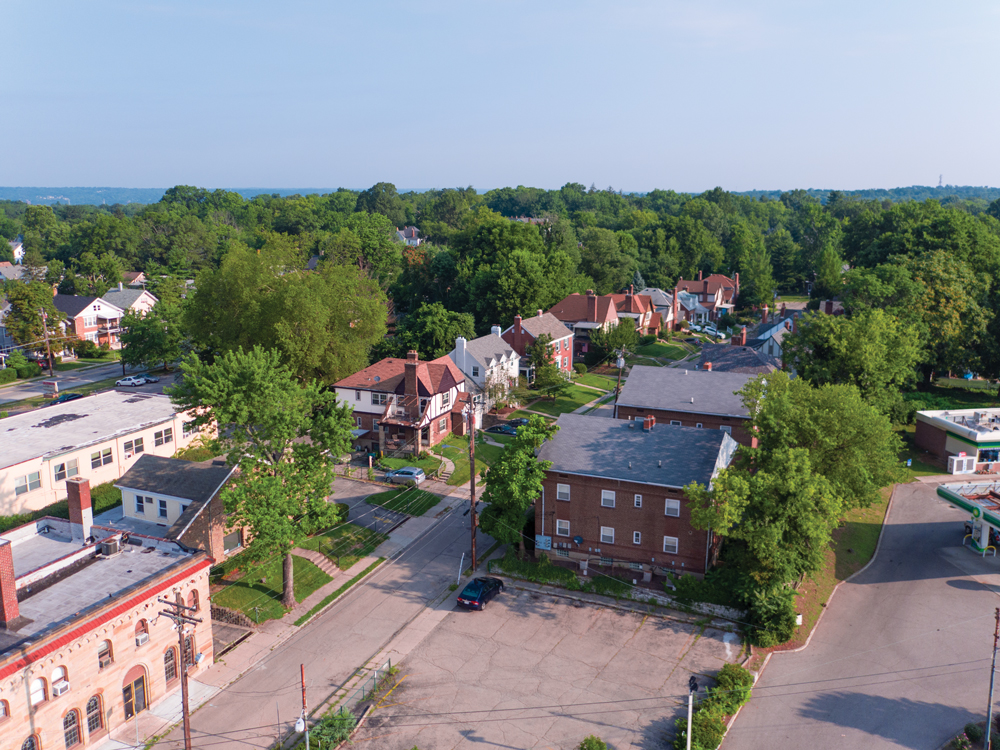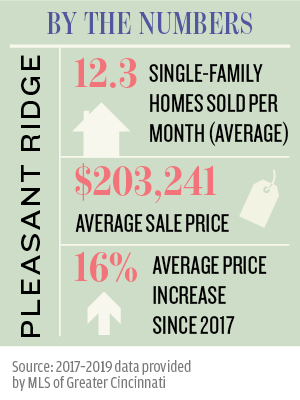 Pleasant Ridge
Small bungalows and Cape Cods have drawn young couples and first-time homebuyers to Pleasant Ridge for years. And as those young couples have grown their families, the Cincinnati neighborhood still has appeal—a struggling elementary school has become a thriving Montessori program, and private Nativity has been a National Blue Ribbon School. The business district has evolved: In 2010, the city designated it as a community entertainment district, and bars and restaurants began to proliferate. More elbow room isn't a problem, either. Look past those small, charming homes, and you'll find plenty of three-plus-bedroom houses. But be ready: Real estate moves quickly here. The Ridge is a hidden gem no more.
---
Downsizing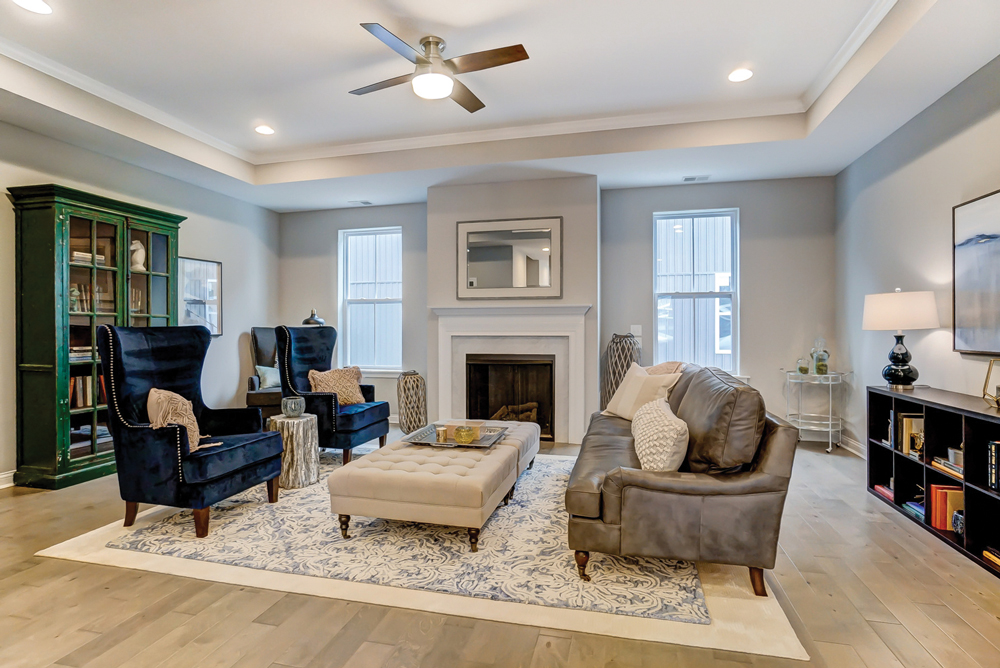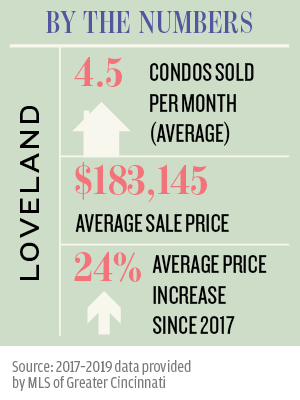 Loveland
Downtown Loveland seems to have its groove back after the devastating 2017 fire that destroyed an entire block. Restaurants with rooftop decks are packed, and residents and visitors of all ages scurry along the bike trail that, with the Little Miami River, provides the scene with a wholesome, outdoors vibe. New home construction continues unabated around Loveland, but the Broadway Brownstones project is noteworthy by introducing townhome condos in the heart of downtown. All eight units have been sold, and where there's demand, more supply is sure to follow.
---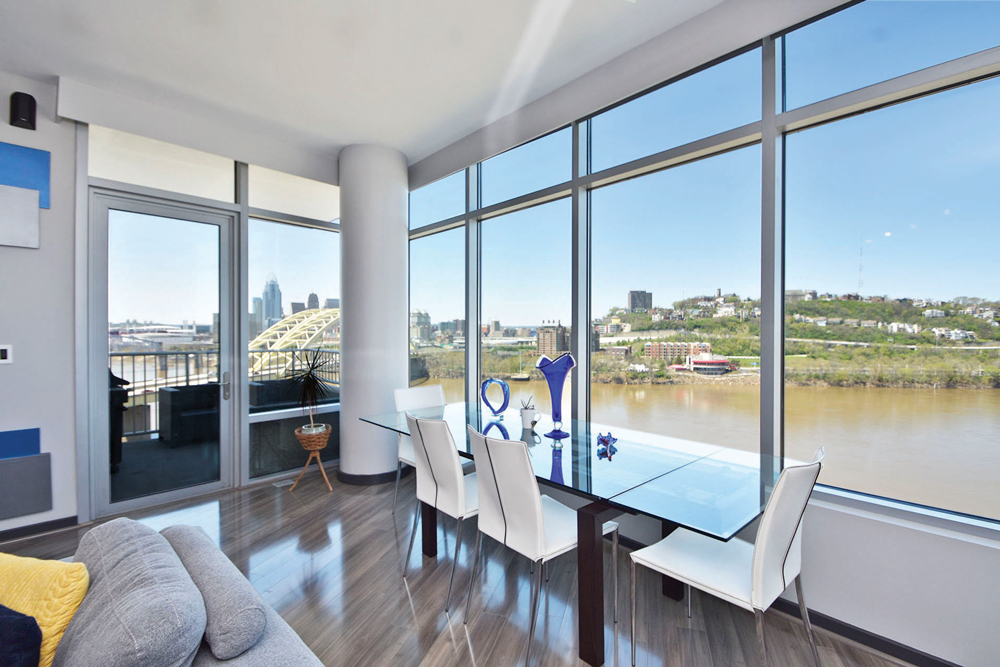 Bellevue
If you're looking to downsize in order to shrink your housing footprint, eliminate yard work, or live a less car-reliant life, Bellevue checks all the boxes. Two major riverfront condo projects (Harbor Greene and WatersEdge), another on the border with Newport (SouthShore), and several smaller developments are a short walk from Fairfield Avenue's charming restaurants and shops and a quick Red Bike or Southbank Shuttle ride to downtown Cincinnati. Prices start under $100,000 and run up to over $1 million for top-floor penthouses with spectacular views. Bellevue's close-knit, small-town vibe with big-city access is hard to beat.
---
Outside the Box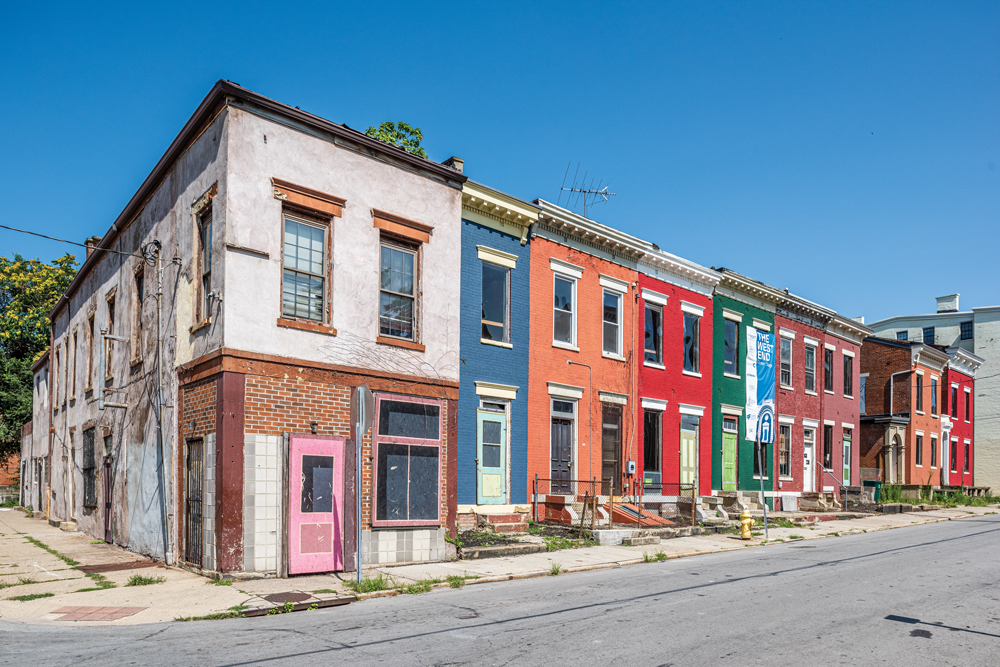 West End
FC Cincinnati's stadium project has caused West End residents to fear a land rush that would drive up home and rental prices. A coalition of nonprofit partners has joined The Port (known as the Port of Greater Cincinnati Development Authority before a recent name change) to create affordable housing to help blunt some of those negative effects. Redevelopment has quietly marched on farther west, between Linn Street and I-75, where empty shells of 130-year-old brick and stone homes sell for $15,000 just down the street from renovated gems that fetch $540,000. Opportunity still knocks for the adventurous on Dayton, York, Baymiller, and adjacent streets.
---
Evanston
According to The Port, in 2014, there had not been a market home sale here in more than nine years. Despite being home to Xavier University, Walnut Hills High School, and the O'Bryonville business district, crime and deteriorating housing stock made the Cincinnati neighborhood a hard stop. Starting in 2013, The Port—through programs like Rehab Across Cincinnati and Hamilton County (REACH), which provides market-rate housing, and Homesteading and Urban Redevelopment Corporation (HURC), which provides affordable housing—has built or rehabbed 36 single-family homes, increasing home ownership and spurring private development. For example: Merrimac Square at Fairfax and Woodburn Avenue, where two-bedroom, two-bath "carriage houses" start at $335,000; two of the three available were under contract at press time.
Facebook Comments