In our November 2018 Shop Local issue, we explore greater Cincinnati neighborhoods while you check out dozens of retailers who can fulfill your closet, home, and recreational needs.
Suit Up
Independently owned shops take modest Midwestern menswear to the next level. —Kevin Schultz
Blaine's Fine Men's Apparel—Chuck Hellman, a former NYC-based luxury menswear brand CEO, took full ownership of this Montgomery menswear institution in 2014, recharging its inventory and aesthetic to appeal to a younger and more fashion forward clientele. Today, it offers the highest quality European and American brands, like Canali and Robert Graham, and personalized styling and tailoring you typically can't find outside the country's coastal shopping epicenters. Hellman is also the man behind Hellman Clothiers, a 3,000-square-foot men's apparel storefront that opened last fall in downtown's Carew Tower atrium. 9407 Montgomery Rd., Montgomery, (513) 791-9970, blainesapparel.com
Peppe Ramundo—Many Cincinnatians' go-to formal wear and tuxedo rental stop for the past five decades. Owner Peppe Ramundo founded it in 1967—after coming over from Italy in 1950—and works alongside his son Carmen today. 5229 Glenway Ave., Covedale, (513) 921-2400, pepperamundo.com
Bolero Menswear—Opened 15 years ago for "the modern man in Cincinnati," Bolero sells everything from slim-fit button downs to printed leather belts. It represents a more forward-looking selection among the city's traditional men's shops. 417 Vine St., downtown, (513) 421-5600, boleromenswear.com
Romualdo Bespoke Tailoring—A half-century old, Romualdo offers a glimpse into a different time, providing master tailoring and the highest quality formal wear around. It even still sells custom, handcrafted Italian-inspired suits. 7121 Miami Ave., Madeira, (513) 561-9010, romualdo.com
---
Who's That Lady
Women's clothing boutiques are thick on the ground in our quietly fashionable city.—Amy Brownlee
Alley Boutique— Formerly the mobile Cincy Fashion Wheels, which was completely destroyed by Last summer's downtown Loveland fire, Alley Boutique has a new lease on life—and a fully renovated brick-and-mortar setup in an alley across the street from the historic business district. Owners Janel Thompson, Debby Walker, and Ann Marie Toney stock their cozy shop with an array of casual-but-pretty blouses, dresses, and accessories, plus gift-worthy items like candles, soaps, and jewelry. 201 W. Loveland Ave., Loveland, (513) 254-3459, alleyboutique.com
Libby Shop—This storefront doesn't carry tons of clothing, but you'll want to take every last item home—and at this price point, that's an affordable project. Owner Libby Andress, who holds a degree from The Fashion Institute of Technology, makes some of the jewelry items herself. 1307 Main St., Over-the-Rhine,(513) 409-4256, facebook.com/shoplibby
Pangaea Trading Co.—When you find yourself among UC's real-life fashion students, you might need to step up your sartorial game. Start with this internationally inspired Gaslight shop. And if it looks familiar, that's because its sister shops are Toko Baru and Kismet in Clifton, OTR, and O'Bryonville. 326 Ludlow Ave., Clifton, (513) 751-3330
The Pretty Pony Boutique—For an Anthro look on a LOFT budget, try The Pretty Pony Boutique in Crestview Hills. Look for lace, velvet, floral prints, and lots of kimonos. 2837 Town Center Blvd., Crestview Hills, (859) 341-7669, prettyponyboutique.com
Sara Benjamin's—If you vacillate between boho and preppy, put this shop on your list. Look for everything from embroidered tunics to cropped turtleneck sweaters to luxury jeans at this established Mariemont shop. 6810 Wooster Pike, Mariemont, (513) 272-2280, sarabenjamins.com
Shoppe Smitten—There's a summery SoCal vibe at this pretty storefront, but year-round. Think: macramé wall hangings, Capri Blue candles, and cool-girl jumpsuits. 3184 Madison Rd., Oakley, (937) 550-4958, shoppesmitten.com
Sloane Boutique—Fashion devotees will love the variety at this OTR shop, from smallish American labels like Ali Golden and LNA to chic international names like Cotélac and TELA to established brands like Ba&Sh and Ganni. 1216 Vine St., Over-the-Rhine, (513) 579-8111, sloaneboutique.com
Snooty Fox—"Kondo" your closet at this established local consignment shop, where you can also buy of-the-moment styles on the cheap. Go ahead and tidy up your home too: A few Snooty Fox locations feature "Dens," for furniture and decor items. Multiple locations, shopsnooty.com
True Adorn Boutique—This teeny Alexandria shop is packed with all manner of clothing and giftables, from blouses and dresses to jewelry and quippy novelty baseball caps. 8329 E. Main St., Alexandria, (859) 414-5167, trueadornboutique.com
---
Bring it Home
Dress up your home, whatever your budget or design style. —Kaileigh Peyton
Astute Furnishings—Buying new is seriously overrated, especially when you can get your hands on used pieces that are as hard to find as some of the antiques here. Including furniture, lighting, decorative objects, and art, Astute Furnishings's selection spans centuries, with everything from Herman Miller's famous Eames chair to Art Deco lamps. We even spotted a rare turn-of-the-century–era Rookwood Pottery tile. We're not saying you should only shop here to make your friends jealous, but we wouldn't judge you if you did. 3052 Madison Rd., Oakley, (513) 631-8886, astutefurnishings.com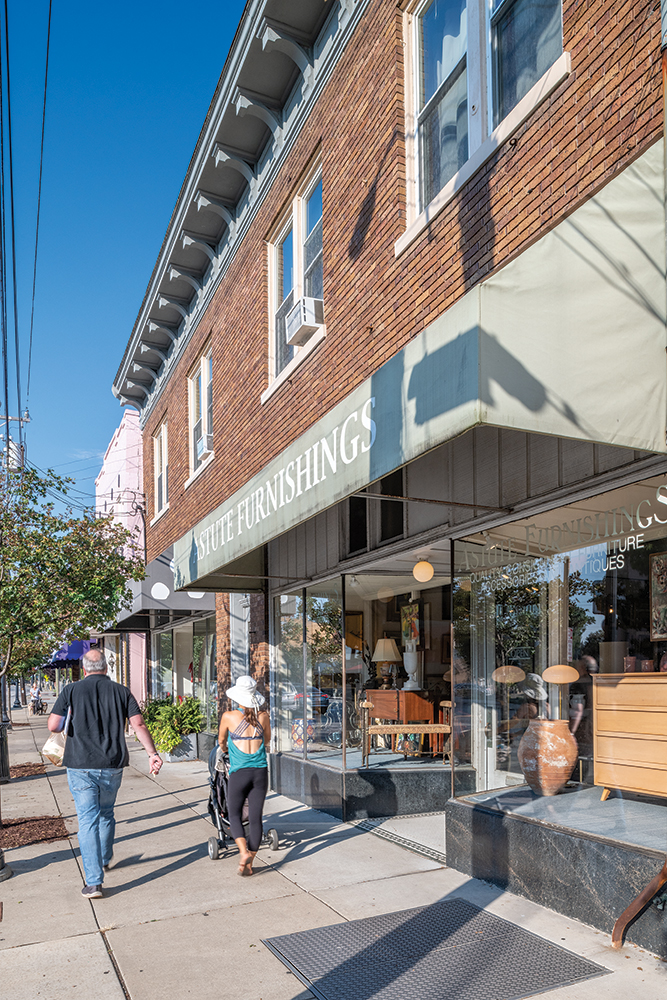 Bargains and Buyouts—This west-side gem and its Greenhills sister store step in when other retailers over-stock their products to save you major cash. We're talking new, name-brand furniture (plus some odds and ends) with seriously slashed price tags. Westwood and Greenhills, bargainsandbuyouts.com
Bromwell's—A nearly 200-year-old heritage retailer, Bromwell's does so much more than fireplaces. It features staged vignettes of curated lighting, textiles, and furniture, providing interior design inspiration in spades. 117 W. Fourth St., downtown, (513) 621-0620, bromwells.com
Coda Co.—This boutique has a bohemian feel with its eclectic handmade wares, including woven hanging planters, reclaimed wood wall hangings, and upcycled furniture. Dip-dyed macramé never looked so chic. 400 Fairfield Ave., Bellevue, (859) 488-7798, shopcodaco.com
Design Lab—If you're looking to deck your dream home with jaw-dropping contemporary furniture and lighting by notable European designers, check out Design Lab. Premium does come at a price, of course, so be prepared to splurge. 1401 Elm St., Over-the-Rhine, (513) 620-7299, design-lab.com
Elm and Iron Loft—Just as curated and cool as its sister shop across the street, the Loft specializes in vintage furniture and accents. Nothing here is run-of-the-mill: Its antique sewing machines, old-school signs, and retro posters are showstoppers. 1411 Vine St., Over-the-Rhine, (513) 429-4472, elmandiron.com
Grainwell—Shop local and custom. Three sisters run this shop, sourcing unique wood pieces that can be transformed into decor and personalized with inscribed or laser-cut text and designs. Hello, future gift-giving legend. 33 W. Pike St., Covington, (859) 261-6600, grainwell.com
HighStreet—The wide selection of swanky furniture, lighting, textiles, and home accessories here is effortlessly chic. Their knowledgeable team of design-savvy associates is on hand to guide you through the vast collections of international finds. 1401 Reading Rd., Pendleton, (513) 723-1901, highstreetcincinnati.com
This N That Consignments—You might forget you're in a second-hand shop. The furniture quality here is more like what you would find at one of those big-box depots, but at a fraction of the price. 600 Reading Rd., Ste. A, Mason, (513) 204-1600, thisnthatconsign.com
---
Time Travel
Where to score gently used treasures from yesteryear—or last season. —Amanda Boyd Walters
Casablanca Vintage—If you're looking for real-deal vintage garb from the 20th century—tuxedo shirts from the '80s, military peacoats, beaded '50s cardigans, psychedelic '70s jumpsuits, and more—this is your happy place. Wooden boards creak as you make your way around the (very organized!) sales floor, and you'll likely hear the hum of sewing machines in the background: Co-owner Tim Willig runs Awesome Time Shoe and Leather Repair here, while co-owner Ashley Marie Bowman mends garments and does alterations. 3944 Spring Grove Ave., Northside, (513) 541-6999, casablancavintage.com
Bloodline Merchants—Nothing smells as rich and real as old wood, and Bloodline Merchants has plenty in the form of rustic European antiques. Don't miss the collection of small decor items, or the Farrow & Ball paints. 4855 Eastern Ave., Linwood, (859) 412-0646, bloodlinemerchants.com
Chicken Lays an Egg—Eclectic-cool vintage clothing, accessories, and miscellanea from the 1960s to the 1980s fill this space. Want to dress your baby in vintage threads? Find 'em here. 4178 Hamilton Ave., Northside, etsy.com/shop/chickenlaysanegg
Gents Men's Resale Consignment—Welcome to a tiny trove of name-brand polos, dress shirts, suits, and jeans. Consignors make half the ticket price; after eight weeks, the price drops 50 percent. Unsold garments are donated to neighborhood organizations (not Goodwill). 530 Sixth Ave., Dayton, KY, (859) 415-1505, facebook.com/Gentsclothing
Mannequin Boutique—Moe Rouse is turning her brick-and-mortar boutique into an Etsy-only shop. We'll miss ogling the fancy threads and accessories up close, but proceeds from the sweet designer goods up for grabs will still benefit eight local charities (including Caracole, Tender Mercies, and La Soupe). Go on, splurge. etsy.com/shop/MannequinBoutique
Talk of the Town—Packed with vintage treasures available for sale,
for rent, or both (Hello, costume party central!), this thrift legend has plenty of accoutrements to finish your look, whether it's flapper or tie-dyed hippie.
9111 Reading Rd., Reading, (513) 563-8844, facebook.com/talkofthetowncincy
---
Hometown Pride
Show love for local artisans and your favorite zip codes with gear from these purveyors. —A.B.W.
Wooden Hill—The cards, jewelry, pottery, photographs, and artwork inside Amanda and Kevin Carlisle's west-side shop have a decidedly fine-art bent, which is what you might expect from the founders of the Westwood Art Show. (Wooden Hill's first anniversary coincided with this year's 10th annual show.) The artists are all local, and many are west-siders themselves. You can even commission a portrait of your house from Amanda's mother, artist and former art teacher Lynn Hogan. 3036 Harrison Ave., Westwood, (513) 405-4013, facebook.com/woodenhillart
Artisan's Collective—Sue Freudiger's shop features jewelry, bath products, and upcycled furniture from 35 local makers and Freudiger herself. We loved the Cincinnati-centric onesies, especially the one emblazoned with "Forget the formula, I'm ready for goetta." 4852 Delhi Ave., Delhi Twp., (513) 904-5416, artisanscincy.com
Cincy Shirts—These deeply Cincinnati-centric tees salute bygone sports teams, brands, even shopping centers. Plus, its kids' line is called Short Vine. Hyde Park and Over-the-Rhine, cincyshirts.com
I Love Cincinnati Shop—Reds, Bengals, FCC, UC, and XU gear stock this store, of course, plus Cincinnati swag, including Charley Harper greeting cards, Doscher's French Chews, and Gold Star Chili packets. 441 Vine St., Suite 2E, downtown, (513) 381-4401, ilovecincinnatishop.com
SoulCraft—Along Middletown's up-and-coming Central Avenue, find fair-trade gifts, linens, dishes, apparel, jewelry, and kids' toys. Craft for a Cause workshops turn the store into a maker space and let you support a local nonprofit. 1050 Central Ave., Middletown, (513) 267-3859, facebook.com/SoulCraftFairTrade
Village Gifts KY—Show your love for the Bluegrass with T-shirts, 41011 wood plaques, and Kentucky Proud food products, like Made by Mavis jams and Kentucky Bourbon Pie fillings (they carry Classic Apple and Pecan). 613 Main St., Covington, (859) 878-2858, facebook.com/VillageGiftsKY
---
Stop, Look, Listen
These fascinating neighborhood merchants delight book-lovers, music fans, and curiosity-seekers.—John Fox
Hail Dark Aesthetics—Hoping you might discover a one-stop shop to pick up a Merle Haggard album, a tarot card deck, a book about satanic cults, and a taxidermied animal? Well, dreams come true at this MainStrasse spin-off location of a Nashville-based oddities and music store. Spend some time with the display cases and vinyl record bins in each room, and you'll wonder Who actually buys this stuff? The answer: You do. 720 Main St., Covington, (859) 261-0107, hailcincinnati.com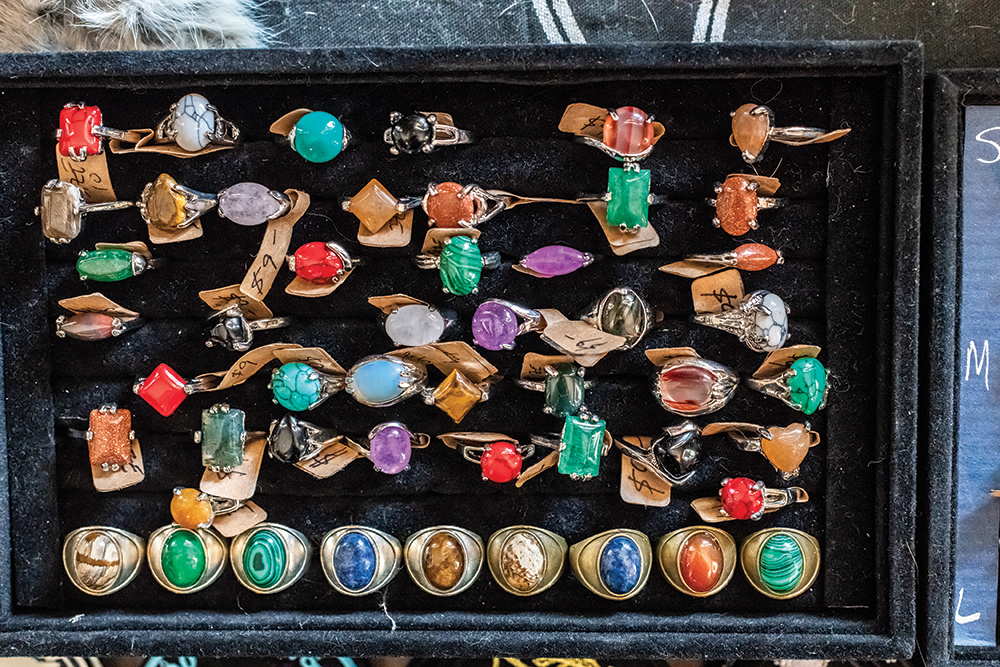 Black Plastic Records—It's nothing but vinyl records at this music lovers' haven in a west-side strip mall. A stage in the back hosts in-store concerts. There's also a small Black Plastic outpost in Over-the-Rhine. Bridgetown and Over-the-Rhine, facebook.com/blackplasticrecords
Blue Manatee Children's Bookstore—Housed in a cheery space just down the street from its original location, this shop helpfully organizes books by appropriate grade levels. Check the online calendar for story times and author signings. 3094 Madison Rd., Oakley, (513) 731-2665, bluemanateebooks.com
Mole's Record Exchange—The resurgence of vinyl record sales makes this spot as popular among the green-hair crowd as the gray-hairs. You'll just as easily find current artists' latest albums here as you will vintage blues, jazz, and rock. 111 Calhoun St., Clifton Heights, (513) 861-6291
Ohio Book Store—Display cases of local history, architecture, sports, and biography material greet you just inside the front door, followed by shelves and floors of fascinating old books, magazines, and art. Top seller? Books on philosophy. 726 Main St., downtown, (513) 621-5142, ohiobookstore.net
Roebling Point Books & Coffee—It's equal parts coffee shop, bookstore, publishing house, and community rallying spot. They'll publish your book on hiking, sell you a hiking book, or connect you with a hiking outfitter—truly full-service. 306 Greenup St., Covington, (859) 815-7204, facebook.com/roeblingpointbooksandcoffee
---
Driven to Distraction
Take a break from daily duties and gear up—whatever your hobby may be. —John Fox
Queen City Running—A fixture in the local running world, Joe Brinkmann finally opened his own shoe store in 2016, and he's already expanded to a second location. There's a selection of nutritional products and clothing in the cozy Harrison Road shop, but shoes are the focal point. They'll fit Asics, Mizunos, Sauconys, and other top-line brands to your unique foot shape and gait, then help motivate you to get moving through a variety of walking and running groups. White Oak and West Chester, queencityrunning.com
Boardwalk Hobby Shop—This unassuming storefront is stuffed with plastic model kits; classic board games; books, games, and figurines from historical periods, especially famous battles; and puzzles, Rubik's Cubes, and other mind-benders. It's located next to fellow throwback Zip's Café on Mt. Lookout Square. 1032 Delta Ave., Mt. Lookout, (513) 871-2110
Roads Rivers and Trails—Just off the Little Miami River on Milford's charming main drag, canoes, tents, climbing ropes, and guide books fill every inch of this space, along with clothes and shoes to help you look and feel good on your adventure. 118 Main St., Milford, (513) 248-7787, roadsriversandtrails.com
Silk Road Textiles—Building a community around shared sewing, knitting, and fabric knowledge, this bright, bustling space helps anchor College Hill's growing commercial district. You'll find classes for every interest and skill level, from beginner doll making to "sip and stitch" social events. 6106 Hamilton Ave., College Hill, (513) 541-3700, silkroadcincinnati.com
The Toy Department—Love to argue about which Boba Fett action figure is better, the 1979 or 1985? Looking to sell your kids' old LEGO sets? This is your place, run by and for toy collectors partial to Star Wars, Star Trek, comic book heroes, and Funko Pops. 6600 Dixie Hwy., Fairfield, (513) 869-3378, facebook.com/ToyDepartment
West Trails Bicycles—Not far from the outdoor mecca of Miami Whitewater Forest at the main intersection in Miamitown, this friendly shop is perfect for new and experienced bike riders alike. And they'll fix all your equipment, even if you didn't buy it here. 8007 Harrison Ave., Miamitown, (513) 353-9378, wtbikes.com
---
Shops For All
Cover all your bases at these local clothing outposts. —Kevin Schultz
Batsakes Hat Shop—This legendary downtown purveyor has handcrafted
high quality hats on-site for more than 100 years, and garnered a reputation good enough to have served the likes of both Bush presidents, Bob Dylan, and even Snoop Dogg. 1 W. Sixth St., downtown, (513) 721-9345 
Corporate—Those hard-to-come-by kicks? Corporate has them. Think athleisure wear for the fashion-forward, but with an edge: bleached-dyed Stussy sweaters, vintage Jordan jerseys, and Golden Goose Slide sneakers. 2643 Erie Ave., Hyde Park, (513) 771-0432, corporategotem.com 
GOODS—From hemp T-shirts and leather bomber jackets to vintage luggage cases and mopeds, GOODS has an eclectic mix of, well, goods curated according to a changing seasonal theme—it's like a rotating collection from the life of your hippest friend. 1300 Main St., Over-the-Rhine, (513) 788-3616, facebook.com/goodsonmain
Hansa Guild—The place to find slightly offbeat, quality cold-weather clothing. Sheepskin slippers, alpaca sweaters, or blanket-sized wool scarves turn a frigid winter evening into a cozy delight. 369 Ludlow Ave., Clifton, (513) 221-4002, hansaguild.com 
Khakis—The name says it all for this family-owned clothier with a boutique feel, which offers top prep-inspired brands—including Lilly Pulitzer and Vineyard Vines—for both men and women. 3445 Edwards Rd., Hyde Park, (513) 871-1212, instagram.com/khakishydepark
Kilimanjaro African Heritage—Vibrant dashikis, wooden ritual masks, and skin-covered djembe drums are a small sampling of this African clothing, art, and music store's authentic products. Its Kenyan expat owner returns to the continent each year to update the shop's inventory. 310 Ludlow Ave., Clifton, (513) 221-0700, africanforus.com
---
Kidding Around
When you want cool designer fashions you won't find at Target for the little ones. —Kara Hagerman
Castle House—At almost 60 years strong, this children's store, under new ownership since 2014, is a local legend. The redesigned space is a one-stop-shop for littles (they even carry Patagonia and North Face coats), but known all over for its special occasion collections. 3435 Edwards Rd., Hyde Park, (513) 871-2458, castlehouse.com
Rory Maxwell—Always on the hunt for new pint-sized styles (Beaufort Bonnet and Bella Bliss are recent additions), owner Katie Casteel stocks a wide variety of clothing lines, including the modern, chic EGG and sweet Silkberry Baby. You'll also find cool gifts. 6934
Miami Ave., Madeira, (513) 561-3991, rorymaxwellboutique.com
Kiddy Kouturé Boutique—This bright, colorful shop is stocked with trendy designer, custom, and even consignment kids' threads at every budget, but we must mention the crazy-fun Kids Sip-n-Paint parties, where young guests channel their inner Picasso (and Mom can shop). It's a blast for all. 1514 Linn St., West End, (513) 975-0060, kiddykouture.storenvy.com  
Facebook Comments