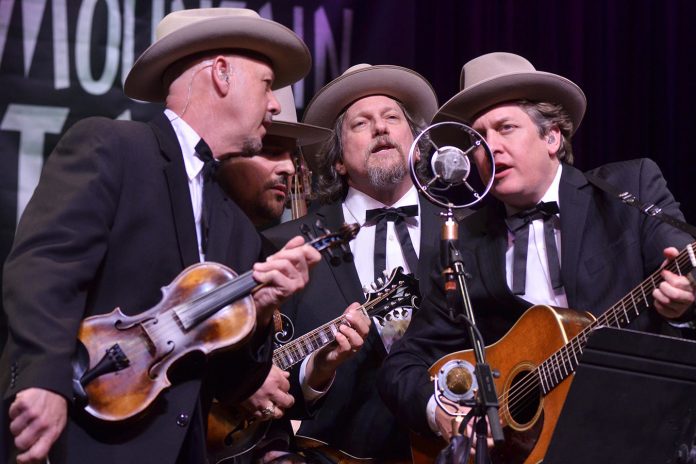 Photograph courtesy The Earls of Leicester
The linden trees along Ludlow Avenue in Clifton's Gaslight District are a particularly lush green on this late summer evening. A slender young man with tattoos and piercings carries a skateboard, pushing his way through the sidewalk strollers, periodically putting the skateboard down and riding it for a few feet. He skates past a couple holding hands, past a man walking his ancient lab toward the kiosk on the corner, which is covered in colored notes. Business cards are attached willy-nilly, along with hand-outs promoting healing crystals and Indian restaurants with optimistic advertisements for roommates (since we're just a jump from the University of Cincinnati).
There is no marquee outside the Ludlow Garage advertising tonight's band. No line has formed; all the seats that have been sold are bought and paid for, so there is no need for a ticket window. The sound system has been set up. "Check, check," the soundman says into the mic. "We need less reverb; we're right on the edge of feeding back…" It is a tedious routine, testing each instrument and each microphone one at a time, but these musicians are accustomed to the highest production values at any venue. It is vital to their performance.
When I come in, the warm-up band is doing its sound check. They're impossibly young and whippet-thin and wear their hair in pompadours straight out of the 1950s. The band has a somewhat mysterious name, My Brother's Keeper, but it is clear they know their way around the acoustic stringed instruments they play. I listen for a minute and set off to find the "green room" where the Earls of Leicester are probably waiting until time for their performance.
Everything is quiet there when I arrive. But there is an anticipation building in the quietness. An important musical event is to take place here tonight, a musical tribute to Lester Flatt and Earl Scruggs and the Foggy Mountain Boys offered by the Earls of Leicester, a band assembled by Nashville legend Jerry Douglas. He put it together to interpret the bluegrass music of the early 1950s and '60s, specifically the groundbreaking music of Flatt & Scruggs.
One of the most important bands to come out of Nashville in a while, the Earls of Leicester were wildly popular right out of the gate, sweeping the International Bluegrass Music Awards the first year the band was together. They've been called a "tribute" band, a term Douglas doesn't like.
"I started the band to play good music, not to be a gimmick," he says. He didn't want authentic bluegrass to be forgotten. "I wasn't hearing it anywhere," he says seriously. After stints with blues bands, jazz bands, and innovative ensembles of every kind, Douglas was in the mood for hard-core bluegrass, so he opened up his Rolodex and dialed a few numbers, and the band the Earls of Leicester was born. He brings an intensity and reverence for Flatt & Scruggs's bluegrass, and under his leadership "everything old is new again," he says.
---
The Earls of Leicester is an all-star band. Shawn Camp, the rhythm guitar player and vocalist, is a young lion—a prolific songwriter who writes with and for a "who's who" of Nashville and has won his own Grammy Award. His songs have been recorded by Ricky Skaggs, Garth Brooks, George Strait, and Blake Shelton, and more lately he's had a project in the works with Loretta Lynn. Camp, who looks like he's in his late 40s, has an unlined face framed by thick curls. He is an extraordinary singer and guitar player who captures the late Lester Flatt, then transcends him to become an utterly natural outgrowth of Flatt.
---
Charlie Cushman, the banjo player who was hired to "play" the late, great Earl Scruggs, makes even expert banjo players weep. His finger picks fly over the strings on "Pike County Breakdown" so that it's almost impossible to tell his playing from Scruggs's.
Flatt & Scruggs and the Foggy Mountain Boys always carried a fiddler with them on their dates. They played with Chubby Wise, who is credited with writing "Orange Blossom Special"; the flamboyant Benny Martin; and finally Paul Warren, who was more of an old-time fiddler than a bluegrass player. As luck would have it, Jerry was able to get Johnny Warren, Paul's son, for the Earls of Leicester. "I am really an old-time fiddler, like my father was, not a bluegrass fiddler," Paul insists when I speak with him, just as his father described his own playing so many years earlier. (Old-time fiddling differs from bluegrass fiddling in the repertoire and in the style of the playing.) To make the package sweeter, Johnny Warren plays his father's fiddle in the Earls. He is a slender, fit middle-aged man whose day job is tightening up players' golf games on the PGA circuit.
Douglas brought along bassist Barry Bales from Alison Krauss's band, Union Station. Though Bales is a virtuoso, he takes only one solo during the concert, because in the Flatt & Scruggs band the bass player stayed in the background. With no drummer and no electrified instruments in either group, the steady 1-2 1-2 bass beat sustains and drives the music.
Jerry Douglas himself grew up in Warren, Ohio, listening to Flatt & Scruggs, especially Josh Graves, the dobro player. Douglas's father had a bluegrass band, and Jerry got his first guitar at the age of 5. In an interview with a Nashville newspaper, he remembers the first time he saw the famous band, detailing "the warmth of the audience, the smell of the popcorn, the outfits they were wearing," and he was hooked on Graves and his dobro. A dobro looks very much like a guitar with a hubcap in the middle. It's played flat, the back of the instrument parallel to the floor. I was in the audience at the International Bluegrass Music Association Awards Show when Douglas inducted Graves into the Bluegrass Hall of Fame. When the announcer mashed a button and Lester Flatt's lovely crooning voice came over the sound system doing his customary introduction of "Uncle Josh," as he was called, welcoming him up to the "old Mercury microphone" to play a solo, I wasn't the only one who wiped away tears.
Wayne Clyburn was an early fan of Douglas. "We were at Ralph Stanley's bluegrass festival down in Virginia, and that night we saw a large circle of people standing by a campfire listening to something. Turns out they were listening to a new player, Jerry Douglas. He was about 17 or 18 years old, and he was all over the dobro. Later, I saw him talking to Charlie Waller and Doyle Lawson, and the next thing I knew he was working with their band, the Country Gentlemen."
After Douglas completed a summer with the Country Gentlemen, one of the iconic bands in bluegrass, he got a call to go with another, J.D. Crowe and the New South, a major career opportunity. Through his exposure with Crowe and bandmates Tony Rice and Ricky Skaggs, Douglas became one of the most in-demand session players in the business, and when Crowe's band broke up he landed a highly coveted place in Alison Krauss's Union Station band.
If you Google Jerry Douglas, you'll see at least three screens of discography of between 2,000 and 3,000 recordings, and a listing of 14 Grammys, CMA instrumentalist of the year, and honors like the National Heritage Award. He and all the players in the Earls of Leicester work other gigs, do recordings, and even tour with other bands. But each musician carves out a piece of time to devote to touring with the Earls. Each is the best in his field, and the variety of work keeps them from being bored.
According to Wayne Clyburn, "Douglas did the same thing with a dobro that Scruggs did with a banjo…he redefined it." He says that the dobro came from the Hawaiian guitar and was meant to be played slowly, the perfect filler in country music, with its "businessman's bounce" tempos. "Douglas turned the instrument inside out. He learned intricate fiddle tunes, barring the quick grace notes with his left hand, using fingerpicks on his right."
---
Tonight, Jerry Douglas joins the rest of the band in the green room about a half-hour before time to play, wearing a Flatt & Scruggs get-up: a jacket and western-style hat cocked carefully over one eye, the whole thing topped off with an embroidered bow tie. All of the Earls wear this same attire, and from a distance they bear an eerie resemblance to the band they're honoring.
The Earls tune and retune their instruments, laughing and telling stories about Lester Flatt and Earl Scruggs and the Foggy Mountain Boys. Douglas and his bandmates remember that Scruggs was his band's treasurer and carried the night's earnings—mostly nickels, dimes, and quarters—in a cotton pillowslip. Those were the lean years of playing schoolhouses and drive-in theater concession stands, when admission was a quarter. There wasn't much paper money to deal with. After they got famous, though, Scruggs carried the night's receipts in a tackle box.
The first few years, Flatt & Scruggs traveled in a single car with five or six band members and instruments plus an upright bass tied on top. Those conditions were short-lived, so before long they had a bus, and road conditions grew a little more comfortable. Still, how did they manage to stay together as long as they did without killing each other, I wondered. The Earls, on the other hand, fly to their gigs, renting a van when they hit the ground and driving sensibly, within a comfortable distance, from one gig to the next.
When I look at my watch it's 10 minutes until show time, so I leave the green room to take my seat in the audience to enjoy the performance. The lights come up, the band steps out to play, and the energy is palpable. The concert starts off with high expectations and hot licks from all the players. Wayne Clyburn, Bill LaWarre, and Harry Sparks are seated near the front of the Ludlow Garage room anticipating an evening of good music. The audience is mostly male and presumably well-heeled, since tickets for the event start at $30 and climb all the way to $65 for front row seats.
The music is immediately as rich and satisfying as Sunday dinner, and the audience settles in its seats, propping their elbows on the arm rests. Shawn Camp sings "All I Want Is You" to the delight of Lester Flatt fans, and Johnny Warren kicks off a fast version of "Black Eyed Suzie."
During intermission the fans stand up and mingle, some of them drinking beer. These aren't just fans, they are "aficionados." They know the difference between Flatt & Scruggs recordings of the 1950s and early '60s and Flatt & Scruggs recordings from 1946 and 1948 with mandolin player Bill Monroe. They can also discuss why the difference is important.
Clyburn, a true aficionado, is here because when he was in college he blew off a Flatt & Scruggs concert thinking, "I can see them anytime." Flatt & Scruggs broke up the following week. He has never gotten over his moment of bad judgment, and, he announces a little sadly, "This is as close as I'll get to ever seeing Flatt & Scruggs."
Sparks, an architect who has been active in the bluegrass and old-time music scene for most of his life and is a respected instrument broker and luthier, says, "Put it this way: People are always asking me, 'What does such-and-such-a banjo sound like?' Well, I can compare it to another banjo or describe whether it's a thin sound or not, but when push comes to shove, you have to go listen. The Earls of Leicester are playing the roots music of bluegrass, and Jerry Douglas is doing everything he can to memorialize Josh Graves. It's like looking back and allowing us to see inside the history of the music."
LaWarre, a virtuoso mandolin player himself, has much the same opinion. Listening to the Earls, he says, is like being backstage at the Opry, hearing stories, musicians cutting up and joking with each other while they're warming up. It's informal, just plain fun. "I heard the original Flatt & Scruggs twice," he says. "Once at Holmes High School in Covington and once when they played on top of a concession stand at the drive-in. I had just discovered bluegrass, so I was thrilled." He pauses and laughs a little. "As for the Earls of Leicester, I think Jeff White does a great job as Curly [Seckler] on mandolin and tenor singing."
One thing he misses, LeWarre says, is "the choreography of Flatt & Scruggs, the original band. They had only one microphone for the whole five-piece band, and getting into and out of that mic was something like a dance. You kept expecting them to run into each other stepping in and out, but they never did. It was wonderful."
As the band comes to the peak of their performance, Charlie Cushman changes his banjo for a guitar and begins to play a song wearing his finger picks on his right hand. It is what bluegrassers call "a sacred number," and four of the band members gather around the microphone to sing a quartet on the chorus. For a few minutes I am enraptured by the music, by how full it sounds. The singing is rich in harmony, and Charlie's guitar playing is as delicate as calligraphy. He dances up and down the neck of the old Martin guitar adding notes where the music is thin, propping the whole thing up with his rhythmic right-handed three-finger roll.
On the other end of the stage, Jerry Douglas starts an uptempo tune on the dobro, whipping the audience into a frenzy of appreciation. After an encore, we stand and applaud some more, then Clyburn, LaWarre, Sparks, and I walk out into the summer night, satisfied. As we go our separate ways, we wave at the Earls of Leicester standing at their "Merch Mart," what we used to call the record table, signing CDs and chatting with fans.
It's been a good night, with a sense of intimacy some might call a "moment." Clyburn, LaWarre, Sparks and I have been friends for over 40 years, and that relationship has served us all well. Our easy camaraderie carries us into the street. It is early yet, but the traffic has picked up, and there are more pedestrians, more dog walkers. The old dilapidated Clifton apartment houses appear to be propped up for the time being—they've looked "on the edge" for years, but they are still standing. We say goodnight, the four of us still standing, knowing we will talk about this evening's music for a long time to come.
Facebook Comments