Recreational vehicle sales soared during the pandemic, with popular brands like Winnebago and Thor reporting record sales since 2020. As people hunkered down, it seems, they dreamed of rolling an RV off the lot and venturing cross-country. And that inclination continues to grow—a November survey from the RV Industry Association reports 72 million Americans plan to take a trip in a motorhome this year, up from 61 million a year ago.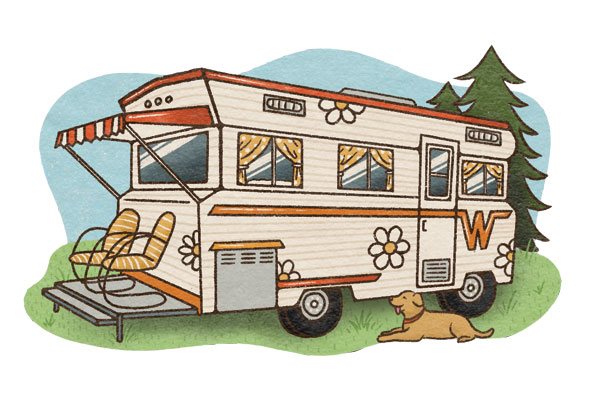 Ready to grab the keys, but unsure how to start your buying journey? Pamela Kay with the Family Motor Coach Association (FMCA), an international travel club based in Anderson Township, shares some tips for prospective RV buyers.
Which type of RV is right for me?
There are many kinds of RVs, but two main categories you might browse are self-contained motorized RVs (or motorhomes) and towable RVs, which require a vehicle with the necessary weight ratings for towing. Kay says each option has pros and cons: "One benefit of a towable RV is that once you reach camp and set up you have another vehicle to use to check out the local area, make a trip to the grocery store, and so on. Once you set up a motorhome in camp, it's not convenient to unhook it to drive it. Many motorhome owners overcome that challenge by towing a smaller vehicle to use once they reach their destination."
What else should I consider?
As with any big purchase, Kay says you'll need to do your homework before choosing the type of RV and floor plan that works best for your family. Whether you're heading to a campground or going for more off-the-grid adventures, consider how often you'll use the RV and where you're likely to stay. "That will make a difference in which RV is right for you," she says. You'll also need insurance for your RV, which differs from car insurance. "It's best to work with a company that understands RVs and their unique needs," Kay says. When pondering an RV purchase, be sure to budget for regular and unexpected maintenance as well.
Should I buy new or used?
An RV is a depreciating asset, so like other automobiles it loses value as soon as you drive it off the lot. "That hasn't necessarily been the case recently, though, because high demand for RVs has increased the prices that pre owned vehicles command," Kay says, adding that it's possible to find gently used RVs at prices for any budget. You may also find a few bugs that need to be worked out, so it's wise to have your new or pre-owned motorhome inspected by a professional RV inspector, a service tech, or someone you know who has experience with RVs.
What about RV rentals?
Not sure if you're ready to dive headfirst into the world of RV trips? Kay says dipping your toes in with a rental can help you figure out if the RV life is for you, what type might suit your family's needs, and what floor plans you prefer. Sites like Outdoorsy and RV Share allow owners to share their vehicles like an Airbnb, which can help make up costs and possibly turn a side profit. "Some people choose to purchase RVs expressly for this purpose, as a business," Kay says.
Should I join a travel club?
You might opt to be a lone road warrior, but travel clubs can be a great resource for RV enthusiasts. FMCA, for instance, has special programs for members, including a tire program for special pricing on select brands that applies to passenger vehicles, too; the FMCA RV Insurance coalition, which offers expert tips, quotes, and discounts on motorhome insurance; a Tech Connect+ program offering a suite of tech-related discounts, including a deal on an internet hotspot for staying connected on the road; and Family RVing, a monthly magazine with ideas for getting the most out of your RV adventures.
Facebook Comments