Our August 2016 issue features a guide to homesteading, including hydroponics, foraging, composting, bee keeping, alpaca herding, and a myriad of other ways to get your hands good and dirty.
On an unseasonably chilly day in early May, Jessibelle, a Huacaya alpaca boarded at New Richmond Alpaca Farm, was waiting for relief. Shear Relief, a mobile crew of northeast Ohio–based alpaca shearers, was due at the farm any minute to give Jessibelle and the rest of the herd their annual haircut. Owned by Greg and Lori Wahl, New Richmond Alpaca Farm is a bucolic 41-acre property that has been in Greg's family since 1835. When his father died in 2008, Greg and Lori decided to trade their 3,000-square-foot downtown loft for the family farmhouse they share with Greg's mother. "We wanted to use the land and make it feasible for us to live out here," says Lori. "If you don't do something agricultural, it's hard to support 41 acres tax-wise."
The Wahls' herd of 35 alpacas (along with several others from smaller farms in the area) has already gathered in the barn as the four-man Shear Relief team rolls up in a van that looks more tourist bus than farm vehicle. But big picture windows are a plus when you're crisscrossing the country from April through June shearing alpacas—sometimes as many as 100 in a day. They work quickly, laying down cushioned mats and securing the harnesses they use to restrain the alpacas while they shear, check teeth, and trim nails. Clouds of super soft fleece are corralled into plastic bags, and one by one the puffy alpacas leave the barn looking 30 pounds skinnier.
The Wahls were introduced to the alpaca industry in 2006, when Lori's father bought them an alpaca at a Michigan farm sale. "I thought, What the hell is an alpaca?" remembers Greg. Indeed. Alpacas are long-necked mammals from South America that are often mistaken for llamas. Both varieties of alpaca, Huacaya and Suri, are raised primarily for their fleece, which is warmer than wool, anti-itch, hypoallergenic, and mostly used to make yarn, garments, blankets, and toys. Smartly, the Wahls have a small shop at the farm where you can purchase (and pet) yarn, mittens, slippers, blankets, toys, and other items made from their fleece. "The alpaca industry is great for us," says Lori. "They're easy to take care of, and you can use the fiber and not kill the animal."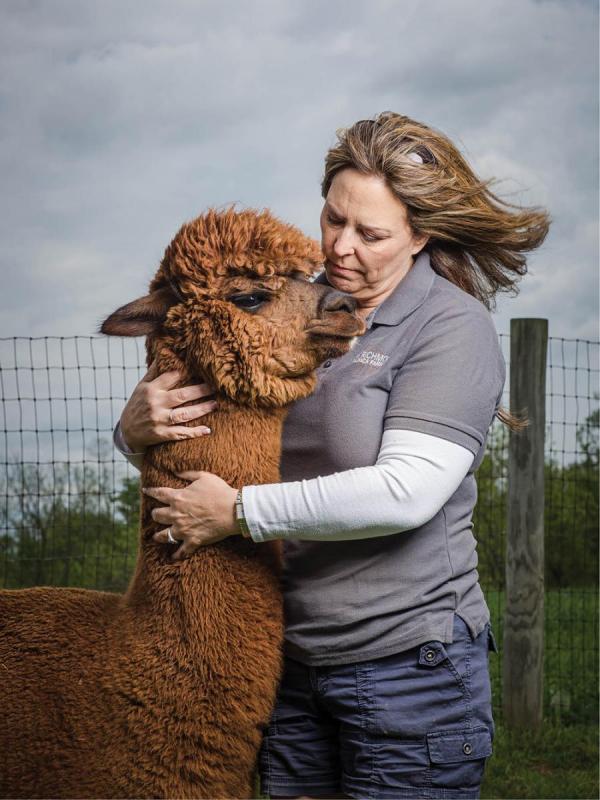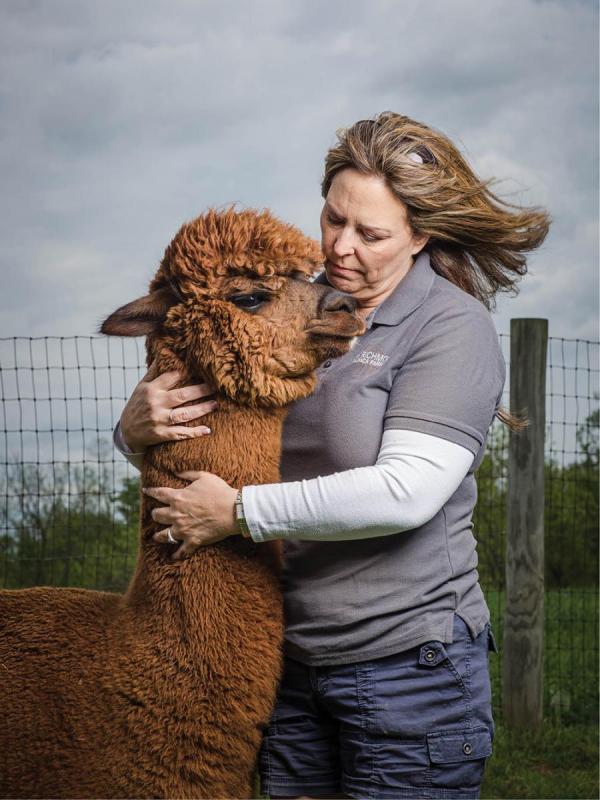 They aren't the only Ohioans to have embraced alpacas. The Alpaca Owners Association cites 1,099 Ohio members on its website, more than any other state in the U.S. "They're so easy to care for," says Lori, who still works full time as a sales rep for a wool carpeting manufacturer. Before heading off to work (Greg also works off of the farm, flipping houses in Clermont County) the Wahls typically spend 30–40 minutes with their herd in the morning, giving them fresh hay and daily bowls of grain, and cleaning up excrement in the barn—easy to do since alpaca herds instinctually use the same spot to eliminate. The couple also checks in on the herd at the end of the day. "The work is rewarding. It's relaxing; the animals are happy to see you," says Lori.
The desire to cuddle a three-month old baby alpaca or sink your fingers into six inches of downy alpaca fleece on its mother is utterly irresistible, even as they actively resist the overtures of strangers. But if they want something from you, they'll sidle up: "They're like cats, kind of aloof," says Greg. The Wahls' alpacas have become more than just prolific fiber producers with a great tax benefit. They're part of the family with their own quirks and personality traits: Liberty likes to kiss good morning; Prudence loves to have her back rubbed; and Maribelle wants to consume her grain bowl in the same area of the barn every day. They're livestock, sure, but as Lori puts it, "they're our babies too."
Facebook Comments