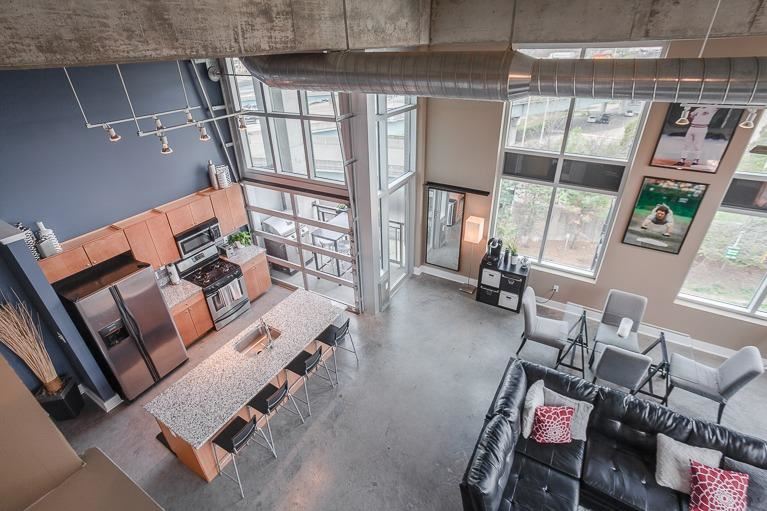 Over-the-Rhine condos are fun, but buyers looking to get closer to the river (plus The Banks, both stadiums, U.S. Bank Arena, and Smale Park) might consider this Fourth Street building instead. Built circa 2006, the Parker Flats project includes 49 condos with soaring 16-foot-high ceilings, walls of windows, and Ohio River views. It's also just a few blocks from the nearest streetcar station.
The building has a pretty industrial feel with exposed ductwork, garage-style "patio" doors, and concrete floors throughout, but this corner unit in particular strikes our fancy. In fact, we think if Tom Hanks's character from the movie Big lived in Cincinnati, he'd probably live here (plenty of room for a trampoline, don't you think? Or maybe a slide from that loft down into the living room?).
The unit includes two bedrooms—one traditional and one in the loft—two full baths, a dedicated gas line in the living room (for a fireplace), and a secured garage space. Despite the industrial feel, this condo is really light and bright, too, although we think the space truly shines after dark, when the indigo-colored night sky sets an ideal backdrop for twinkling city lights below.
Click through our gallery to view more photos of this home:
Facebook Comments