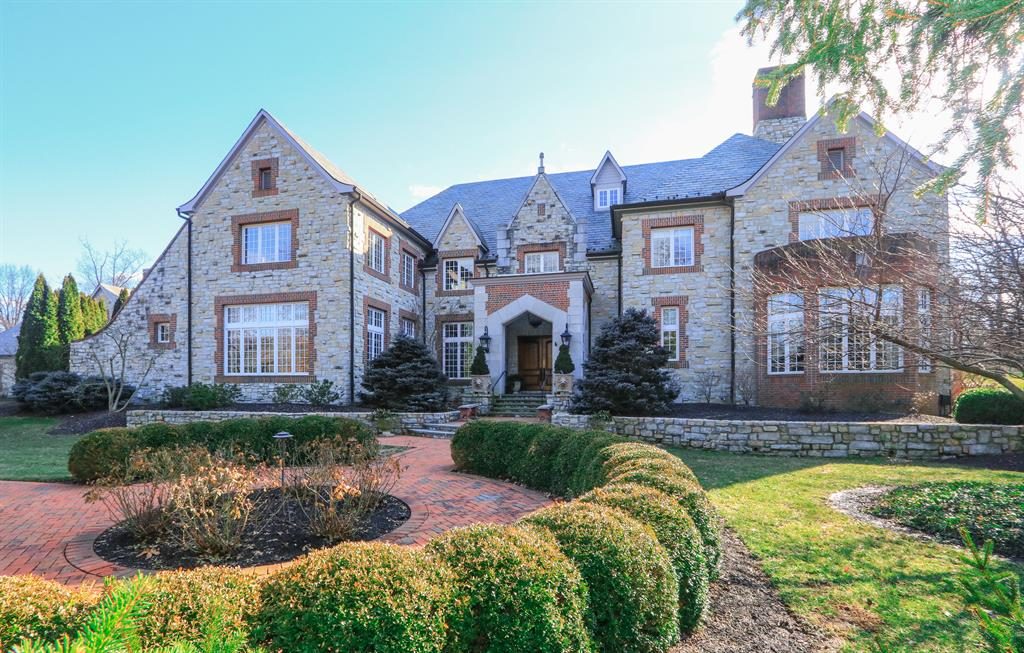 So often newer construction has a cookie-cutter feeling about it. That's not the case with this 18-year-old Indian Hill estate home, made from Indiana fieldstone and brick. Nowhere is this more evident than right inside the front door, where visitors are greeted by a hand-painted mural inside a truly grand double staircase. But that's just the beginning.
A quick stroll through this home reveals features like a fully equipped spa (with a sauna), an Old English-style pub room, an ethereal hand-painted mural on the master bedroom ceiling (and another on the skylight above the clawfoot master bathtub), a two-story wood-paneled library with a circular staircase and reading loft, a stone fountain in the solarium, Austrian crystal and alabaster chandeliers throughout, a pool house (with a bar, giant stone fireplace, and pool table), and a guest house, too.
We also love the gallery just outside the dining room, with wall murals and a festive blue-and-white striped ceiling. But maybe our favorite detail of all in this home is the colorful hummingbird sink in the red powder room, complete with crystal hot-and-cold water handles. It's safe to say no one else in the city is likely to have the same powder room design as that, proving that this home really is one of those rare finds today with a lovely personality all its own.
Facebook Comments