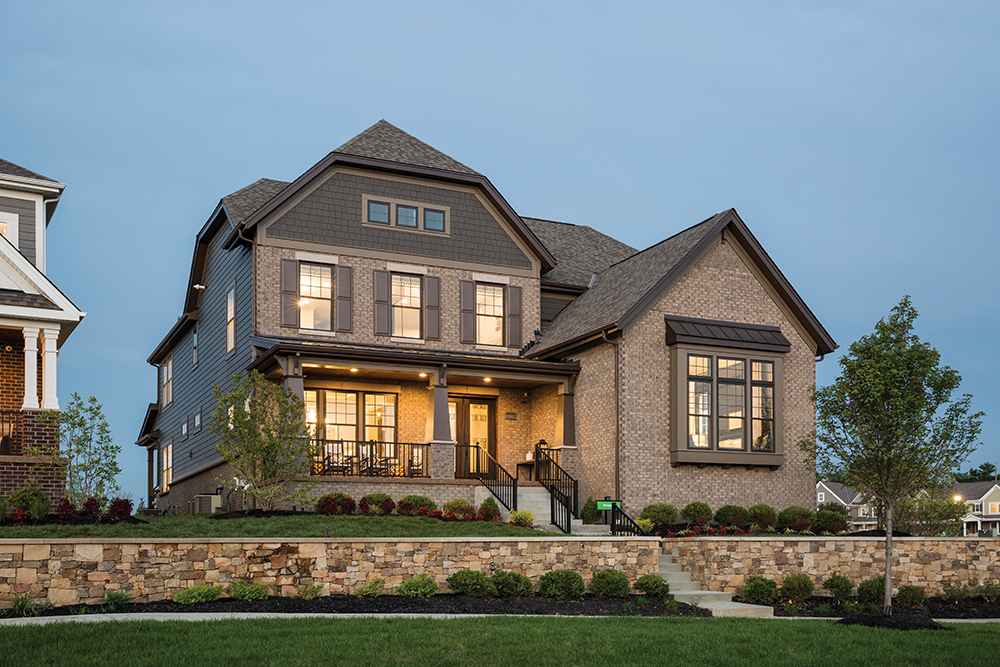 If you've spent much time on Plainfield Road recently, then you've likely seen the dozens of brand new, single-family homes lined up in tidy rows alongside Summit Park. Their hefty square footage notwithstanding, these houses actually appear more compact than their counterparts in other subdivisions. And that's because some 80 percent of the homes in Daventry at Summit Park have a conspicuous lack of street-side garages.
Certainly the most visible home design change in post-WWII America was the widespread addition of the garage. As the country became obsessed with huge cars and the apparent freedom and glamour they offered, developers began designing whole neighborhoods full of houses that placed garages front and center, often literally overshadowing the home's entryway. Indeed, the garage entrance has, for many families, replaced the front door. So when a contemporary suburban home is designed without a street-facing garage, that's on purpose.
The Daventry's Lifestyle Series features "alley-load" garages around the back of the home. This makes the front entrance about living space, not just parking space. It's a seemingly minor design decision that has a major impact on the character of the neighborhood. And Summit Park is the ideal location for such a home, since it provides a kind of community front lawn, complete with walking paths, a playground, and a dog park. The development's homeowners association takes care of mowing, bed maintenance, and snow removal. "It's a lifestyle choice: Why mow when you can just walk to the park?" explains M/I Homes Marketing Manager Nichole Lawrence. Daventry residents can step off their front porches and directly into one of the region's finest parks through dedicated paths. The whole effect is one of a cohesive community with a walkable lifestyle.
Houses of this design are for both homeowners and the community at large: The residents get to make more direct use of their existing surroundings. And the community gets a dense-but-livable neighborhood that complements its amenities rather than overtakes them.
Facebook Comments