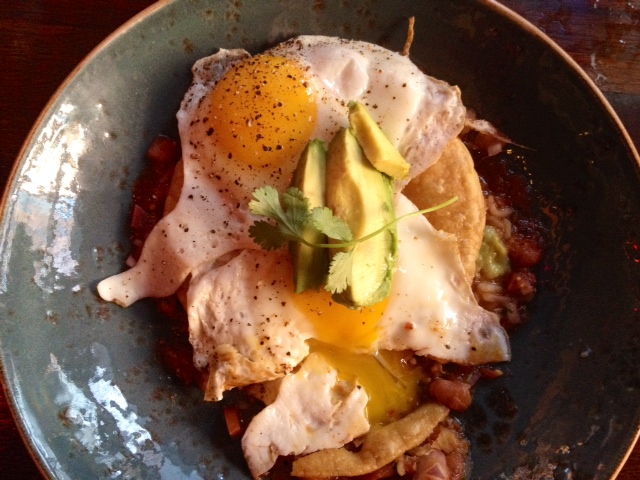 Brunch. It's the breakfast/lunch hybrid that bridges many a cultural divide. It's the pre-game meal that fortifies shivering Sunday afternoon Bengals fans, loyal belief glowing in their hopeful hearts. It's the post-pious spread enjoyed by legions of earnest 10 a.m. churchgoers, recently restored by their religious message. And it's the "I need something alcoholic to drink, and maybe something greasy to eat, because I'm still kinda drunk from last night" meal for the hard-partying and eternally youthful set.
Cue The Brunch Report, where we hit up some of the city's favorite brunching spots and report back on hits, misses, and everything in between. Our first stop: Nada.
David Falk's downtown taqueria has been bustling since it first opened in 2008 and remains one of the best brunch spots in downtown. Lusty Latin flavors punctuated by an abundance of avocado and sunny-side-up eggs are well matched with fruit forward adult beverages. And beware the chips: The fresh-fried tortilla chips ($2), available with fire roasted salsa and guacamole ($7), can easily undermine even the strongest reserve, leaving little room left for entrees.
On a recent visit, we dug into the Tinga and Eggs Cazuela ($10.) A richly spiced, braised meat stew traditionally made with chicken or pork, Nada's version combined chicken and chorizo with plenty of roasted tomato sauce. Topped with cilantro and a fried egg, it was served with Poblano rice and flour tortillas. It was by far our favorite dish and one I would return to the restaurant specifically to eat. 
Huevos Rancheros ($9) have been cropping up on non-Mexican brunch menus with increasing frequency. Nada's rendition was a fresh alternative to some versions that tend to be heavy on canned beans and greasy from too much cheap cheese. The Ancho chili salsa added depth to the earthy flavor of the stewed pinto beans and the green diablo added brightness and verve to the heavier flavors. All in all, a well-balanced dish.
Unfortunately, the two scrambled eggs that we ordered for our junior dining companion were cooked with much less love. Raw in some places and extremely over-cooked in others, it was hard to believe they had come from the same kitchen that had produced the rest of the carefully considered food.
From behind the bar, came the Sparkling Grapefruit ($7) that paired fresh grapefruit juice with elegant elderflower liqueur and a splash of Cava, an often-inexpensive Spanish sparkling wine. The result was extremely refreshing in its effervescence and acidity—a perfect foil for the Cazuela. The Sparkling Blood Orange ($7), also finished with Cava, was less complex. Too much fresh juice masked the subtlety of the Lillet Blonde, a delightful French white wine infused with distilled citrus peel. But the overall effect of the drink was still quite tasty, and a strong match with the Huevos Rancheros. The coffee, a deep, dark roast, also felt well suited to the food and was frequently refreshed by a warm and well-trained server.
The restaurant itself is vibrant with color and boisterous from conversation, an open kitchen, and upbeat music. Bring friends who like a lively people- watching environment and plan to sit back and enjoy the scene. Outdoor dining is available in the warmer months. Reservations are recommended, especially on theater matinee and home-game days.
Nada, 600 South Walnut, downtown, (513) 721-6232, eatdrinknada.com. Open lunch/brunch and dinner seven days.
Facebook Comments