---
After 123 burgers, epic levels of face-stuffing, and a few bouts of the meat sweats, our intrepid eaters narrowed the field to the top 45. Only one (very big) question remains: Which one will you try first?
Wondering how we did it? Take a look at our score sheet.
1. Dutch's Bar & Bottle Shop: Burger du Jour, $12
(2010 ranking: Not ranked)
Thursday night is burger night, so prepare to be blown away by Jim Cornwell and Patrick Hague's burger du jour topped with everything from a goat cheese and roasted garlic ravioli with guanciale-rich a'matriciana sauce one week to balsamic braised ramps, sun-dried tomato pesto, shaved mushrooms, and Finn Meadows Farm's spinach the next—all piled onto a Sixteen Bricks brioche bun that more than holds its own.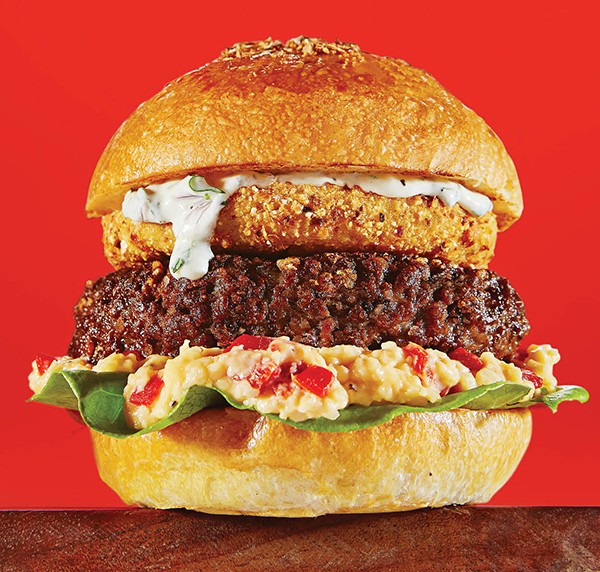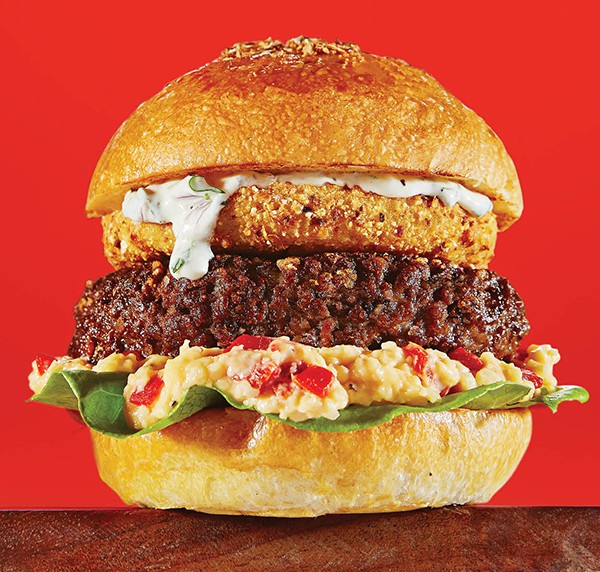 Classic it most certainly is not, but we'd be remiss if we didn't reveal that behind the best burger in town is bona fide Ohio beef. Yup, this $12 burger is the product of a helluvalotta industry folk—chefs, farmers, bakers—who have combined their powers to achieve local burger domination. 3378 Erie Ave., East Hyde Park, (513) 871-1446, dutchscincinnati.com
2. Gas Light Café: Gas Light Burger, $6.50  
(2010 ranking: 4)
Don't be deterred by the lackluster curb appeal. Behind a gritty Montgomery Road facade lies one of the best bangs for your burger buck and a hoppin' neighborhood watering hole that Pleasant Ridge patrons wish they could keep secret. We're talking $6.50 for a (thank-the-salt-and-pepper-gods!) well-seasoned, consistently cooked to order beef patty on a perky Kaiser bun with plenty of leaf lettuce and thick slabs of tomato and white onion.
Standard order they may be, but these burgers are assembled with premium care and always served with a warm smile, despite the often-hectic pace. While chips come with, you'd be remiss if you didn't sample a $3.50 boatload of their highly addictive waffle fries or a stack of tantalizingly crisp onion rings. ž6104 Montgomery Rd., Pleasant Ridge, (513) 631-6977
3. Red Feather: Burger, $15
(2010 Ranking: Not ranked)
This is how you do a $15 burger: Fresh Eckerlin's beef that's juicy but not fatty, with a hit of carbon and smoke from the proximity of the grill to the wood-fired oven.
A Sixteen Bricks brioche bun with the flaky inner texture of a croissant that's also been grilled. Housemade herbed soft cheese (rich and fatty), super-crisp candied bacon (sweet-salty), and red onion marmalade (earthy and a little acidic). It's a gorgeous balance of flavor that brings out the mineral essence of the beef without overwhelming it. And it comes with fresh-cut fries! This is the perfect expression of what Red Feather is trying to do—use fresh, locally sourced, seasonal ingredients to make top-notch dishes. ž3200 Madison Rd., Oakley, (513) 407-3631, redfeatherkitchen.com
4. Krueger's Tavern: Krueger's Burger, $9
(2010 ranking: Not ranked)
It's basically a gourmet Big Mac—and that is a beautiful thing. Two house-ground beef patties are smashed together with cheese and topped with shredded lettuce, house-made pickles crunchy enough to hold up to the burger, and Krueger's own special sauce, all between a Sixteen Bricks challah bun.
Whatever is in that sauce is working, because we've daydreamed about this burger constantly. Stop judging. Go try it for yourself. ž1211 Vine St., Over-the-Rhine, (513) 834-8670
5. Zip's Café: Zip Burger, $5.50  
(2010 ranking: 23)
In a joint that's been slinging sandwiches since 1926, you'll find plenty of regulars—dare we say lifers—whose patronage has allowed five sets of owners to keep the magic of the Zip Burger alive. But what sets the basic burger at this Mt. Lookout institution apart? The griddle-cooked patty manages to stay sweet, rich, and moist and always arrives on a lightly toasted but still fluffy bun with the standard LTO. 1036 Delta Ave., Mt. Lookout, (513) 871-9876, zipscafe.com
6. Doris & Sonny's Homelike Restaurant: Big Jack, $5.95
(2010 ranking: 28)
The name alone warrants a drive out to Miamitown. Owner Kent Hugentobler will shout a greeting from the kitchen in between orders of Paul Bunyan–sized onion rings (hand-cut and battered), scratch-made fries (we spied Hugentobler peeling potatoes in the back), and of course, the burgers. Order the Big Jack—roughly a quarter pound of hand-formed beef on a soft, griddled bun. The caloric investment is worth the chance to try the homemade tartar sauce. 6856 State Route 128, Miamitown, (513) 353-9828
7. The National Exemplar: Kentucky Bison Burger, $14
(2010 ranking: Not ranked)
It's not just ground meat: it's bison. This two-fisted burger is right at home in the clubby, pubby atmosphere of The National Exemplar at Mariemont Inn.
Unlike the ersatz Tudor decor, this is the real deal—rich, rosy, and substantial, topped with pepper jack, chipotle aioli, and crispy onions. Wimpy field greens seem a bit wan in the macho assemblage, but the chewy wheatberry salad is a suitably stout side. 6880 Wooster Pike, Mariemont, (513) 271-2103, nationalexemplar.com
Editor's note: The Rookwood is closed.
8. The Rookwood: The Barnsdale Burger, $17
(2010 Ranking: 15)
Housed in the former studio area of Rookwood Pottery, The Rookwood restaurant stands out for being an historic place that draws a young, hip crowd who come for craft cocktails and classic American fare. To wit, the Barnsdale—a fat, juicy patty cooked precisely to order and delivered on a sweet brioche-style bun with caramelized onions, fontina cheese, and thyme aioli. No ketchup needed on this baby. 1077 Celestial St., Mt. Adams, (513) 421-5555, therookwood.com
9. Oakley Pub & Grill: The Burger, $8.95
(2010 Ranking: 7)
Widespread burger consumption taught us that properly cooked, well-seasoned patties should not be taken for granted. The toppings here were a collection of usual suspects and the Kaiser bun was just fine, all of which allowed the tender, juicy, Black Angus beef to shine. Griddled to a perfect medium and salted-and-peppered just right, no fancy or superfluous sidekicks were harmed in the making of this burger. Add in the price point, wealth of parking, and none of the OTR wait-time hassle, and this burger tastes a little bit sweeter. 3924 Isabella Ave., Oakley, (513) 531-2500, oakleypubandgrill.com
---
Editor's note: Maribelle's is closed.
10. Maribelle's Eat + Drink: Lamb Burger, $14
(2010 ranking: 27)
Hidden under a haystack of fried leeks, dressed with goat cheese, arugula, and a smear of tomato mint jam (from Carriage House Farm!), captured in a substantial Sixteen Bricks challah bun, you'd think this lamb would be lost. Not at all. The combination—a bit of sweet and a touch of sharp topped with crispy, herby thatch—brings the savory patty (from Kennedy Beef & Lamb in Shirley, Indiana) to perfection. Coupled with Maribelle's rosemary-parmesan-flecked fries: pub grub heaven. 3235 Madison Rd., Oakley, (513) 321-9111, maribellestavern.com
11. Metropole: The Metropole Cheeseburger, $16
(2010 Ranking: Not ranked)
Fancy burgers too often fall into the trap of forgetting about what matters most—the meat. But not at Metropole. A brioche bun sandwiches a nearly inch-thick patty made with a custom blend of short rib and brisket shipped from the famed Pat LaFrieda Meat Purveyors in northern New Jersey, which helps explain the $16 price tag. Trust us, it's worth every penny. The perfectly seasoned beef shines in each bite, complemented by a sweet red onion marmalade that's a nice foil to the blue cheese crumbles. 609 Walnut St., downtown, (513) 578-6660, metropoleonwalnut.com
12. Jean-Robert's Table: French Chateau Burger, $15
(2010 Ranking: Not ranked)
Visiting high-end restaurants and opting for a burger can be akin to ordering from the kids' menu, but at Jean-Robert's Table, menu shaming quickly gives way to order envy. The French Chateau is a rich burger that sources ingredients from local and national vendors. Their rotund patty, cooked with caramelized onions in the meat, is made of ground tenderloin from Luken's in Findlay Market. The buttery brioche dome that engulfs the beef comes from the Tribeca Oven bakery in New Jersey. Both are perfect vehicles for the creamy and crumbly Fourme d'Ambert blue cheese, a French staple that gives this sophisticated dish a sloppiness worth relishing. 713 Vine St., downtown, (513) 621-4777, jrcincy.com
13. Gabby's Café: Gyro Burger, $12
(2010 ranking: 13)
Gabby's calls it a gyro burger, your Turkish büyükanne (grandma) calls it a shawarma. Whatever name this moist, oregano-flecked, oblong beef and lamb patty goes by, we're ordering it again and again. Served on a fresh, fluffy white pita with plenty of feta cheese, red onion, banana peppers, and tzatziki sauce, this alterna-burger is one you won't want to miss. Pro tip: While the fries are good, the Saratoga chips served with barbecue sauce are even better. Consider it a cross-cultural marriage. 515 Wyoming Ave., Wyoming, (513) 821-6040, gabbyswyoming.com
14. Paxton's Grill: Our Famous Big Paxton's, $8.59
(2010 ranking: Not ranked)
Just steps from the Loveland Bike Trail—you'll want to fuel up post-ride, trust us—this family-friendly bar and grill offers one of the biggest burgers in the 'burbs. The Big Paxton's is a counterintuitively thin, 10-ounce beef patty cooked precisely to temp and served on a hearty Kaiser bun with plenty of garden fresh LTO, crispy bacon, and slices of Swiss and American cheeses. Their coleslaw is creamy perfection, if you can possibly stomach a side after scarfing down the burger and chips. 126 W. Loveland Ave., Loveland, (513) 583-1717, paxtonsgrill.com
15. Walt's Hitching Post: The Trifecta Burger, $13
(2010 ranking: Not ranked)
Looking to throw dietary caution to the wind? This is the burger with which to sin big: In-house ground filet and strip steak is smothered with plenty of smoked brisket and a massive tangle of fried onions for a chop house-inspired (Ruby alums anchor both the kitchen and front-of-house), messy as hell, meat lover's extravaganza that takes no prisoners at an awfully affordable $13. Just keep a few Alka-Seltzers at the ready. 3300 Madison Pike, Ft. Wright, (859) 360-2222, waltshitchingpost.com
16. Sammy's Gourmet Burgers & Beers: Sammy's Burger, $10.49
2010 Ranking: 33
You'll want to ask for extra napkins. Between the fried egg, signature Sammy's Sauce (ingredients are kept mum, but there were strong hints of ketchup and mayo), melted mozzarella, and oversized strips of cooked-to-order bacon, you'll have some swabbing to do. But it's worth it. The toppings complement each other without overshadowing the Certified Angus Beef patty, which arrived just shy of medium-well, but seasoned and juicy enough to compensate. 4767 Creek Rd., Blue Ash, (513) 745-9484, sammysnow.com
17. The Precinct: The Jeff Ruby Burger, $19.75
(2010 ranking: Not ranked)
We know. A $19 burger? Seriously? First: Yes. Second: Get over it. Third: Eat it. Half a pound of juicy, nicely charred USDA Prime meat, Jeff Ruby's eponymous burger oozes umami-ness. Ours was cooked a perfect medium rare and arrived looking downright dignified—the horseradish mayo, sharp American cheese, and LTO stacked with architectural verve, two thick strips of Nueske's bacon crossed like an X, a mini basket of Boardwalk fries and one tangy dill spear by its side. The only flaw? The herb brioche bun broke down, forcing us to eat the last chunks of meat with our hands. Which was undignified, but still damn good. 311 Delta Ave., Columbia-Tusculum, (513) 321-5454, jeffruby.com
18. Herb 'n Thelma's: Tavern Double Cheeseburger, $5.25
(2010 ranking: Not ranked)
This Covington diner is the best kind of throwback. Cozy baseball kitsch and brewery memorabilia greet you inside, along with a mighty little double cheeseburger. Its divey goodness is the direct result of quality time on the restaurant's original flattop grill. That's 70 years of serious seasoning. Said grill also toasts up grocery store buns, steams cheese to melty perfection, and adds those essential crusty bits that create an exemplary burger. 718 Pike St., Covington, (859) 491-6984
19. The Elusive Cow Café: Lamb Burger, $11.50
(2010 ranking: Not ranked)
This Bellevue burger bar takes pride in its meat—whether it's beef, lamb, bison, or turkey. The generous and juicy hand-pattied lamb burger arrives on a Sixteen Bricks brioche-style bun piled high with LTO. Additional options—artichoke hearts, bacon, and avocado, for example—are available for a surcharge. Don't get too caught up on extra toppings; you'll want to save room for the organic cornmeal-crusted onion rings. Then prepare to slip silently into a deep food coma. 519 Fairfield Ave., Bellevue, (859) 291-0269, theelusivecow.com
20. The Echo: Cheeseburger, $6
(2010 ranking: Not ranked)
Eating at The Echo is much like pulling up a chair at Grandma's: Don't expect ironic innovation or heirloom anything; do expect a genuinely warm reception and American staples prepared with love. Their $6 hand-packed cheeseburger is the kind of classic griddle goodness that you'll want to consume at the counter. The toppings may be standard, but the bun is always tender and the accompanying tartar sauce is a hometown tradition. 3510 Edwards Rd., Hyde Park, (513) 321-2816, echo-hydepark.com
Editor's note: BrewRiver GastroPub has been renamed Brewriver Creole Kitchen.
21. BrewRiver GastroPub: The Natchez, $14
(2010 Ranking: Not ranked)
Ah, the Natchez. Such a handsome burger. It's a pity we had to destroy it. A half-pound of moist, crumbly, house-smoked meat dressed to accentuate its verticality: a stack of frizzled red onion straws, Ohio blue cheese, and sriracha aioli enveloped in a magnificently light and chewy bun (thanks, Sixteen Bricks).
Definitely a two-hander. Comes with excellent hand-cut fries; up the ante and get them truffled. Then order a toasty porter from their superb beer selection. 2062 Riverside Dr., East End, (513) 861-2484, brewrivergastropub.com
22. Bouquet: Bouquet Burger, $14
(2010 Ranking: Not ranked)
Bouquet is not your average burger joint, but for a swanky bistro that can sear diver scallops with the best of them, their burger is one to write home about. Thick, rich, and dense, it's served open-faced on a sweet, golden brown Sixteen Bricks brioche bun with crumbled blue cheese, fresh arugula, tangy housemade pickles, and a schmear of housemade mustard. A marvelous flavor bomb. The night we had it, the beef was sourced from Butcher Betties in Florence, but they now grind it in-house. 519 Main St., Covington, (859) 491-7777, bouquetrestaurant.com
23. Senate: Senate Burger, $12
(2010 Ranking: 10)
For a place known for its massive hot dogs—not to mention introducing a fair share of locals to the glory of poutine—Senate makes one damn fine burger. It's a robust, juicy Angus patty grilled to order over a wood flame, but the toppings steal the show. Vinegary house pickles, caramelized onions, lettuce, tomato, and a kicking housemade harissa aioli—all on a brioche bun—veil the meat's mild seasoning. It's big enough to share (and pricey enough—$12 for the burger only, and fries add another $6), though no one will blame you for wanting to tame this beast on your own. 1212 Vine St., Over-the-Rhine, (513) 421-2020, senatepub.com
24. Wunderbar: Wunderburger,$8.50
(2010 Ranking: Not ranked)
You want a big burger? This, my friends, is a big burger. They say it's only a half-pound, but we'd be willing to wager it tips the scales higher than that. Who are we to quibble? You may need to unhinge your jaw to adequately ingest the thing, especially with its massive, chewy (housemade!) pretzel bun. And with smoked Gouda, pickled red onions, and zesty, grainy housemade mustard on top, it's sure to be a glorious mess. Revel in it. For eight bucks it's a massive value. 1132 Lee St., Covington, (859) 815-8027
25. Gordo's Pub & Grill: French, $12
(2010 ranking: 35)
This, we humbly submit, may perhaps be the juiciest burger…ever. Thick, not too dense or too loose, the beef itself carried superb flavor—and was complemented by the sweet and savory toppings of brie, sweet onion jam, applewood bacon, and spring mix. Don't even try to resist the big pile of fresh, thick-cut steak fries that come on the side. Fear not: This Norwood pub is named after the owner, not for making you gordo. 4328 Montgomery Rd., Norwood, (513) 351-1999, gordospub.com
26. Salazar: Burger, $17
(2010 Ranking: Not ranked)
On paper, the ingredients seem basic: Cheddar, bacon, and tomato. When the sizeable burger arrives, it's clearly far from standard. The cheddar is aged and gooey. The bacon—crisp, peppery strips that outshine all other toppings—comes from Eckerlin's. (The beef, also from Eckerlin's, was a tad overcooked.) Instead of a beefsteak tomato slice, it's tomato confit. And Salazar opts for a floury potato bun—an unexpected choice—that adds a soft, easy-to-eat texture to the burger. The lesson as always: Don't judge an item by its menu description. 1401 Republic St., Over-the-Rhine, (513) 621-7000, salazarcincinnati.com
27. The Root Beer Stand: Quarter Pounder, $3.50
(2010 ranking: Not ranked)
Don't get confused by the name—there's not a shred of corporate interest here. An A&W as early as 1957—the franchise agreement expired in 1982—the current indoor counter and the outdoor tables are crowded with young families and old-timers alike relishing the simple joys in life—like this standardized four-ounce patty (always well-done) on an enriched white-flour bun. It may not be cutting edge, but the level of freshness is enough to make a red-headed Ronald weep with envy. 11566 Reading Rd., Sharonville, (513) 769-4349, therootbeerstand.com
28. Chicken on the Run: Cheeseburger, $2.39
(2010 ranking: Not ranked)
Name notwithstanding, you're going to want to order the burger. The patty is thin (don't go asking for mid-rare) but flavorful enough that it isn't overwhelmed by the chewy bun, melted cheese, and pile of onion slices, pickles, and lettuce. Plunked smack in the middle of Deer Park, Chicken on the Run is an amusing mix of dive bar and family restaurant. There's pinball and a claw game, plus a dartboard and a dinosaur of a cigarette vending machine. In short, it's the perfect place for your kids to hang with their elders and pick up a few proper swears. 7255 Ohio Ave., Deer Park, (513) 791-6577
Editor's note: Jimmy G's has closed.
29. Jimmy G's: Barge Bash Burger, $15
(2010 ranking: Not ranked)
To enter the basement lair that is Jimmy G's is to enter a funktastic, 1970s kingpin kind of reverie (sans the smoke). The dry-aged beef is tasty but a little crumbly; the smoked bacon-tomato jam is the stuff of dreams; and the salty blue cheese pulls it all together.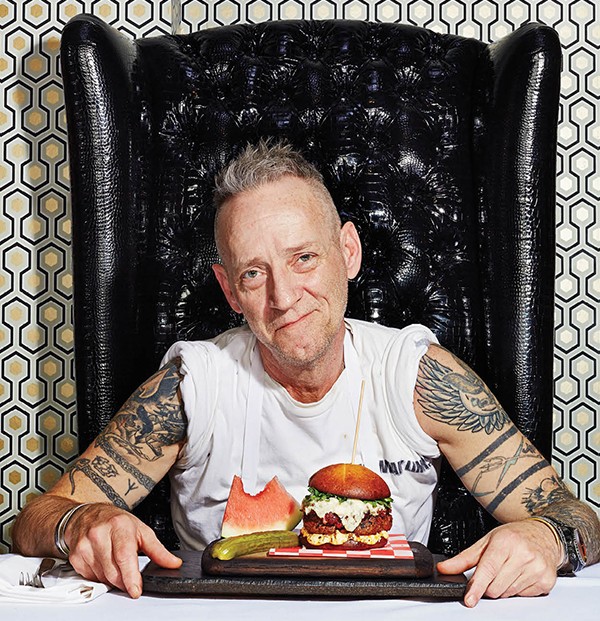 Do yourself a favor and get a side of four-fat fries, served with a smoked black pepper and duck egg aioli. They're just as decadent as their name suggests. 435 Elm St., downtown, (513) 621-8555
30. Mad Mike's Burgers: American Outlaw, $6.39
(2010 Ranking: Not ranked)
If you've been to Five Guys, Mad Mike's will feel familiar. The difference here is the selection of already-built "Gourmet Burgers" with fancy (caramelized pineapple) and not-so-fancy (bacon) toppings. The American Outlaw packs American cheese, shredded leaf lettuce, tomato, pickle, grilled onions, and "Mad Sauce" (a Thousand Island taste-alike) onto a kaiser bun. The beef is 100 percent Black Angus, hand-formed and weighted down on a flat-top, giving crisp edges to the two quarter-pound patties. It's one sloppy little packet of bliss. Florence, Newport, Cheviot, Hamilton, madmikesburgers.com
31. Habits Café: Big Easy Style Burger, $9.75
(2010 Ranking: 22)
This is the kind of seat-yourself establishment that you would expect to produce a standard pub burger. Instead it delivers a surprisingly eclectic selection, with the Big Easy Style being the standout. New Orleans conjures up ideas of gumbo and jambalaya, and the city's flavors make for a sinfully spicy burger. Andouille sausage (halved length-wise for optimal stacking) adds a creole punch and a pickled red pepper amps up the juice levels on a burger with just the right shade of medium-rare pink. 3036 Madison Rd., Oakley, (513) 631-8367, habitscafe.com
32. Anderson Township Pub: Federal Hill, $8.45
(2010 ranking: 18)
Sometimes a place changes your life forever. Sometimes that place is a low-key neighborhood pub. How can that be? Two words: Horseradish cheese. Its delivery system is rather satisfying, too: eight ounces of well-seasoned lean beef on a soft Servatii bun, which begs for nothing beyond the usual LTO. Bonus points for two outdoor patios and crispy, Platonic ideal–level onion rings. 6694 Clough Pike, Anderson Twp., (513) 231-0601, andersontownshippub.com
Editor's Note: Terry's Turf Club has been renamed The Turf Club.
33. Terry's Turf Club: Burger, $8.85
(2010 Ranking: 3)
Stepping into Terry's Turf Club is sensory overload. Classic rock hits blast the packed house, vintage neon signs compete for wall space, and peanut shells crunch underfoot. That excess spills onto the menu, where you can pick any combination of nearly 40 different extras to add to a burger that already comes loaded with seven toppings—lettuce, tomato, pickles, onions, banana peppers, mayo and two slices of cheese. The juice that isn't soaked up by a ciabatta bun seeps through the paper plates it's served on, quickly devolving into a tasty mess, so make sure to pack a poncho—napkins don't stand a chance against this beefy behemoth. 4618 Eastern Ave., Linwood, (513) 533-4222
34. Boca: Boca Burger, $16
(2010 Ranking: Not ranked)
Step inside and find yourself transported—to a different city and a more celebratory mood. And if a burger appeals to you, then you'll be happy with Boca's fresh, very juicy, slightly sweet offering. Just don't expect too much from the bun. While it's perfectly proportioned, it's also a little dry. The toppings are basic—LTO, creamy American cheese (if there's an artisanal version, then this is it), and "sauce maison," which added tang but wasn't intrusive. It comes solo in a charming copper dish, but if you're eating a burger at Boca, you're not worried about value are you? 114 E. Sixth St., downtown, (513) 542-2022, bocacincinnati.com
35. The Wildflower Café: Grassland Graze Beef Burger, $14
(2010 ranking: 1)
On flavor alone, this burger is beyond reproach: the local grass-fed beef is some of the tastiest we ate, and we loved the pickled onions, apple-wood-smoked bacon, secret sauce, and cheese (goat, sharp cheddar, or Maytag blue) that top it. We've long been fans of this all-things-local-and-seasonal spot located, fittingly, in a converted historic farmhouse. The reason the burger fell from its previous championship spot? Our taster had serious problems getting the burger from plate to mouth—the patty collapsed into pieces on the plate, leaving just the tough, past-its-prime bun in hand. That may not sound like much, but with so many great burgers out there, it made a big difference. 207 E. Main St., Mason, (513) 492-7514, wildflowergourmetcafe.com
36. MOTR Pub: MOTR Burger, $8.50
(2010 Ranking: Not ranked)
Any pub that features live music practically every night of the week needs a sober-up sandwich for local rockers slugging back brews. At MOTR, the go-to is the burger, packed with every manner of beer-soaking sponge: a fried onion ring, bluegrass bacon, and pickles, all slathered in chipotle mayo to give it the right amount of sloppiness. Make sure to get your beef blackened for the spicy wake up call you need before hitching an Uber ride home. 1345 Main St., Over-the-Rhine, (513) 381-6687, motrpub.com
37. The Brew House: The Big Jack, $6.50
(2010 ranking: Not ranked)
This is one Jack we will not tell to hit the road. A Walnut Hills staple since 1978 (now with new owners who have seriously upped the beer selection), the Brew House's Big Jack (not to be confused with Doris & Sonny's) is the way to order: Two patties through the garden with melted cheese, on a fresh Kaiser roll from the nearby Giminetti Baking Company—for $6.50—done and sold. The owner also runs Core Clay down the street, so all the plates are hand-made ceramics, which also look great covered with sweet potato fries. 1047 E. McMillan St., Walnut Hills, (513) 961-9058, brewnew.com
38. Indian Mound Café: Half-Pound Hamburger, $4.75
(2010 ranking: Not ranked)
Our recommendation of this Norwood spot involves a major proviso: Do not order the double cheeseburger. The kitchen's attempt at a Frisch's-style double-decker is alarmingly rubbery. Instead, go for the hefty half-pounder with its tidy, hand-formed patty that is seared—with restraint—on a flattop, as the diner gods intended. You can get the shoestring fries, of course. But we enjoyed the wee potato pancakes for a change of pace. Hit up the shuffleboard game on your way out. 5226 Montgomery Rd., Norwood, (513) 631-3010
39. Main Street Café: Classic Cheeseburger, $6
(2010 Ranking: Not ranked)
Call them old-fashioned, but Main Street Café is content to stick with the same basic burger they've been serving up since 1994. There is absolutely nothing fancy about this one: a cooked-to-order patty with lettuce, tomato, onion, and mayo on a standard white-bread bun. But it's noticeably seasoned and cheap enough that you'll feel like you're ripping them off—which is reason enough to sample the bread pudding or a slice of pie. 6903 Main St., Newtown, (513) 272-2030
40. Maury's Tiny Cove: Little Mar, $8.95
(2010 Ranking: Not ranked)
Maury's Tiny Cove isn't just a steakhouse, it's a rip in the time-space continuum—a trip back to 1958, when menu items had honorary names (The Bomber! The Bobcat!), faux wood paneling was all the rage, and a dish of sliced pickles hit the table before you sat down. As befits the era, the Little Mar is a simple burger for simpler times—or as the menu states: "half-pound cheese burger on a Kaiser bun." It's not out to wow you, but it will sate you. Nota bene: The fries are the beau ideal of crispy/crunchy/puffy/moist. 3908 Harrison Ave., Cheviot, (513) 662-2683, maurys-steakhouse.com
41. Incline Public House: House Burger, $10
(2010 Ranking: Not ranked)
With its big deck and view of the downtown basin, IPH is really a summer place. The House Burger is popular, and it's easy to see why: the flavorful beef is very juicy, and only a tiny bit greasy. It's topped with melted cheddar—no cold slab here—two strips of bacon, a pile of greens, and a riot of onion straws that add flavor without the hard bite of raw. Sadly, the bottom bun is no match for all that. 2601 W. Eighth St., Price Hill, (513) 251-3000, inclinepublichouse.com
42. Arthur's: Santa Fe Burger, $11.50
(2010 Ranking: 17)
This is a classic neighborhood joint in the best sense: on a Saturday night the place is packed with a diverse crowd waiting for tables. A large mural depicting "Arthur's Gang" adds to the mirth. They seem to be looking over your shoulder as platter after platter of burgers find their tables. These are hand-crafted, larger-than-your-average-burgers on fresh, bready buns. If the roasted poblano pepper relish didn't do much to enhance the Santa Fe burger, it didn't hurt it, either. 3516 Edwards Rd., Hyde Park, (513) 871-5543, arthurscincinnati.com
43. City View Tavern: Big Ted Deluxe, $7.75
(2010 Ranking: 2)
Let us be clear: We are fans of the City View and its burgers. The beef comes fresh from Ebert's (no freezer here), the buns from Giminetti, and the chips are Grippo's. And if you go on a good day, you'll find a great burger for a great price inside your red plastic basket. But one of our tasters had such a bad experience—much of the menu unavailable, a way-longer-than-usual wait, and surly service—that we had to reflect it in their ranking. 403 Oregon St., Mt. Adams, (513) 241-8439, cityviewtavern.com
44. Arnold's Bar and Grill: The Cincinnati Dancing Pig, $12
(2010 ranking: Not ranked)
Go for the live music; sit in the courtyard; order one of the many beers on tap; try this bacon-infused half-pound hand-patted burger topped with barbecue sauce and thick-cut pepper bacon; and enjoy the bar that's been here just about forever (since 1861, to be precise). Our one caveat: We found their basic burger wanting, so remember that toppings are your friends and order accordingly. 210 E. Eighth St., downtown, (513) 421-6234, arnoldsbarandgrill.com
45. Quatman Café: Hamburger, $5.25
(2010 ranking: 31)
This is the burger you wish crazy Uncle Marty would cook at family reunions instead of those bland patties he defrosts. It's a basic burger done right, with the kind of crunchy char on the outside that comes from a scalding flat top. Snag whatever table you can find—with cans of pop and paper plates, this hole in the Norwoodian wall is as fancy as a summer picnic. Minus the lawn chairs. But the Reds game will be on , so make like a regular and cheer for the home team. 2434 Quatman Ave., Norwood, (513) 731-4370, quatmancafe.com
Facebook Comments