Skinny Suppers, by Corbin, Kentucky, native and former Ben-Gal cheerleader Brooke Griffin, offers a variety of good-for-you, easy-to-make recipes. They weigh in at less than 350 calories per serving and are balanced with carbs, fat, and protein. The recipes are influenced by her Southern roots, says Griffin, and feature family favorites and low-hassle dishes such as slow-cooker pot roast and one-pot Caprese pasta.
Griffin, who is also the creator of the website SkinnyMom, shares two tempting recipes to whet your appetite.
Asparagus Fries with Garlic Lemon Aioli
Prep Time: 10 minutes
Cook Time: 10 minutes
Serves: 4
Serving Size: 7 asparagus spears, 1 tablespoon aioli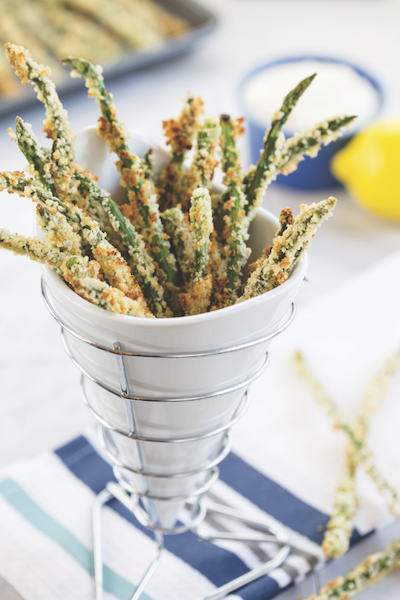 Ingredients
28 asparagus spears
¼ cup white whole-wheat flour
½ teaspoon salt
½ teaspoon black pepper
2 egg whites
¾ cup panko breadcrumbs
1 tablespoon flaxseed meal
¼ cup grated Parmesan cheese
Lemon Aioli Dipping Sauce
3 tablespoons light mayonnaise
½ teaspoon grated lemon zest
1 tablespoon lemon juice
½ teaspoon garlic powder
1⁄8 teaspoon salt
1⁄8 teaspoon black pepper
Preheat the oven to 425 ̊F. Line a baking sheet with foil and coat with cooking spray.
Wash the asparagus and trim off the bottoms.
In a shallow baking dish, mix together the flour, salt, and pepper. In a separate shallow baking dish, whisk the egg whites. In a third shallow baking dish, mix the panko, flaxseed meal, and Parmesan.
To bread the asparagus, roll the spears through the flour mixture and shake off the excess. Next, roll the asparagus through the egg whites and allow the excess to drip off. Third, roll through the panko mixture, and press gently to adhere to the spears.
Lay out the asparagus on the prepared baking sheet in a single layer. Bake until golden, 10 to 12 minutes.
Meanwhile, prepare the lemon aioli dipping sauce. In a small bowl, whisk together the mayonnaise, lemon zest, lemon juice, garlic powder, salt, and pepper.
Serve the asparagus fries with the dipping sauce.
---
Southern Shrimp and Grits
Prep Time: 5 minutes
Cook Time: 10 minutes
Serves: 4
Serving Size: 1 cup of grits, 10 shrimp
Ingredients:
2¼ cups low-sodium chicken broth
1½ cups fat-free milk
1¼ cups Quaker Quick 5-Minute Grits
½ teaspoon salt
1 cup shredded Wisconsin sharp white cheddar cheese
½ teaspoon black pepper
1 pound medium shrimp (about 40), peeled and deveined
1 tablespoon Old Bay seasoning
1 tablespoon extra virgin olive oil
2 teaspoons minced garlic
4 green onions, thinly sliced
In a medium saucepan, bring the chicken broth and milk to a boil. Gradually whisk in the grits and salt. Reduce the heat to medium-low, cover, and cook the grits, stirring occasionally, until they start to thicken, about 5 minutes. Remove from the heat and stir in the cheddar and pepper.
Put the shrimp and Old Bay in a large resealable bag. Seal the bag and give it a few shakes to evenly coat the shrimp with the seasoning.
In a large skillet, heat the olive oil over medium heat. Add the garlic and green onions and cook until the green onions begin to soften, 1 to 2 minutes.
Add the shrimp to the skillet and cook on both sides until cooked through, 3 to 5 minutes.
To serve, spoon 1 cup grits into a bowl and top with about 10 shrimp.
Facebook Comments