For our July 2017 issue, we celebrate The Golden Age of Hot Dogs.
1. The Cuban Missile
Wurst Bar in the Square
Heat Ranking: 3/5 | Size Ranking: 4/5 | Price: $12 (with waffle fries)
Despite what its name may conjure, this dog is the furthest thing from a crisis. It is instead a beautiful union: grilled Andouille sausage wrapped in smoked ham and Swiss, made even better by the Applewood-smoked pulled pork and a banana pepper relish, plus a pickle, mayo, and sweet mustard. So, yeah, it's our new favorite way to consume a Cubano sandwich.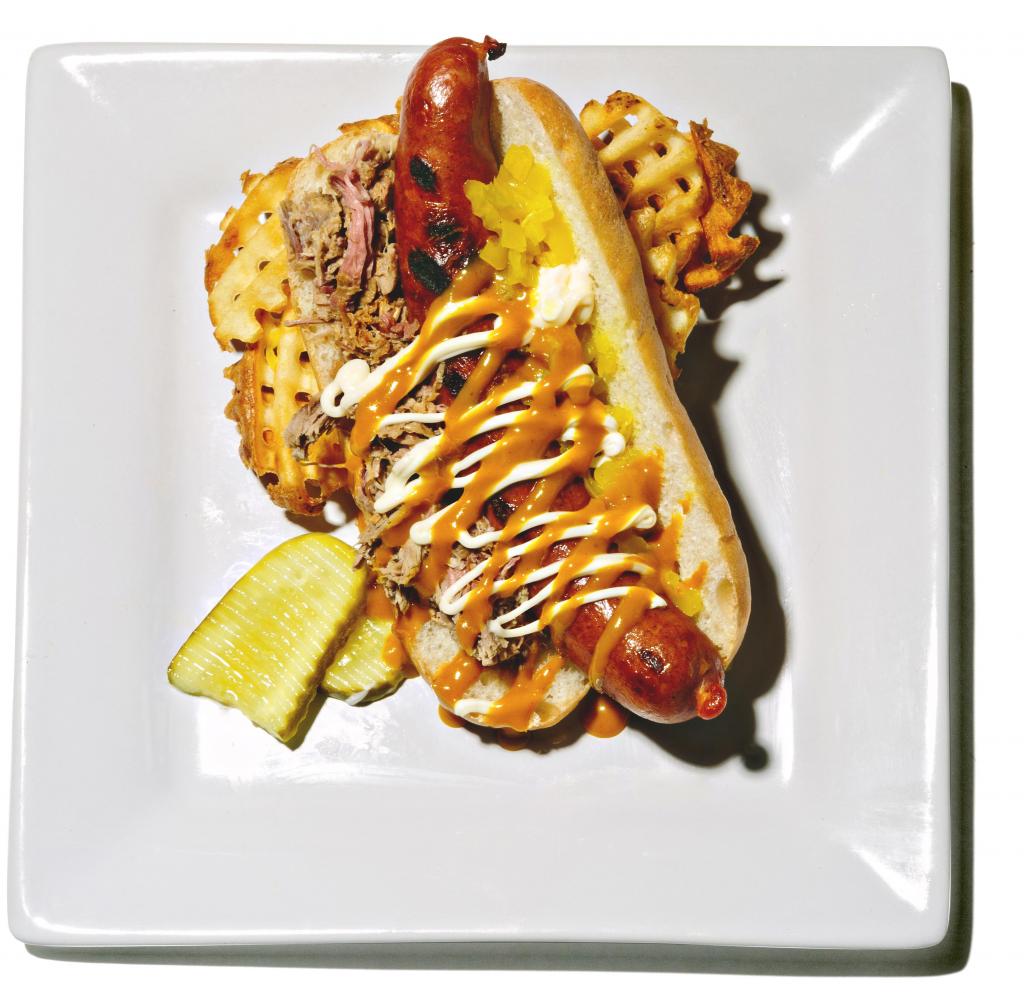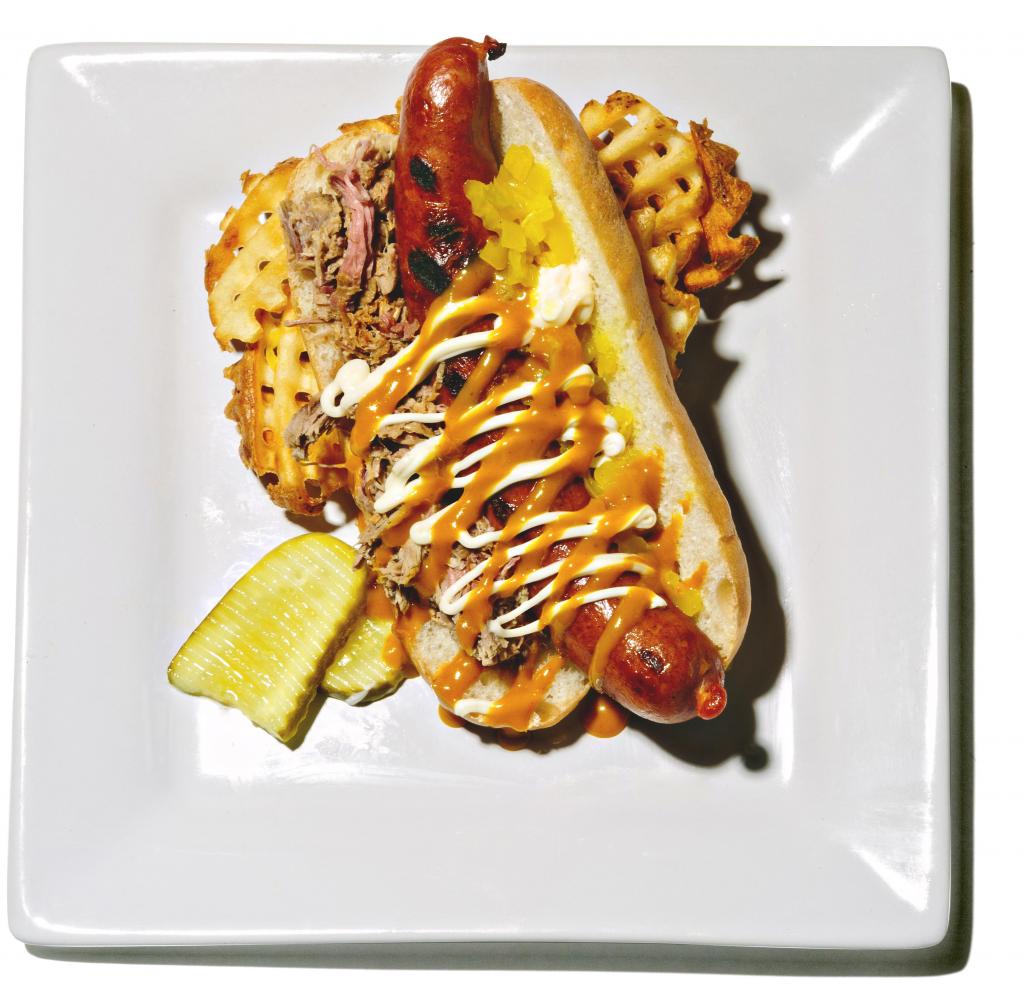 ---
Wurst Bar sources its sausage from Wassler Meats in Bridgetown, and the freshness is evident. Our intel informs us they also serve killer jalapeño-cheddar and "u-betta goetta" dogs for any return (or particularly famished) visits. wurstbarinthesquare.com
---
2. Chicago Dog
Mr. Gene's Dog House
Heat Ranking: 3/5 | Size Ranking: 3/5 | Price: $3.50 (no sides)
Atop Mr. Gene's Chicago dog lies a symphony of flavor, the panoply of ingredients piled to crescendo. The foundation: a meaty, rich all-beef hot dog and blandly sweet untoasted egg bun.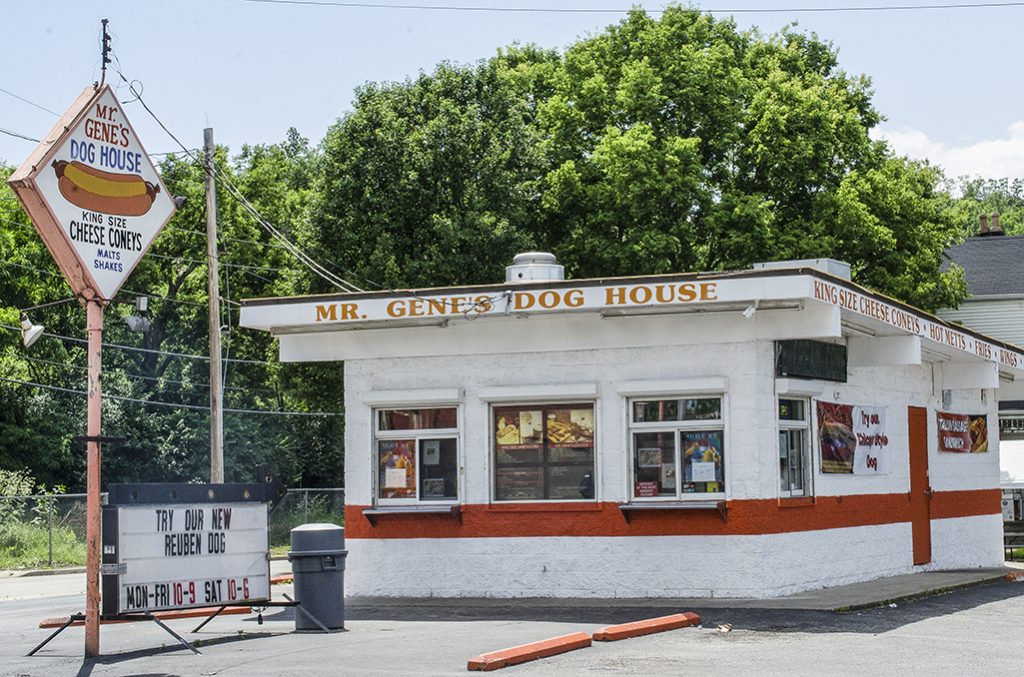 ---
Layer in the cool juice of tomato, watery crunch from diced onion, the soft snap of dill pickle, a vinegary schmear of yellow mustard, a hint of clove from the neon relish, a sharp but mellow heat from serrano peppers, and the vegetal salinity of celery salt. There's so much going on, you might have to order another to figure it all out. mrgenesdoghouse.com
---
3. Two All-Beef Dogs
Eli's BBQ
Heat Ranking: 1/5 | Size Ranking: 3/5 | Price: $6.25 (no sides), $10.25 (two sides)
You probably had no idea Eli's even served hot dogs. Take heed, grasshopper—tear yourself away from the pulled pork and smoked turkey to discover something completely different yet equally satisfying. Skinny all-beef dogs spend half an hour in the smoker and a minute in the fryer, then get slipped into toasted wheat buns and topped with slaw, BBQ sauce, and a generous helping of pork crumbs (you know, the heavenly bits they put on the grits, baked beans, and mac-and-cheese when you want it "dirty"). Fair warning: You will probably need a fork. And plenty of napkins. elisbarbeque.com
---
4. The Sausage Board
Wienerwurst Mike Frankfurtary
Heat Ranking: 1/5 | Size Ranking: 5/5 | Price: $16.50 (three links and accoutrements)
So a guy walks into an OTR taproom…and discovers the holy grail of sausages. There's a currywurst; a hot mett from Eckerlin's; a perfectly spiced lamb chorizo in sheep casing (a collab with Avril-Bleh); even two veggie options.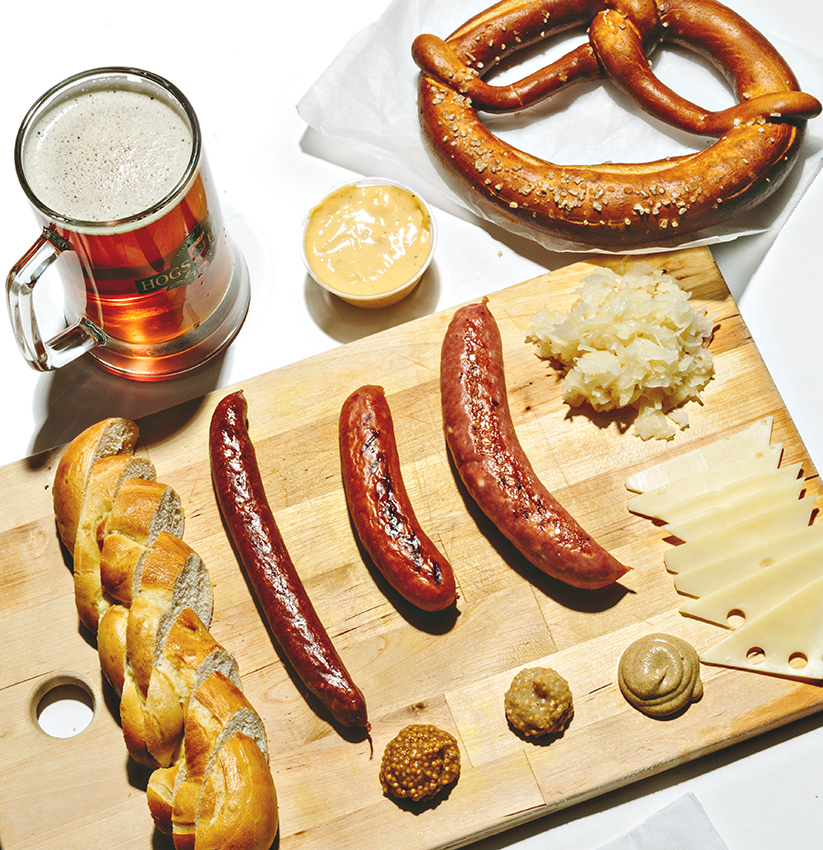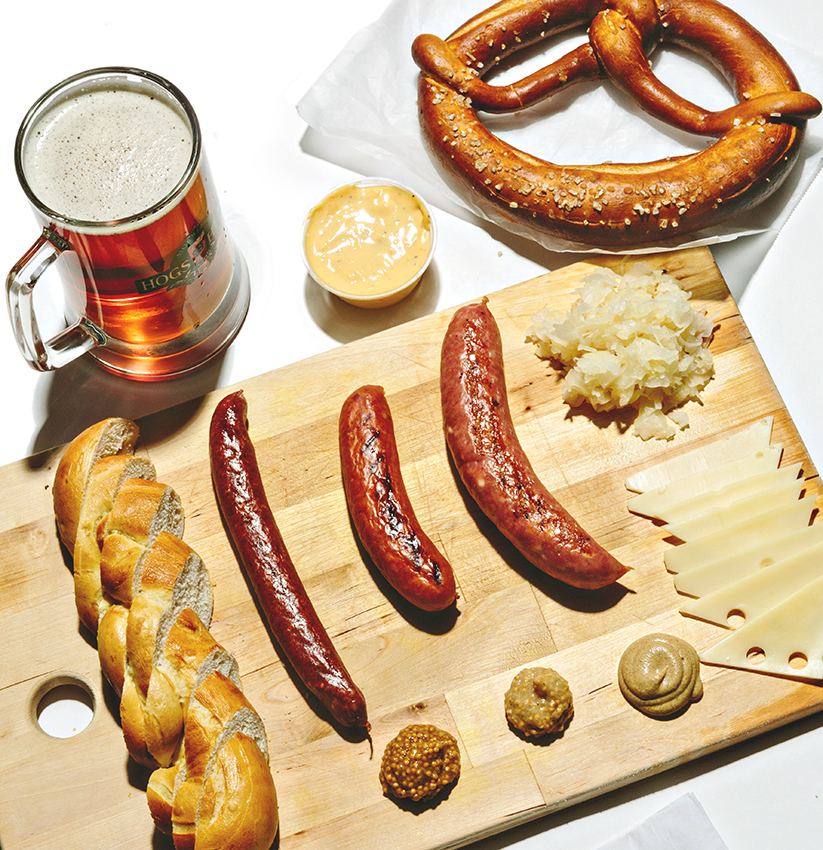 But the link at Moerlein's brewery that captivated us is the Swiss brat, also from Avril-Bleh. Stuffed with Swiss cheese, it meshes so well our only words were "How is this real?" Which makes the sausage board the way to go: Choose any three links, served with three mustards, slices of Swiss and rye, and sauerkraut. facebook.com/wienerwurstsmike
---
5. Bat MastersoN Dog
Piper's Café
Heat Ranking: 2/5 | Size Ranking: 2/5 | Price: $3.75 (no sides)
You may already know this MainStrasse carryout for its 67 soft-serve varieties, but don't overlook the dedicated hot dog list. The Bat Masterson is a particularly odd duck, but worth a try for the unusual—and satisfying—flavor combo of Worcestershire, sage, spicy mustard, and dill pickles. Shop owner Chip Adkins likes to name-check the local ingredients: Worcestershire powder and sage powder from Colonel De Gourmet Herbs & Spices; pickles from The Pickled Pig; light pretzel dough bun from Bean Haus Bakery & Cafe. The only thing not quite local is the wiener itself. Once Adkins adds that, he proudly predicts the Bat Masterson will be the most locally-sourced dog in the land. piperscafe.biz
---
6. Kimchi Hot Dog
Red Sesame
Heat Ranking: 3/5 | Size Ranking: 3/5 | Price: $6.50 (no sides)
For the more intrepid hot dog samplers, Flavortown awaits in the form of Red Sesame's kimchi dog. Owner BJ Kim credits the California-based Kogi food truck enterprise for the popularity of Korean-American streetfood mash-ups, and Kim's own take is on the menu at his Eastgate location inside Jungle Jim's market: a griddled all-beef dog on a white bun with plenty of housemade daikon kimchi. The kimchi gets a quick ferment—four days—but is loaded with complex flavor, upping the meat to stratospheric levels. Choose between his housemade miso and ginger sauce or the traditional Korean chili paste gochujang for extra heat. Fortune favors the bold. redsesamebbq.com
---
7. The Lincolnshire
Krueger's Tavern
Heat Ranking: 1/5 | Size Ranking: 4/5 | Price: $12 (includes colcannon and Guinness-braised onions)
Elevating comfort food is a tricky thing, but Krueger's Lincolnshire sausage pulls this off with aplomb. The pork link—named after its English county of origin—is lightly herbed with sage, and like all of Krueger's burgers and dogs, made with meat fresh-ground in-house that day. It's served on a scoop of colcannon (mashed potatoes and wilted kale) and topped with Guinness-braised onions. The colcannon deserves a special shout out: It's rich and creamy, and holds its own while still allowing space for the bolder flavors from the sausage and onions. Dig in and get comfortable. kruegerstavern.com
---
8. Curry Wurst
Wunderbar!
Heat ranking: 2/5 | Size ranking: 3/5 | Price: $7 (includes a side)
Wunderbar has roughly 20 housemade sausages they rotate on and off the menu, though the curry wurst is generally a mainstay. For good reason. Ground pork shoulder from Heringer Meats just up the road is infused with yellow curry powder, garlic, onion powder, sriracha, salt, and pepper, and cooked fresh in the oven for 8–10 minutes. The finished product is topped with a zingy housemade curry ketchup for a mouth-enchanting fusion of German and Indian flavors. Any blue cheese-heads should also try the hot bleu wurst's blend of wing sauce and Gorgonzola, and if you want more heat, the feuer wurst (another regular) will clear your sinuses for good. facebook.com/wunderbar.covington.3
---
9. Hot Mett Cheese Coney
Putz's Creamy Whip
Heat ranking: 3/5 | Size ranking: 2/5 | Price: $3.20 (no sides)
When I-74 was being built in the early 1970s, just above Putz's location near Mt. Airy Forest, highway workers kept coming by and asking if the creamy whip served any food other than ice cream. Then-owners Ray and Gertie Ehrhardt decided to add some to the menu, including the family's secret chili recipe. Still a Putz's staple, it's a meatier take on classic Cincy chili ladled over Queen City Sausages, including their hot mett cheese coney. The spicy, grilled link is piled high with cheddar cheese fresh-grated every day for a fiery, hearty tweak on the classic coney—and better than any version you've created in your backyard. putzscreamywhip.com
---
10. Italian Sausage
Chicago Gyros and Dogs
Heat Ranking: 2/5 | Size Ranking: 4/5 | Price: $7 (no sides)
Prepare to be dazzled with options. Chicago's "Dogs & Stuff" menu category is the understatement of the century, with a dozen-odd hot dog-adjacent items, including your standard Chicago-style, a couple takes on a coney, and some that are even wrapped (lovingly, we imagine) in bacon.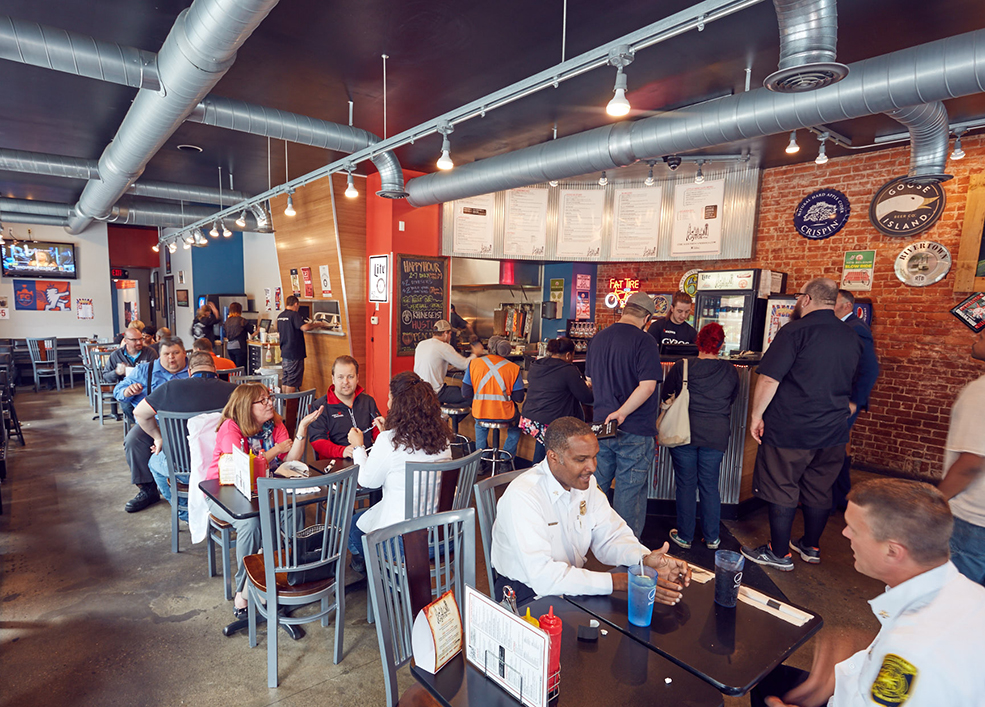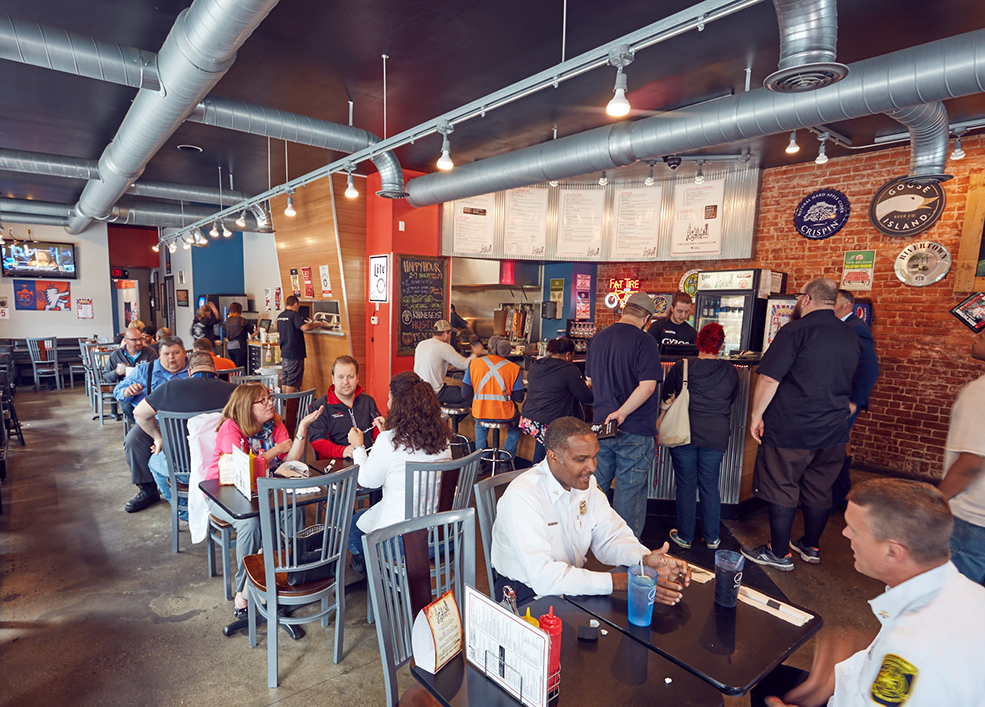 ---
If you want the real deal without a lot of multi-meat fuss, go for the Italian Sausage. It's a simple setup with sautéed green peppers, grilled onions, and provolone, but then you get the intriguing choice of marinara or mustard. We went with mustard and never looked back. Chicago's website trumpets, boldly, that they have "the best Greek food West of the Greek Isles." We're not sure where the Italian Sausage fits into that brag, but we'd go back for it in a heartbeat. chicagogyrosanddogs.com
---
11. Trailer Park Hot Dog
Senate
Heat ranking: 1.5/5 | Size ranking: 4/5 | Price: $11 (no sides)
Credit Dan Wright for Making Hot Dogs Great Again. The chef and owner of Senate gussies up his signature Avril-Bleh dogs with toppings like kimchi, béchamel, and goat cheese.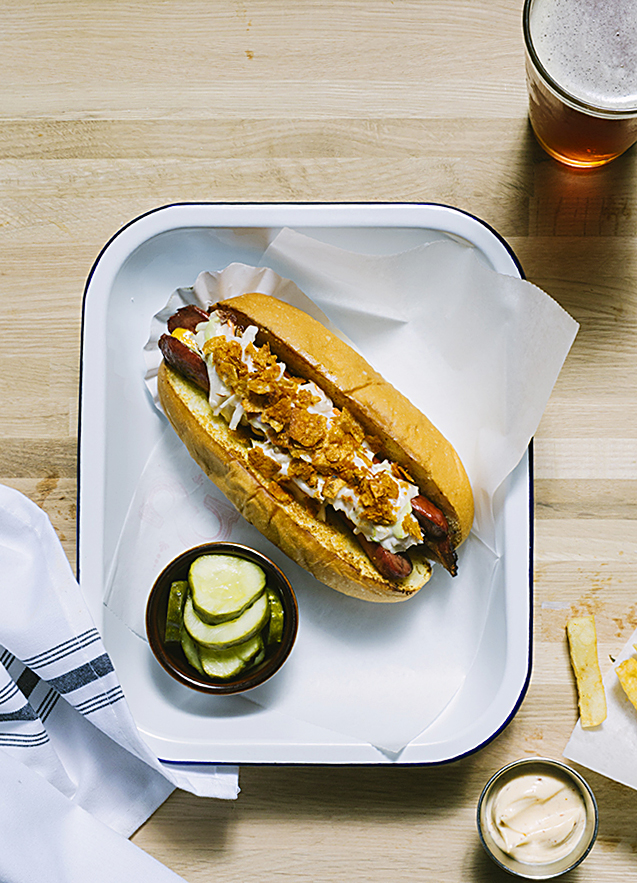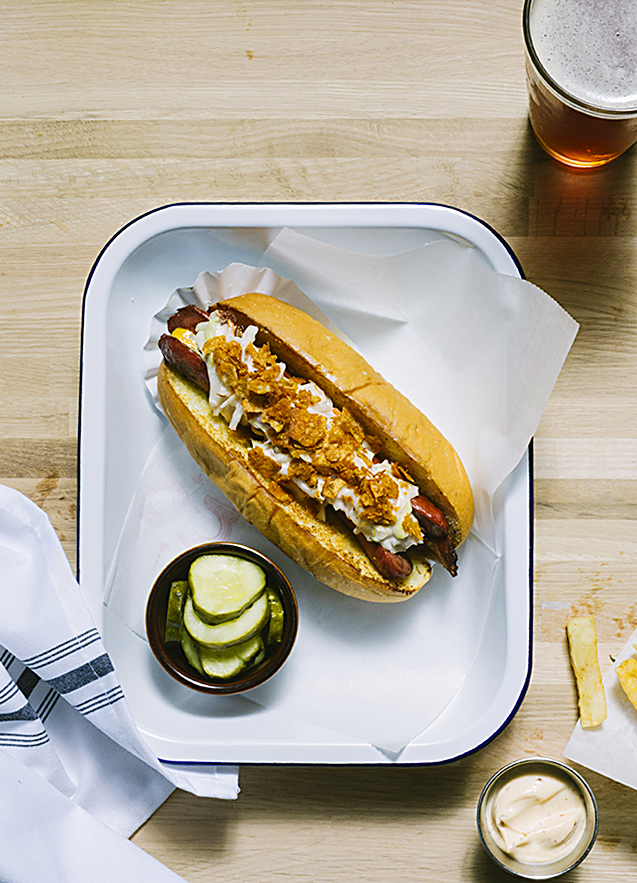 ---
Remarkably, the funky adornments work, including on the best-seller and longtime staple Trailer Park. Atop a sturdy brioche bun, the heaping pile of creamy coleslaw tempers smokiness from both the bacon-wrapped dog and crushed Grippo's BBQ chips. It's the same balanced approach you'll taste on the Korean dog, with the pickled acidity of the house kimchi married perfectly with rich, braised short rib. Hot dog purists: Lay down your relish and embrace the funk. senatepub.com
---
12. Goettawurst
Mecklenburg Gardens
Heat Ranking: 2/5 | Size Ranking: 4/5 | Price: $9 (with a housemade potato pancake)
Goetta need not be consumed strictly in fried patty form. At Mecklenburg Gardens, they've been dishing out goettawursts since Glier's started making them 15 years ago.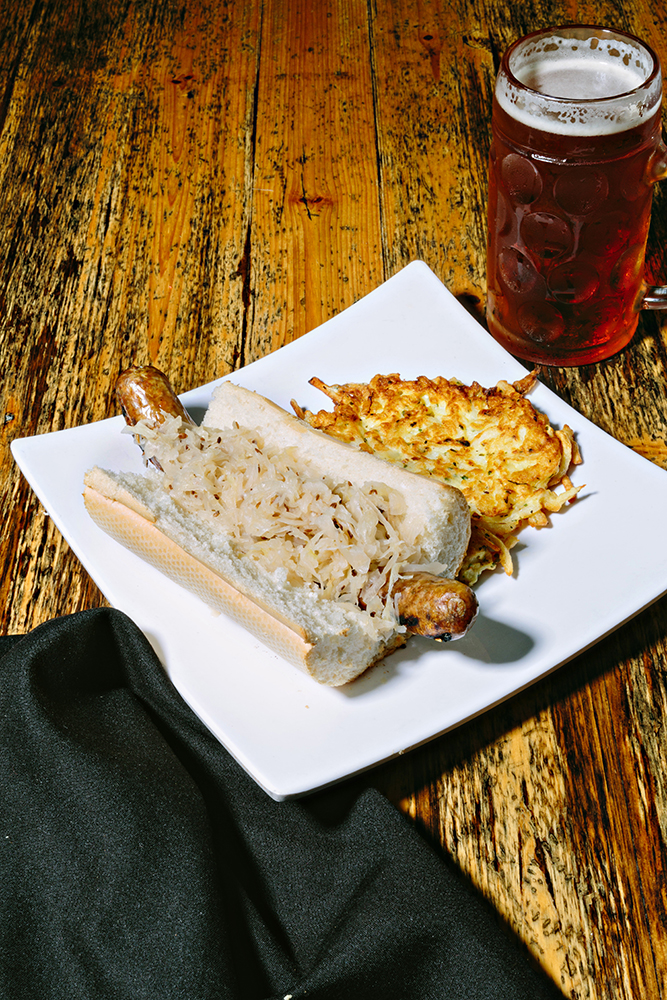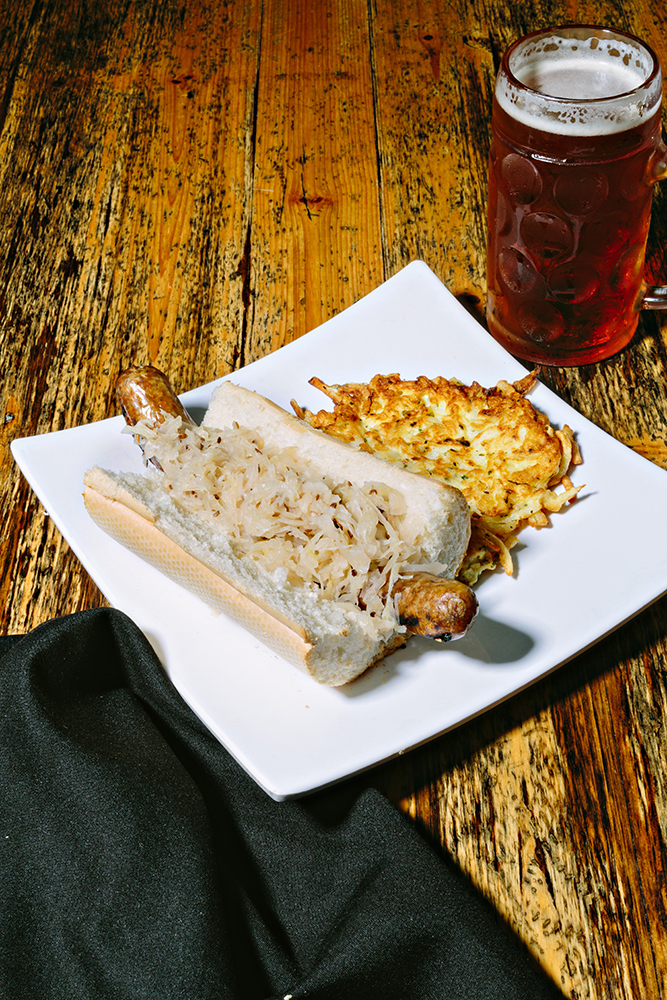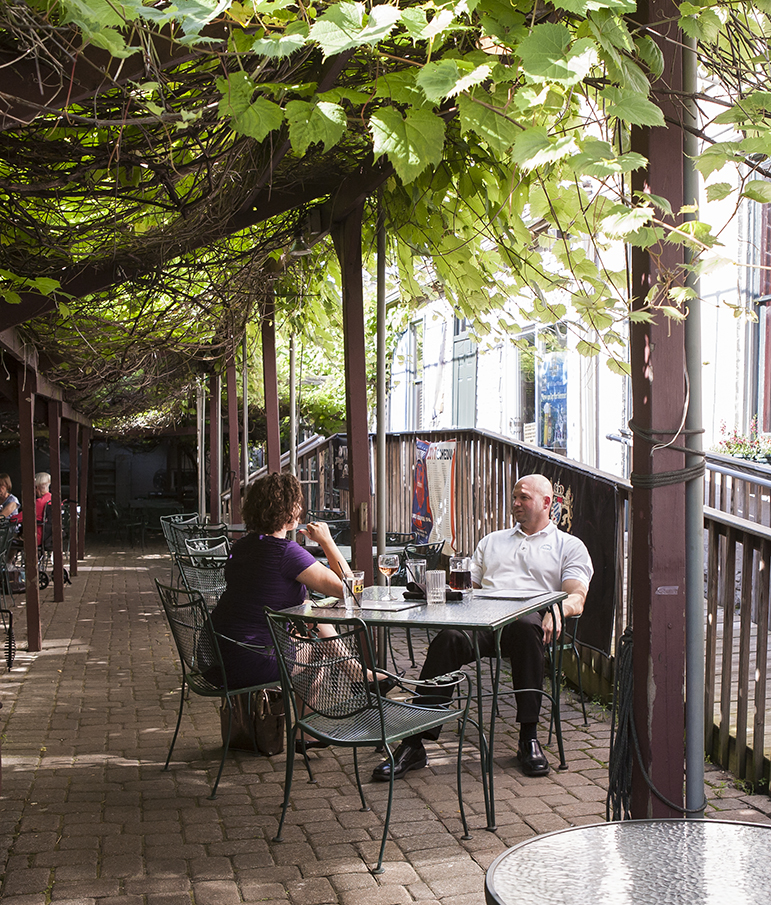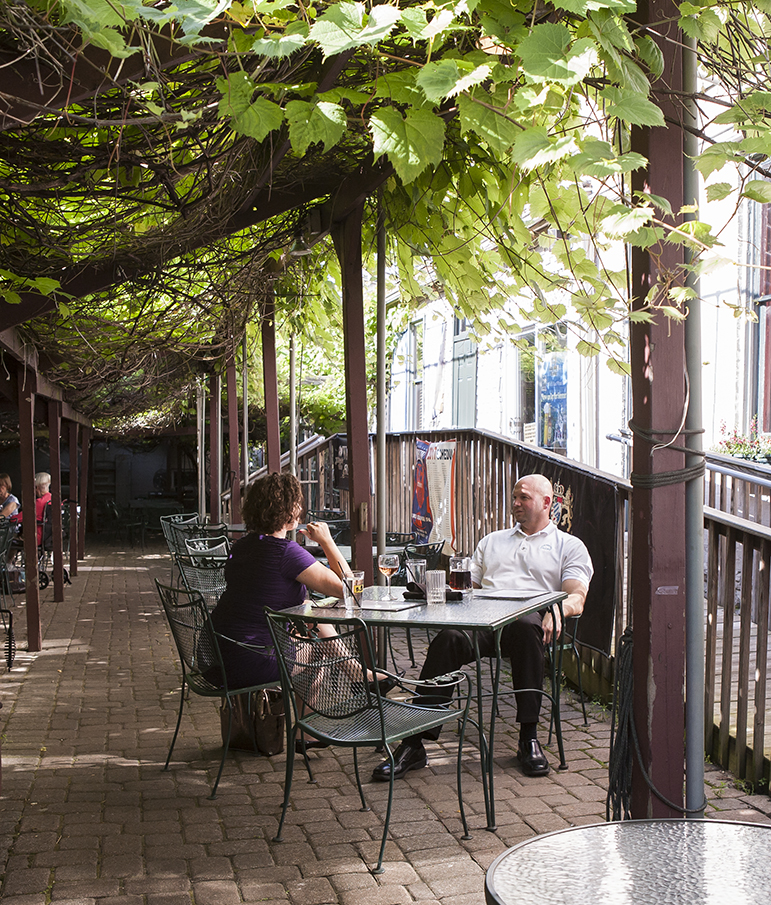 ---
The standard goetta ingredients—pork, beef, steel cut oats—are all accounted for in the link, joined in a bun by a generous scoop of sauerkraut with a sidecar of Düsseldorf mustard. But it's the added layer of texture from the sausage casing that breaks through the goetta glass ceiling. It adds just the right amount of fat and a welcome snap, making for—dare we say it?—an even better way to enjoy our favorite breakfast meat. mecklenburgs.com
Facebook Comments