F
 ruity Pebbles, bacon, pineapple, and sour cream—what do these fixings have in common? They're popular ingredients at Cincinnati's favorite doughnut shops. Here are six spots to grab a dozen delicious ring-shaped pastries: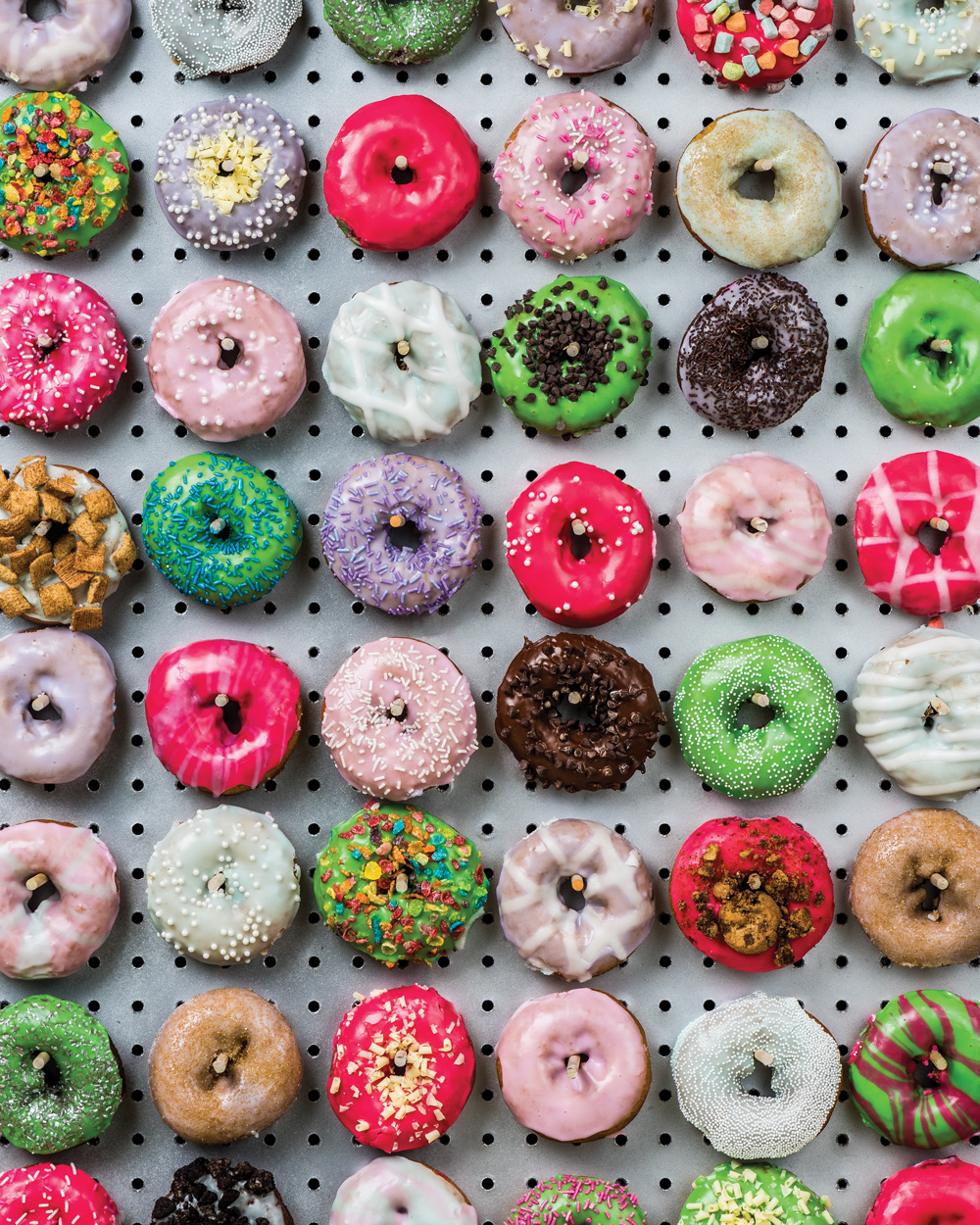 ---
Gadabout Doughnuts
Sour cream is the secret ingredient in Karina Rice's artisan doughnuts. She says it's "a really great way to hold flavor and work as a preservative," a must for Rice, who bakes her Gadabout goods at Findlay Kitchen in OTR and sells them at various pop-up events. Fans can also find her treats at Walnut Hill's Landlocked Social House every Wednesday and Saturday.
facebook.com/gadaboutdoughnuts
---
Holtman's Donuts
Since 1960, Holtman's has served up scores of doughnuts, from plain glazed to red velvet, maple bacon, and Fruity Pebble–topped. But you can also go big—order a couple weeks ahead and get a giant version of your fave (yeast only) that will serve eight to 10.
Multiple locations, holtmansdonutshop.com
---
Marcella's Doughnuts & Bakery 
What's the best-selling treat at all three of Marcella Poole's east-side bakeries (now owned by her grandson, Tristin Meholick, and his parents, Carmen and Cory)? The cronut, a croissant-doughnut hybrid topped with cinnamon, powdered sugar, and cream cheese. Although they typically sell out by 10:30 a.m., the Kettle Danish, a deep-fried pastry with a flaky exterior glaze and a rich, moist inside, is equally mouthwatering.
Mt. Carmel, Amelia, Eastgate, marcellasdoughnuts.com
---
Moonrise Doughnuts
Doughnut enthusiast Keith Bales founded Moonrise Doughnuts in 2017 to fill the neighborhood void left by the closure of one of his favorite teenage hangouts, Latonia Bakery. Just like the bygone storefront, Moonrise opens at night, when it slings select hot doughnuts. If its classic recipes aren't enough to take you back, surely the nostalgic vintage decor will.
3718 Winston Ave., Covington, (859) 415-0308, moonrisedoughnuts.com
---
Silverton Donut Shop 
Take a trip back in time at this neighborhood shop, with just about every yeast, cake, glazed, sugared, and jelly- or cream-filled variety you can imagine; grandmotherly staff; counter seating; and no website. Get there early, because when they're out, they're out and you try again tomorrow—especially with the prized (and scarce) apple fritters. 
7414 Montgomery Rd., Silverton, (513) 793-0567
---
Stan the Donut Man
You don't have to trek all over to find an apple fritter, but a pineapple version? It's the delicious specialty at this laid-back, old-fashioned doughnut shop, owned by the Crowe family since the 1960s. Baked daily in house with chunks of fresh pineapple, Stan's secret yeast doughnut recipe, and glaze drizzled on top, it's totally worth tracking down.
7967 Cincinnati-Dayton Rd., West Chester, (513) 759-0016
Facebook Comments