You know The Brass Ass, even if you've never been inside. If you've ordered al pastor tacos at La Mexicana, or a Coney Island at Dixie Chili, then you've done so within view of one of Monmouth Street's last remaining strip clubs, hidden in plain sight in a transitional neighborhood primed for a sequel.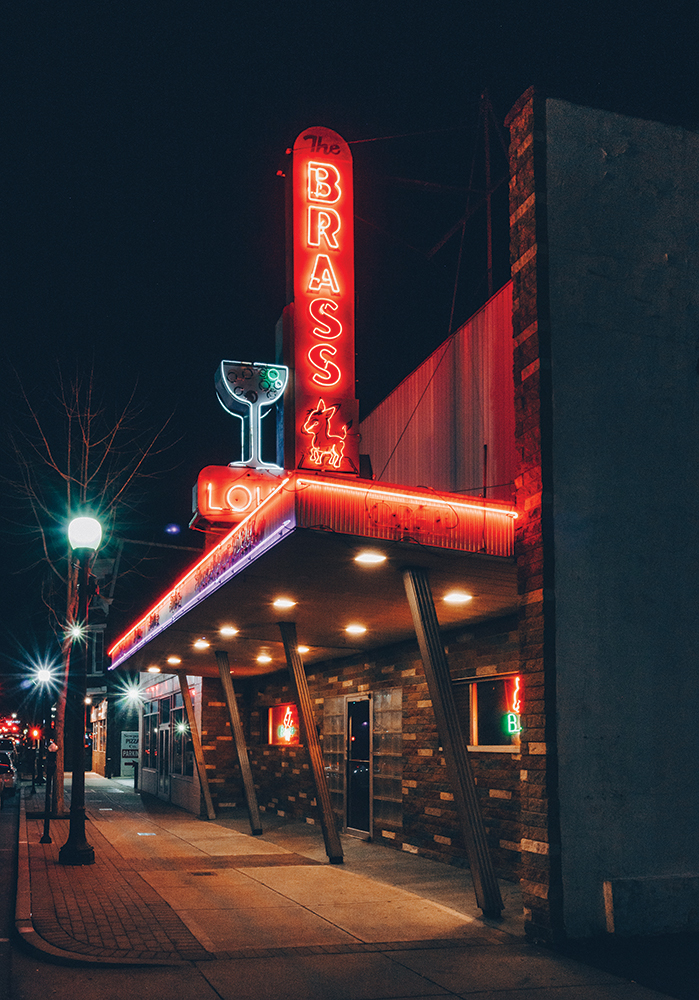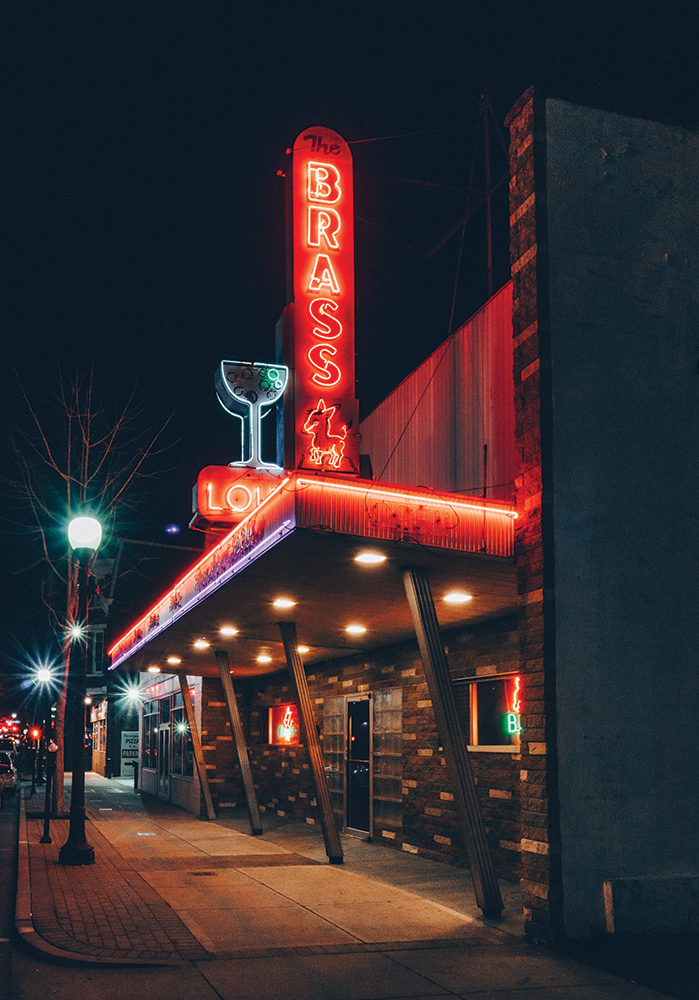 ---
From the outside, The Brass Ass—originally owned by Larry Flynt and Vance Raleigh—looks virtually the same as it did when it moved to this location in 1970. The club has a prominent street presence in Newport, but the curb appeal is tame by contemporary standards. The mod storefront and blinking neon signs are a colorful part of the block. Even the word "Ass" is replaced with a cute little light-up donkey.
In 1970, then 24-year-old Armina Lee (Raleigh's sister) bought Flynt's ownership stake in The Brass Ass. Flynt, a young man himself, was already building his own naked lady empire, one Hustler Club at a time. Forty-seven years on, the now 71-year-old Lee still runs the place. "I wanted to be a missionary," Lee remembers. "I never dreamed I'd own a club."
In a watershed moment for Lee's family, Raleigh was killed in a shootout on Monmouth Street in 1973 in a dispute with a West Virginia-based club owner. Those were Newport's Sin City days, when strip clubs dominated the business district and mob connections were more than just idle gossip. Lee retained ownership of the club, buying the building in 1974.
The tide turned for Newport in 1980 when the city passed a law prohibiting nude dancing. "I've spent many dollars trying to change the laws," she says. "All I want to do is be able to compete." As Lee puts it, before this switch, "Newport was a thriving town. There were 17 or 18 clubs, mostly on Monmouth and York Streets."
Lots of locals might say the opposite—that the place only took off once the strip clubs were squeezed out. But as far as Lee is concerned, she's running a family business. Lee never plans to retire, but she has yielded operations to her daughter Bobbie Lee, and spends much of her free time visiting casinos. Bobbie runs the club floor, while Lee's grandson Galen Kidwell runs The Brass Bull Show Lounge across the street.
"It's always been family-oriented," Lee explains. "My mother worked with us, my husband of 42 years, my sisters, my grandchildren; my family has always been an intricate part of the business."
Inside is standard small-fry strip club stuff: red painted walls, a bar, some booths and tables, and a catwalk stage, gussied up by one of Lee's sons with sparkly bolts of pleated fabric. On a Thursday night in March, there were a scant dozen gents in the room, occupying bar and booth seats, sometimes sidling up to the stage for a closer look. Five dancers shared a table and spent the night between their sets talking and looking at their phones.
Lee has a sort of boss-lady/den mother relationship with her female employees, pushing them to think about their futures after The Brass. "I encourage them to go out and get an education," Lee says, "because this is not long-term."
Her advice for women working in any male dominated industry? "Don't let anyone bully you. Don't settle for any of that. Do your own thing."
Facebook Comments