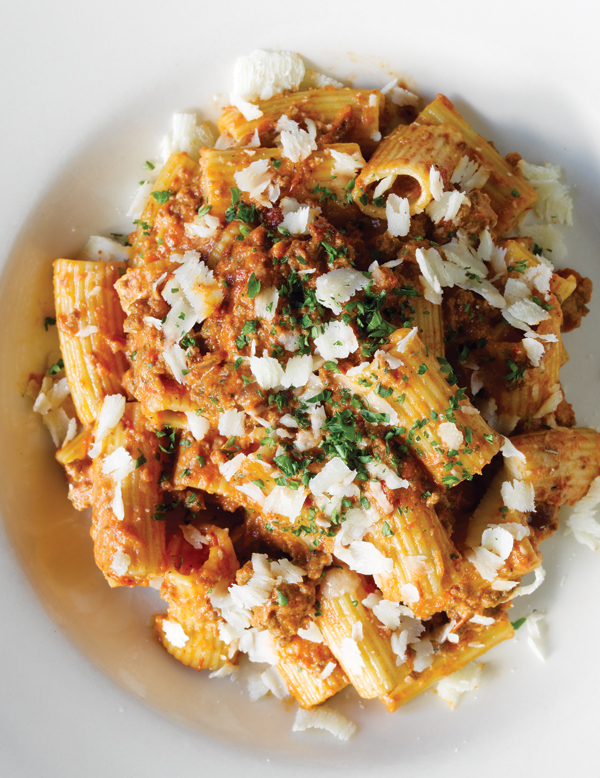 Photograph by Ryan Kurtz
In my ideal world, life really is a musical. Groups do break out in faultlessly choreographed numbers at the train station; love is found, exalted, and lost to a song. I'll even break out in song when inspired by everyday moments. Years ago, when one of my sons was ill, I sang Mary Poppins's "Spoonful of Sugar" in its entirety at his bedside. It really did help the medicine go down; I don't think he was ever sick again. (At least he never admitted it.)
My gal pal Laura feels the same way. During a party not too long ago, we were motivated to run through several a cappella versions of our favorite tunes. It wasn't long before we had the whole room to ourselves and could add some snappy dance moves. So naturally, together with our opera-loving friend Barbara, Vito's was the perfect dinner spot for us. We hummed, we clapped, and we sang along. We even swallowed our ambivalence about some of the food and reveled in the dishes that won us over.
At the end of a modest office park near the intersection of Highland and Grand Avenues in Ft. Thomas, Vito's Café stands slightly taller than its low-slung neighbors and appears slightly more colorful despite the monotony of beige washed over the entire complex. Hibiscus plants curl tendrils around the wrought-iron fencing that frames the café's entrance and distinguishes it from the neighboring accountants and therapists. A few tables bedeck the concrete patio, waiting hopefully for overflow customers. On this weeknight, Vito's central dining room is filled with less than two dozen diners. But even though the wings off the main room are vacant and dozens of tables go unoccupied, it's still one of the most spirited restaurants you'll walk into. That's because along with lasagna Sicilia and seafood diavolo, Vito's serves Rossini, Verdi, and Rodgers and Hammerstein.
"You're just too good to be true, can't take my eyes off of you, you'd be like heaven to touch, I want to hold you so much…" greets us as we are led to a semi-formally dressed table: white butcher paper atop starched white tablecloth, gleaming flatware, small table lamp. A grand piano sits on a stage, and gilded mirrors, chandeliers, heavy velour curtains, and chairs draped in animal print fabric lend a rather theatrical presence—an intersection of brothel-chic and vintage spaghetti house. The performer on stage singing Frankie Valli's hit is one of the café's singing servers: students and recent graduates from UC's College-Conservatory of Music and Northern Kentucky University. When they aren't slinging pasta or extracting a cork from a respectable Barolo, they eagerly showcase their pitch-perfect talents.
Accompanied by a pianist, the singers perform without introduction or patter, except for occasional reminders from Vito to show some love for the performers and put a little something extra in the supersized brandy snifter, the archetype of all tip jars. The continuous music—operatic arias, love songs, duets, and show tunes—is punctuated by applause and the clinking of china and glassware. The sound system, along with the singers' considerable projection, works well for the room; the singing doesn't eclipse any conversation, yet it's easily heard by all. There is, of course, a sufficient dose of schmaltz and shtick: the corpulent Vito dons Tevye's iconic cap to shimmy and stomp his way through "If I Were a Rich Man" from Fiddler on the Roof. But even if the thought of such campy musical theater challenges your melodious sensibilities, you could do worse than a meal at Vito's, where the handmade ravioli is seductive, the caponata both tangy and sweet, and the rigatoni Bolognese is as good as your nonna's.
VITO'S CAFÉ IS the love child of Vito Ciepiel, himself a graduate of CCM, who with wife Mary worked in the late '70s at Cincinnati's original dinnertainment establishment Forest View Gardens, the Broadway-meets-Bavaria restaurant in Monfort Heights. Twenty years were also spent in New York City carving out a musical career and devouring the NYC food and hospitality scene before returning to Cincinnati in 2001—just in time to say good-bye to Forest View Gardens, which closed its doors after 61 years in business. Seeing an opportunity to fill the void and preserve the spirit of Forest View, the Ciepiels opened Vito's six months later.
While Vito and Mary developed and preside over the menu—many of the restaurant's classic dishes are likely inspired by Vito's Italian mother—it is executed by chef de cuisine Leslie Richmond and sous chef Josh Kenneweg. The Ciepiels' favorites and customer favorites rotate in and out more randomly than by season, and the chefs exercise their creative chops with nightly features. Adding to the famiglia ambience, the 25-year-old Richmond (like several other employees) has worked at the restaurant for years, at first overseeing the production of desserts, then under the direction of the numerous chefs that have sautéed their way through the café's kitchen. That roster includes her predecessor, Romy Jung, who came to Vito's from The Palace at the Cincinnatian. When Jung left early this year, after only five months, Richmond was promoted. It's a move that seems to indicate a desire for stability: Richmond is the restaurant's seventh chef in eight years.
Vito's role is mainly that of host, master of ceremonies, and occasional performer. His signature production number, performed at least once nightly, is the Wheel of Parmigiano, a tableside presentation of fettuccine Alfredo prepared in a hollowed out wheel of Parmigiano-Reggiano. It's quite a show. Without missing a line traded with our server, who was on stage singing "Funiculì Funiculà," Vito baptized noodles in a prodigious amount of butter, cream, and cheese, with enough garlic to follow you home. Its simplicity belies the richness, but even still, vegetables, chicken, shrimp, or veal (not just rich, but ultraluxe) can be added for an upcharge, a gilding we're glad to have passed on. It's a small amount, more like a side dish, as it should be, and at $18 per person (minimum two), expensive.
Overall we favored the starters and small plates over the main courses, an ensemble of classics—veal scaloppine, eggplant parmigiana, and seafood diavolo—with a little Ol' Kentucky Home thrown in: a pan-roasted half chicken with mashed potatoes and an excellent moist pork chop the size of a little league mitt marinated in balsamic vinegar and served with wedges of herb (and garlic!) roasted potatoes. The rest of the entrées slightly misfired. A Puccini opera is noted for its beautiful melody, but even the beautifully seasoned shrimp in the shrimp Puccini couldn't offset the gummy quality of the partnering risotto. While individual notes were distinct, we couldn't find the harmony in either of the veal dishes. Both were depreciated by an overabundance of sauce: spicy basil demiglace with mushrooms over the scaloppine, and lemon sage over the veal valdostana.
According to Richmond, approximately 50 percent of the restaurant's business comes from large groups celebrating special occasions, which lends a banquet hall element to some of the menu's design and execution. Without the theatrical component, diners may focus more on the tame tiramisu or an overcooked broccoli rabe. But accompanied by the jaunty "Non Piu Andrai" (Marriage of Figaro), or the gorgeous baritone of the server singing "Some Enchanted Evening" (South Pacific), it's easier to forgive. Even my man friends Jon and Doug, who share an aversion to all musical theater (the exception being Cabaret, for its combination of lingerie and Nazis), were listing people they thought might love the Vito's experience, and making plans to return soon. It seems playwright William Congreve was right: music does have charms that soothe.
---
Vito's Café, 654 Highland Ave., Ft. Thomas, (859) 442-9444
Hours
Dinner Wed & Thurs 5 pm–10 pm, Fri & Sat 5–11, Sun 5–9.
Prices
Moderate to expensive. Starters and small plates $6–$16, main courses $14–$35. Thursday nights, the entire wine list is half price.
Atmosphere
An archetype of the East Coast neighborhood trattoria, complete with a staff of opera students just waiting to sing out.
Originally published in the October 2009 issue.
Facebook Comments