Critics, like social workers, insurance agents, and professional hit men, need to avoid getting emotionally entangled with their subjects. I learned this lesson the hard way at Cinque Ristorante by Nicola's. My jaw dropped with delight when I first looked at the menu online. All of my favorite words, together in one place! Barolo. Bolognese. Tiramisu. And—Che Bella!—cioppino. I marveled how they rolled off my tongue and eagerly awaited the date.
In my defense, it's hard not to be charmed by Cinque's first impression. Nicola Pietoso, owner of his namesake restaurant in Over-the-Rhine and founder of Via Vite, makes a clean break from the 1990s-era Tuscan frump that plagued the former Germano's space in Old Montgomery. This is the fifth restaurant he's opened in his two decades as a restaurateur—hence the name—and his new spot boasts bright energy without feeling garish. To his credit, Pietoso didn't look far for his culinary engine. Nicola's chef, Joel Molloy, whose parents are family friends of the Pietosos, started at the flagship kitchen in his teens and parlayed his steady dedication into a yearlong stint at Alinea in Chicago, along with a brief stretch at Orchid's when he returned home.
There is something about the Pietoso brand that attracts and nurtures staff, and I recognized this trait in our server when the topic turned to wine. He casually rattled off several favorites on the predominantly Old World list, eventually treating us to an impromptu mini-lecture on Tuscan blends, replete with rapid hand gesticulations. Fortunately, he skillfully pointed us to two stunners hiding in plain sight. The 2013 Matteo Correggia Roero Arneis, made from the horticulturally-fussy Piedmontese grape, delivered a wonderfully crisp grapefruit flavor ideal for matching with fish. I also enjoyed a velvety Super-Tuscan: the 2011 Brancaia Tre, with that signature forward note of dark cherry, common in Sangiovese blends. It's worth noting that Cinque has a retail license and can also sell its bottles to go, a service we happily took advantage of.
Dinner started strong. Thickly sliced bruschetta jolted the senses: the slightly charred smell of the crust, the resonant crackle of the bite, the tangy finish of ricotta and arugula. A luxe tuna crudo also delivered big. An impossibly small dice of yellowfin tuna was laced with a mince of yellow bell pepper and a few chives. Small dollops of citrus aioli cut through the fish's richness, and slivered sunchokes offered crunch.
But the soups broke my heart. I'd been daydreaming about the cioppino for a week, but Cinque's version felt rudderless. The fresh mix of shrimp, scallops, and crabmeat had plenty of sweet briny flavor, but the tomato base felt monotone. (Face it, even Giada's version has some fennel.) Sadly, the broccoli and fontina soup also missed the mark. It was textbook silky-smooth, but thin, and stingy on cheese flavor, forcing me to take refuge in croutons and a drizzle of chive oil. I've never eaten a soup that leaned so much on its garnish.
Molloy points out that his biggest challenge is trying to balance Pietoso's vision of a neighborhood restaurant with the demands of customers who have flocked, surprisingly, to more complicated dishes. Many of his entrées stay on the safe side. The tagliatelle alla Bolognese is the same reliable classic you'll find at the mothership: thick egg noodles, soft beef and veal mince, and the same gently reliable cling of the ragu. My companion enjoyed the saltimbocca, and the mild meat fortunately had the milky chew one expects in good veal.
But by no means is Molloy downplaying his talent by hiding behind the classics. A spinach and ricotta agnolotti practically lept from the bowl, so compelling was the visual. Bright yellow pouches of rich homemade pasta, ruby-red wedges of heirloom tomato, and earthy brown homemade pork sausage studded with fennel seed swam in a deep sea of green pesto. It was every bit as delicious as it looked. But the real plot twist proved to be the arista di maiale. The bone-in pork chop was the one entrée I gave short shrift when I first peeked online. It turned out to be the best secondi on the menu. Locally sourced from Marksbury Farm in Kentucky, it's brined overnight with a touch of honey and herbs, and grilled to order. The pork's tenderness coupled hanger steak–like texture with slow-cooked softness.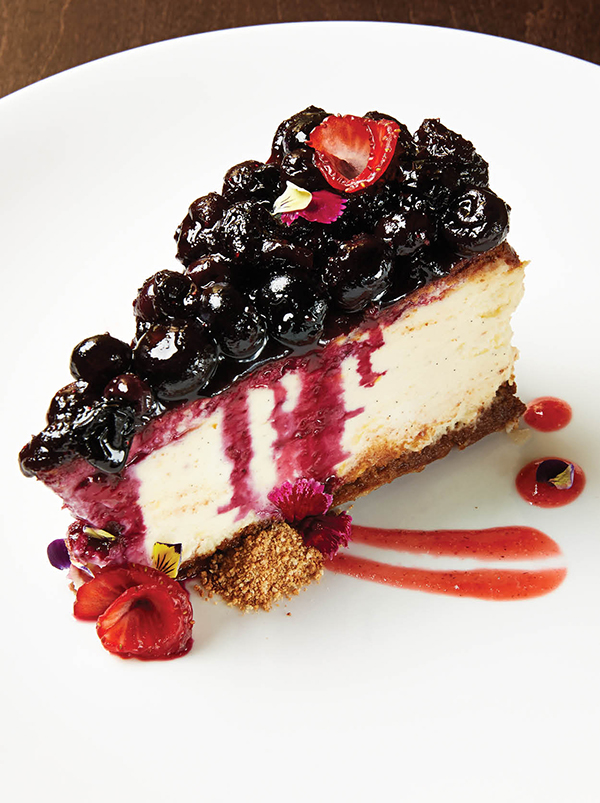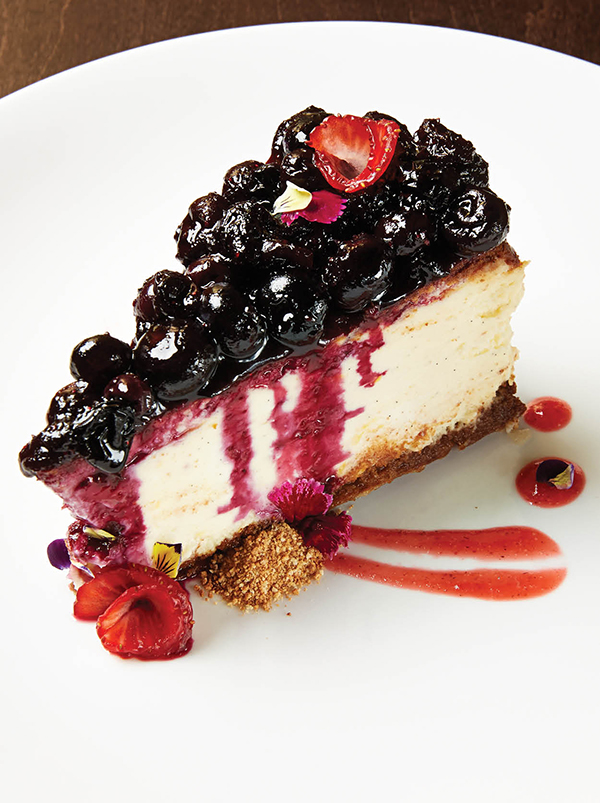 Desserts are the work of Via Vite's resident pastry chef, Anna Pfirrman, and it took only a few bites to sense her precision and mastery of flavor. When she's not dazzling you with carrot cake finished with a tangy white chocolate mousse icing—not to mention cayenne-spiked candied walnuts—she's assembling voluptuous tiramisu to order, soaking ladyfingers in lemony espresso before layering them with mascarpone custard. I loved the subtlety of the crème brûlée, too. The base is spiked with just enough lavender to turn creamy into dreamy.
While it's impossible not to connect with your food emotionally, restaurant fantasies (like their romantic cousins) can create unrealistic expectations and cloud your judgment. I may have fallen under that spell. In the cold light of morning, it's clear to me now: There is certainly much to love about Cinque, but there are also some real-life shortcomings. With each change of the menu, the complexity of the dishes grows (an encouraging sign), but there are enough safe-and-familiar selections to make a visit feel like a date night dinner at a 10th anniversary price. Consider your budget carefully. When it's time to splurge, you may well be treated to a stunning dinner from a talented young Cincinnati chef coming into his own. Go. With someone you like. You might just fall in love all over again.
---
Cinque Ristorante by Nicola's 9415 Montgomery Rd., Montgomery, (513) 231-5555, cinquerestaurant.com
Hours Dinner Mon–Sat 5–11
Prices $5 (navy bean ragout) to $42 (prime beef tenderloin)
Credit Cards All major
The Takeaway Italian classics served with chef-driven flair in a colorful, modern setting. Service is a study in sprezzatura—nonchalant at first glance, belying a dab hand with knowledge and detail.
Facebook Comments