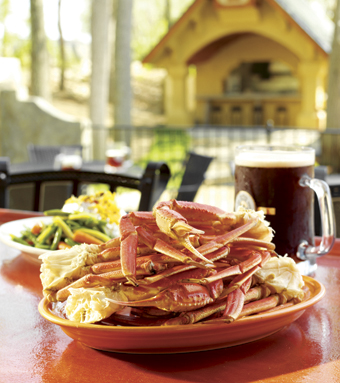 Photograph by Bronze Photography
Like a stout little German cousin of Knotty Pine on the Bayou in Cold Spring, Kreimer's Bier Haus West offers laid-back family dining with a serene river view (in this case, the Little Miami). But the outdoor scenery, the fine service, and the shared appreciation for good "bier"—Kreimer's serves two of their own brands, both excellent, and both brewed by Warsteiner—are where the similarities end. Opened in 1978, Kreimer's looks like a gingerbread chalet on the outside and a medieval mini castle inside, replete with old world weaponry, dark wood accents, stone archways, and ye olde flat-screen TV at the bar. The menu consists of simple, moderately priced, Americanized German cuisine with some clever and tasty fried morsels thrown in for good west-side measure. Never cared for Reuben sandwiches? Roll them into tiny balls and fry them. Wunderschön! The restaurant hand-cuts their beef and the freshness is evident, even when it's pickled and served in a fried rye-flour nugget with sauerkraut. The entrées we selected were probably the least German on the menu, but both received high marks. The crab legs—a Thursday night special that goes back as far as anyone can remember—were fresh and piled high, and perfect for lazy riverside dining. And the rib eye steak, served Oscar style, was perfectly cooked and unhealthily delicious. By the time you read this, Kreimer's will have opened a bar and grill on the lower level of the patio, just a stone's throw from the riverbank—a perfect destination by boot.
Kreimer's Bier Haus West
6052 State Route 128, Miamitown
(513) 353-2168
Prices $15.95–$27.95
Lunch & dinner seven days
Originally published in the June 2009 issue.
Facebook Comments