Been to a brewpub lately? I'll bet there was an epic nerd discussion unfolding at the communal bench behind you; perhaps you winced as the flannel shirts quibbled over the relative merits of glass types and extolled the virtues of a particular fermentation method to which they've sworn blood fealty. Now imagine those same arguments spanning a century throughout an entire country. Cafés teem with dissenters dissecting each nuance of their brew, while munching on cheese handmade by monks ensnared in parallel idiosyncratic debate. Welcome to Belgium. Can I get you a drink?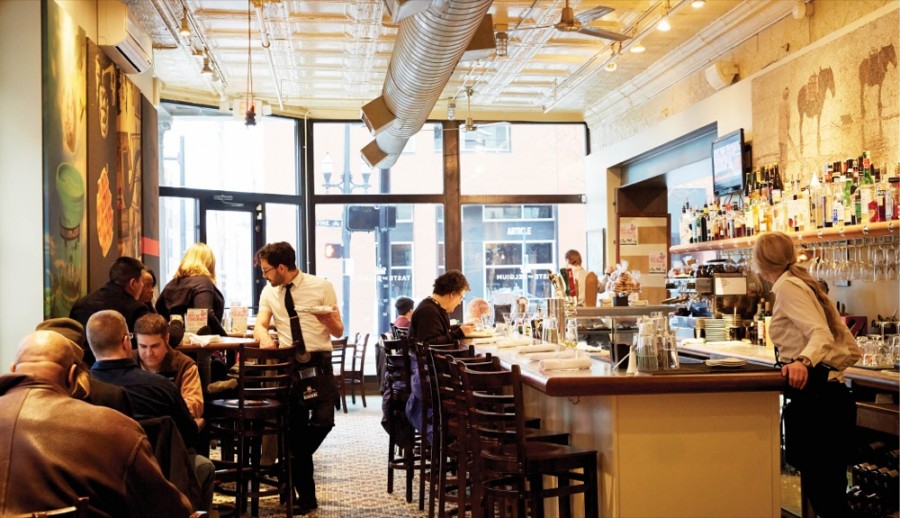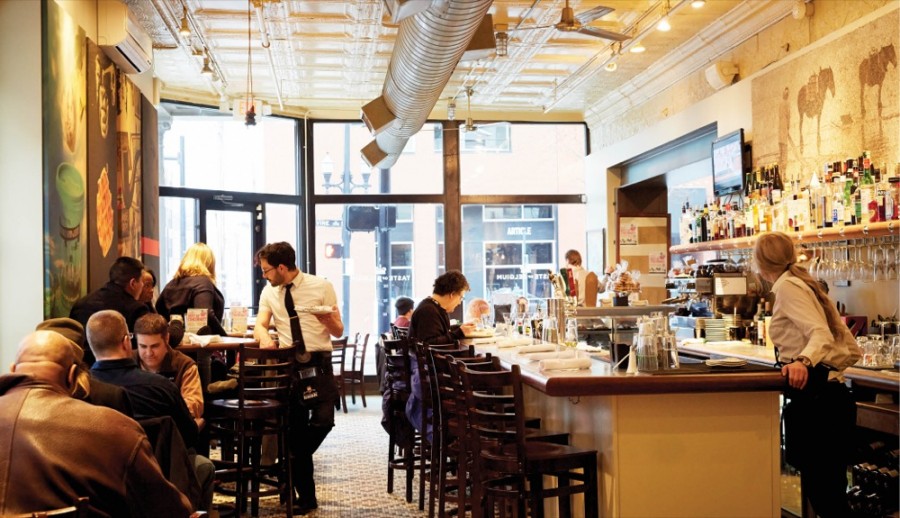 Fortunately, Over-the-Rhine's Taste of Belgium is free of such fisticuffs. But underestimating owner Jean-François Flechet would be a major mistake. A native of Liège—the heavily Catholic town in southern Belgium and ground zero of the yeasted waffle—Flechet slogged his way through two masters degrees (economics and social sciences) in Belgium before crossing the pond to earn his third (also in economics) from the University of Pennsylvania. Originally PhD tracked, Flechet left academia in 2000 to work for Nielsen in Cincinnati. One afternoon, after a five-year stint in developing statistical applications, he walked away.
A lifelong home cook, Flechet naturally drifted toward a food venture. He went all-in (dropping $2,000 on an enormous stand-alone waffle iron) and cashed in his IRA to import 10 tons of the pricey Belgian pearl sugar he insists upon. Jean-Robert de Cavel let Flechet use his mixer at the now-defunct Pho Paris, allowing him the culinary support to hone his recipe, and within a few years, his waffle empire grew from a back counter of Madison's grocery at Findlay Market to his own stand within the market's main hall. Another stand in Columbus's North Market quickly followed, and his full-service sit-down spot opened on Vine Street in 2011. A Clifton iteration opened its doors in 2013, and Flechet has inked a deal to open a third in Rookwood in 2015.
Flechet never claimed to be a one man show. Executive Chef David Kelsey has a knack for tinkering with flavor and technique. He standardized Flechet's initial recipes, namely the frites, by working his way through dozens of preparations and several potato varieties before settling on russets that he double-fries in beef tallow and vegetable oil. He also had his way with the snails. Haven't sampled them yet? Kelsey's have a slightly dark, earthy sweetness only amplified by flat-leafed parsley and plenty of melted garlic butter—the remains of which you should certainly smear onto a slice of baguette. Or go heavier with the croquettes—molten Emmenthaler cheese sticks you've only dared dream about. Just as American cities embraced the diaspora of Italian immigrants in the early 20th century, Belgium itself is no stranger to Italian cuisine, as many chose to flee northward rather than toward Ellis Island. Flechet points out that if there is even a tiny stove in a Belgian café, there will be a Bolognese simmering. Kelsey's version more than holds its own—it's a gem hiding in plain sight at the bottom of the menu. Minced pork and beef, rather than just ground, maintain tenderness and the acid from the tomato tinged cream sauce foils the richness.
But it would be a crime to miss the waffle magic. Imagine a dense, yeasty waffle—crisp from the iron's deep grooves and slightly sandy from the caramelized pearl sugar—topped with a succulent buttermilk fried chicken breast, Frank's hot sauce, and maple syrup. The result is a frenzy of hot, fatty, salty, and sweet that puts the soul in soul food. Traditionally Belgian it is not, but it's a damn good reason to eat a waffle for dinner. In fact, the only real letdown here was the carbonnades, a traditional beer-braised beef stew that Guy Fieri profiled on his Diners, Drive-ins and Dives show on the Food Network last year. My order was far from full-throttle. It was, in fact, a harrowing flashback to the Salisbury Steak at my high school cafeteria. The top round had clearly been stewed at far too high a temperature, resulting in tough meat cubes suspended in a pool of uninviting grease.
Fortunately, pastry chef Lisa Kindle, a BonBonnerie alumna, saves the day with her s'more waffle: Molten marshmallow seeps into every crevice and chocolate sauce cascades over the edges. But after so much heavy food, I often prefer to order a to-go dessert or two from the bakery case. A round mini-cheesecake (with a crust of waffle crumbs, naturally) and chocolate torte were both devoured with gusto in the wee hours after recent visits. Kindle's macarons have become a guilty pleasure, especially the zippy passion fruit and more orthodox pistachio.
And let's not forget the beer. If Taste of Belgium was built by waffles, it's sustained by suds served in rather technical glassware. Wash down an order of mussels with a tulip-shaped glass of Duvel or a snifter of Rodenbach. Six rotating taps offer some of the best the Belgians brew, not to mention those made by OTR neighbors.
A fractious government, a bitterly divided culture, and a nation of immigrants smitten with the simple pleasures of beer, beef, cheese, fries, and sweet, sweet breakfast pastry. Sound familiar? This, I think, is Flechet's triumph: Rather than dutifully celebrating the motherland, Taste of Belgium lets us peer into another culinary culture—and see that its comfort foods, pleasures, and local favorites mirror our own.
Taste of Belgium
1133 Vine St., Over-the-Rhine, (513) 381-4607, authenticwaffle.com
Hours
Mon 7–3, Tues–Thurs 7–10, Fri & Sat 7–11, Brunch Sun 9–3
Prices
$7 (meat croquettes appetizer) to $22 (steak frites entrée)
Credit Cards
All major
The Takeaway
Playful yet classically grounded Belgian bistro cuisine served by passionate ambassadors of beer culture.
Originally published in the April 2015 issue.
Photographs by Anna Jones/OMS
Facebook Comments