This northern Michigan city has a few key things going for it: Two distinct tourist seasons, an established winery scene, and a solid craft beer game. And then there's the water. Michigan water is a mythical thing, and it's not just because of those misty-eyed Tim Allen commercials. The state is embedded in the Great Lakes; they are more a part of its core than its own bedrock. And Traverse City water—stretching from Lake Michigan down through a sequence of long inlet bays and lakes—is something all its own: so clear and turquoise blue that you could mistake the place for Bali Ha'i if not for the reflection of the pines.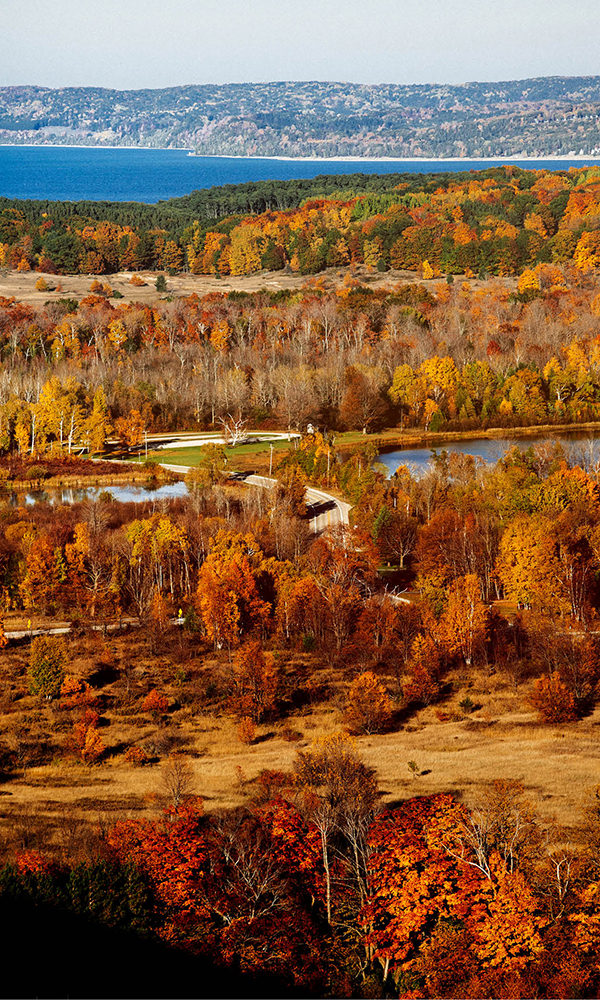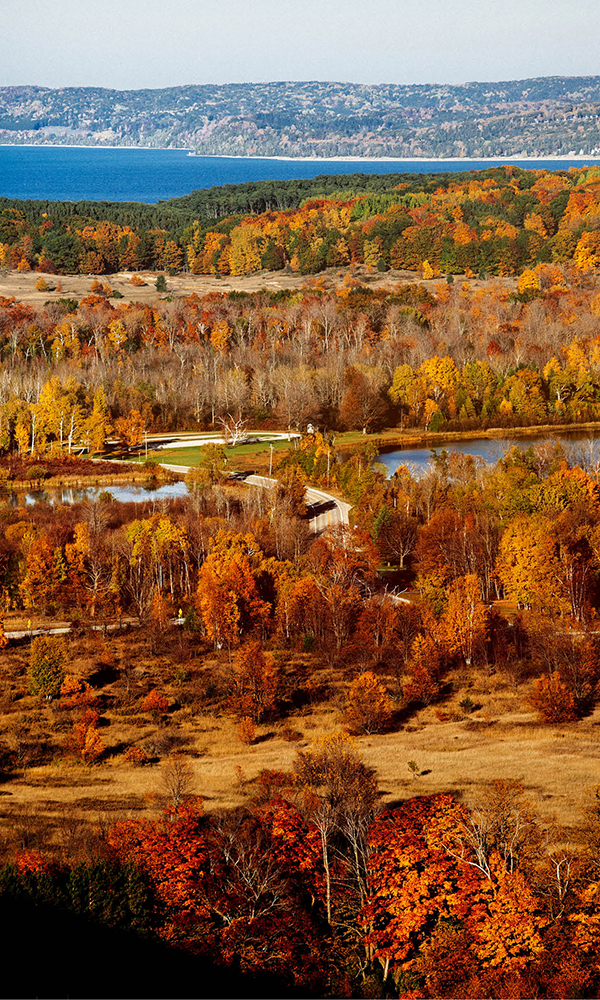 Traverse City is a small town that never died. That's thanks in part to an army of enthusiasts stretching back to its settlement in 1847. "Each time the locality faced a downturn," says History Center of Traverse City Archivist Peg Siciliano, "a forward-looking individual appeared." In the mid-19th-century, the lumber mills hit hard times and the fledgling town seemed on the brink until Perry Hannah lobbied hard to open the Traverse City State Hospital just outside of downtown. The former asylum is now The Village at Grand Traverse Commons, a subterranean mini-mall (and a quiet success story about adaptive reuse) hosting galleries, shops, and restaurants. In the late 1970s, when small towns across America began wasting away, Bryan Crough rallied support for the central business district. And as recently as 2007, a group of local leaders (along with filmmaker and Michigan native Michael Moore) revived the State Theatre and started the Traverse City Film Festival.
This love isn't happenstance; because of its natural wonders, Traverse City's anchor industry will always be tourism. But people also want to live here, their tidy homes and quiet streets—especially charming near the city's main business district—sharing the air with small-fry cottages and showy beachfront resorts. Downtown's Front Street is a classic American main drag, complete with the State Theatre, a turn-of-the-century movie house that actually still screens movies—including some first-run films and themed marathons like "Wes Anderson Day."
If you're on a date, reserve a two-top at one of downtown's swankier restaurants: Amical is a stylish European-style café, and Georgina's is an Asian-Latin fusion taquería. Out with your buds? Head to one of the town's many brewpubs (but be prepared for the standard menu of burgers, fries, and pizza). North Peak Brewing Company is a standout; the spectacularly hip brewpub-meets-ski-lodge (complete with cozy fireplaces throughout) occupies a former candy factory. Have some beer—the seasonal stuff is always a good bet—and order the beer-steamed mussels, which arrive simmering in savory broth with tomatoes, whole garlic cloves, onions, and Cajun sausage. Traveling with hungry kids? Try The Franklin: It's hospitable enough to hand out crayons but stylish enough to offer a full cocktail menu, a locally sourced drink list, and dishes like cured salmon with beets, wasabi, and microgreens.
Like any good resort town, Traverse City furnishes visitors with an excellent breakfast. The Flap Jack Shack (its name alone makes it worth a look-see) is 1970s diner kitsch at its finest, and the flapjacks at said shack are as good as you'd wish them to be; the blueberry version doubles down on the fruit by adding blueberry compote.
A trip to this part of the world would be incomplete without a scenic drive or two. Mosey on up the Old Mission Peninsula, the thread of land extending out into Grand Traverse Bay. A slew of wineries dot the main road leading to Old Mission State Park and Lighthouse at the end. If you feel like dropping some cash on your lodgings, look up Chateau Chantal; this winery-cum-B&B commands a stunning view of the bay. On your way, stop at one of the most sought-after craft breweries in the nation, Jolly Pumpkin, for some artisan ale. The much larger Leelanau Peninsula to the west is home to the Sleeping Bear Dunes National Lakeshore, a 65-mile-long stretch of stunning "sugar sand" beaches and bluffs that look out over Lake Michigan and practically demand a day trip for picnicking, swimming, and roaming.
Wherever you wander in Traverse City, don't be afraid to talk to locals about their state. Michiganders tend to evangelize, and their civic pride is contagious.
---
FYI
Stay
Chateau Chantal: Looking to splurge? Book a room with a view at this Old Mission Peninsula winery. chateauchantal.com
Eat
Amical: One of many upscale dining options, specializing in creatively updated Euro-centric dishes like curried vegetable risotto and cornmeal-dusted lobster tail. amical.com
Georgina's: Asian and Latin food on one menu? Sure! Find everything from Nicaraguan pork to Peking duck. georginastaqueria.com
The Franklin: Both fancy and friendly, this spacious bistro is great for a large group. thefranklintc.com
Drink
North Peak Brewing Company: A stylish and cozy brew pub for the perfect night out. northpeak.net
Jolly Pumpkin: A short jaunt out of town, this renowned brewery has an army of loyal locals. jollypumpkin.com
Do
State Theater: A classic small-town theater that miraculously still shows movies. The old-fashioned sign lights up Front Street. statetheatretc.org
Facebook Comments