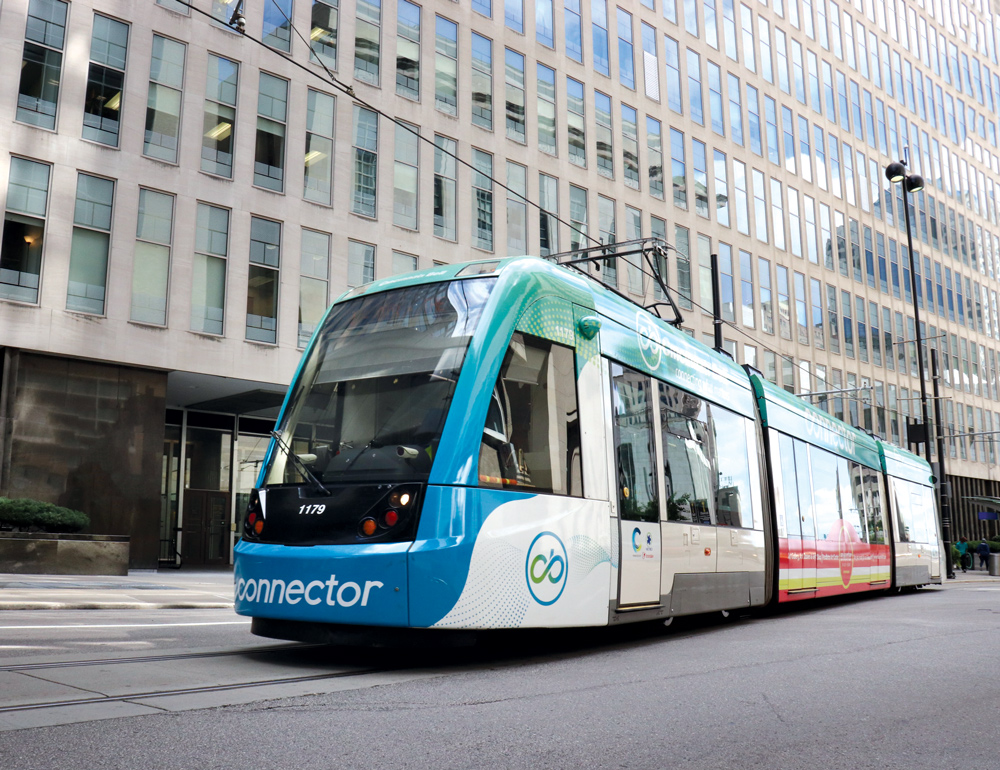 What's next for the Cincinnati Streetcar?
Let's get this out of way up front: State and local political forces killed funding that would have run the initial streetcar line up the hill to UC, which then led to complaints about how the remaining loop "doesn't go anywhere." The limited route certainly has contributed to lackluster ridership, but a litany of unforced errors (bad arrival data, breakdowns in the winter cold, vehicle accidents, and still no traffic signal control) has dampened a lot of enthusiasm over the first two years of operations. It's difficult to imagine the streetcar system expanding up the hill or across the Ohio River any time soon.
What's next for Fourth and Race?
With bank financing and city approvals finally in place, the partnership between 3CDC and Indianapolis-based Flaherty & Collins Properties is slated to start construction this fall almost two years after demolishing the old Pogue's parking garage on that corner. The development will include a parking garage (scheduled to open in fall 2019), approximately 22,000 square feet of retail space (opening in early 2020), and 264 apartments to follow later in 2020.
What's next for the Public Library's North Building?
After deciding to move its distribution center to a new off-site facility, library leaders saw an opportunity to consolidate all downtown operations into its older south building and engaged 3CDC to look at options for redeveloping or selling the north building; proceeds could be used to reimagine the shabby main entrance and public space at Ninth and Vine. But a lack of transparency and public input doomed the plan, and the library cancelled future discussions. A better organized do-over seems likely.
What's next for U.S. Bank Arena?
Owner Nederlander Entertainment says the 43-year-old venue needs to be torn down and rebuilt into a modern facility—think Columbus's Nationwide Arena, Louisville's KFC Yum! Center (hopefully minus that yucky corporate naming choice), and Indianapolis's Bankers Life Fieldhouse. Unlike those venues, however, U.S. Bank Arena doesn't have an NBA, NHL, or major university team as lead tenant and revenue generator. If Nederlander would fund a new arena itself, as FC Cincinnati is doing with its soccer stadium, the city and county likely would kick in some infrastructure support.
What's next for the downtown Kroger?
The long-debated and long-awaited Kroger grocery store is taking shape on Walnut Street between Central Parkway and Court Street, creating what many think is the tipping point amenity for downtown residential living. Store construction is scheduled to be completed in summer 2019, preceded by a parking garage and followed in the fall by 139 apartments in the tower above. 3CDC's redevelopment of historic buildings on Court Street between Kroger's corporate offices and the new store could open next summer, putting 16 new condos on the market.
What's next for The Banks?
It seems it's always two steps up, one step back at The Banks, long ago christened "Cincinnati's front door." Apartments, office space, and the new AC Hotel support restaurants, bars, and retail that enjoy a love/hate relationship with the Reds' and Bengals' stadiums—they're packed when there's a game, struggling when there isn't. The savior du jour, a year-round concert venue operated by the Cincinnati Symphony, remains on the drawing board while a final location and approvals are worked out among the city, county, and Bengals.
What's next for the Duke Energy Convention Center?
Conventional wisdom says the Duke Energy Convention Center needs to expand to attract more and larger gatherings and boost economic impact, but there aren't many good options. Meanwhile, the aging Millennium Hotel is no one's idea of a classy lead convention hotel, and so suggestions have been floated to tear it down and expand the convention center across Elm Street into its footprint. The Greater Cincinnati Redevelopment Authority and 3CDC will jointly develop a surface parking lot at Fifth and Plum across from the convention center, with talk of recruiting a major hotel operator. Lots of moving parts, lots of dollar signs.
What's next for former Macy's store?
Since Macy's closed its downtown store earlier this year, the consortium of developers that owns Fountain Place has been focused on finding high-profile replacements to re-energize what city leaders call downtown's most important block. Apartments and condos remain in the mix, preferably on top of the existing structure in a new residential and/or hotel tower with views of Fountain Square. Window displays from local arts groups look festive on the building now, but the lack of activity there will only get more noticeable when Tiffany moves to Kenwood in December.
What's next for FC Cincinnati's stadium?
Although technically not in the CBD, a new $200-million soccer stadium along Central Parkway likely will have a ripple effect across downtown and Over-the-Rhine. CET Channel 48 is studying options for its nearby studio and office space that certainly will include a large parking garage on adjacent city-owned land. Public radio stations WVXU and WGUC are looking to build new studios, possibly across from City Hall. Perhaps downtown's northwest quadrant might develop housing, entertainment, and covered parking a short walk from the stadium, which is expected to be ready for FCC's 2021 season.
What's next for new hotels?
Downtown is in the midst of a hotel boom, as practically every week brings news of older buildings being repurposed into boutique hotels (Traction Building at Fifth and Walnut, three historic buildings near Third and Main, an office building at Seventh and Race). The old Terrace Plaza Hotel recently changed hands again, and the long-empty structure near Fountain Square might finally see new life. 3CDC is talking with hotel operators about building a new signature hotel across from the convention center (see page 50).
Facebook Comments