Editor's note: Due to the fire on June 7, Coffee Exchange and Molly Malone's are no longer open.
New restaurants, bars, and businesses are transforming Pleasant Ridge into a neighborhood destination. If only a shuttered Burger King would clear out!
Casa Figueroa
Ask Heather Rae Byer to describe her year-old Latin-infused restaurant, and she resorts to colorful. And comfortable. And welcoming and unexpected. But color is the big thing—with five ceiling-to-floor murals in vibrant jewel tones. Without much promotion, she's been packed with a waiting list every weekend. Many customers found her by driving or walking by. "I trip you up with color," Byer says. It helps, of course, that her menu features less-common choices. Think tacos with lobster or cauliflower, and plenty of fish dishes straight from the waters off Florida. "I don't like to do anything that people have seen before," she says. 6112 Montgomery Rd., casafig.com
---
Share Cheesebar
Emily Frank is back on her feet—quite literally—at Share Cheesebar. After being severely injured in an early 2016 bus accident that took her father's life, Frank bounced back to start slicing the cheese at Share last July. Owner of C'est Cheese Food Truck (known for its grilled cheese sandwiches) and founder of the Cincinnati Food Truck Association, Frank says Share has been on fire since day one, serving cheese and meat boards. "I saw what Pleasant Ridge could be," the P-Ridge resident says, "and is now." Her 25 seats fill quickly, with special events (fondue nights and classes), catering, and a grab-n-go retail business keeping her hopping—especially now that she's finally back in shoes. 6105 Ridge Rd., sharecheesebar.com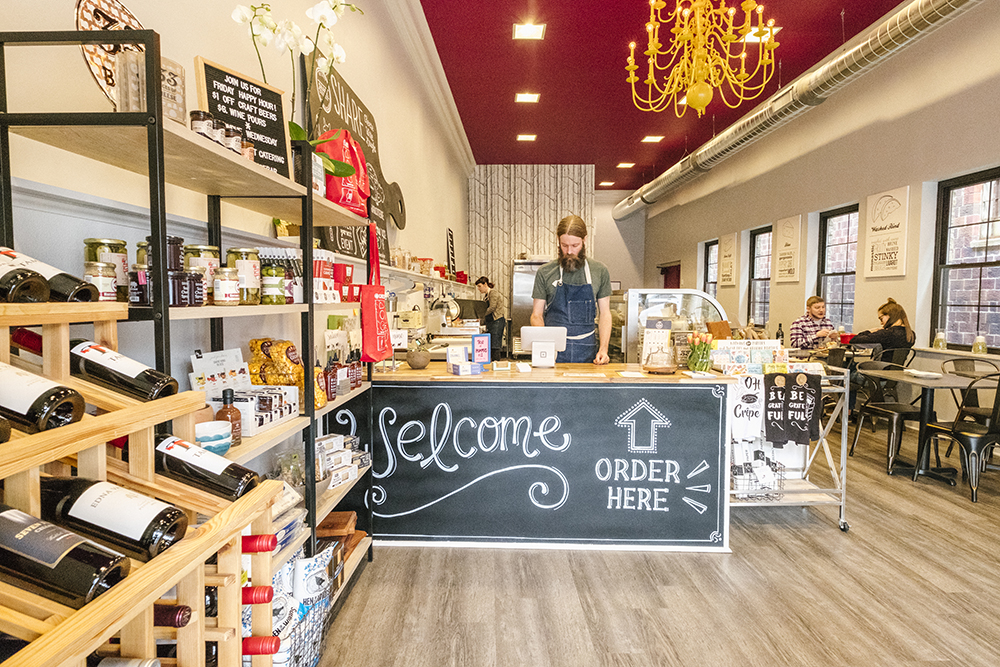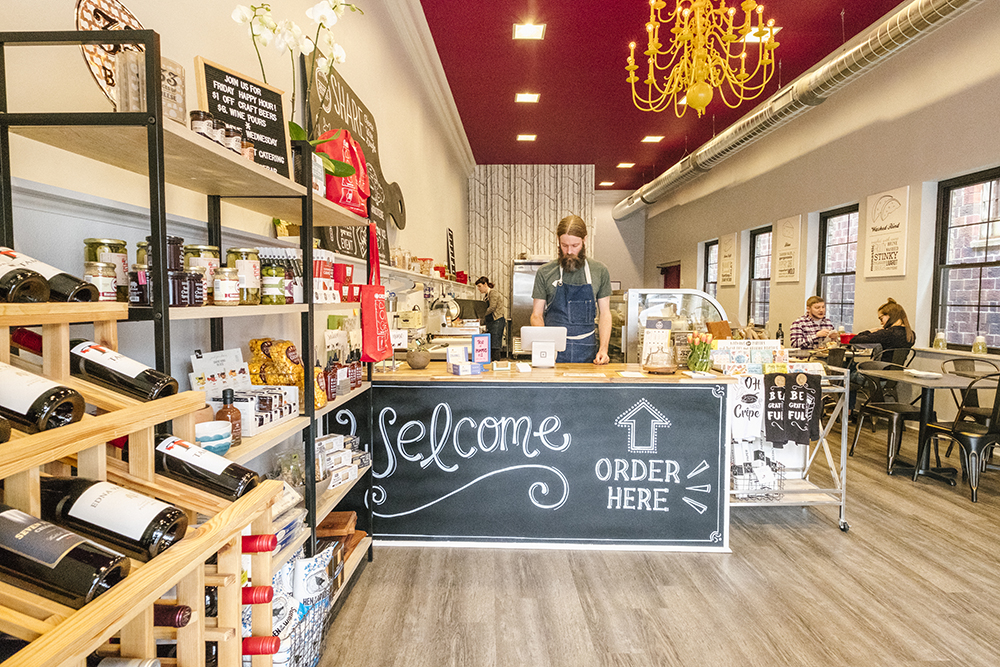 ---
Gas Light Café
The granddaddy of watering holes in Pleasant Ridge keeps it simple: Generous cheeseburgers and fries, soup of the day, fish sandwiches, and booze. You've made it in the Ridge when owners Gary and Amy Schlegel give you a Happy B-Day wish on the marquee. The Schlegels, who took over the Pleasant Luncheonette in 1989 and kept its Art-Deco-esque wood booths, are seeing lots of new faces these days, especially younger clientele. Fine by Gary; he sells them houses in The Ridge, too, as a Star One real estate agent. 6104 Montgomery Rd., gaslightcincy.com
---
Coffee Exchange
Sarah and Joe Peters and Pleasant Ridge are in deep. Joe's parents graduated from the grade school at Church of the Nativity of Our Lord, the neighborhood Catholic parish. Years later, Joe did. Now, two of his kids are students there and the third is also an alum. When the Peters bought the former Pleasant Perk in 2013, Sarah brought Nativity friends and grads on as staff. Joe, a financial planner, heads the Pleasant Ridge Business Association in his off-hours. Those have been rare since Coffee Exchange added a bourbon bar and expanded its hours. But they've grown accustomed to the pace. "It takes a lot to make a neighborhood a destination," says Sarah, who's worked at Dilly Bistro in Mariemont and The BonBonerie in O'Bryonville. "I think we're heading toward that." 6105 Montgomery Rd.
---
The Red Balloon Café + Play 
Caitlin Siegel Hartzler and Cera Dudas say Red Balloon offers a robust combination of food and play—fresh, clean food that adults actually want to eat and play options for kids with a Montessori feel. Parents and their kids apparently agree, inspiring the two-year-old restaurant/retail shop to extend its Thursday and Friday hours and close for private parties on Saturday afternoons and Sundays. A Queen City transplant, Hartzler says Pleasant Ridge is starting to feel like the small West Coast towns she knew: "There is something about this neighborhood that makes people come together." 6200 Montgomery Rd.,
redballooncafe.com 
---
Scrap It Up
Like so many P-Ridge stories, this one includes Nativity church, where Scrap It Up's four founding partners met. Beth Muething and Kathy Michel launched the parish's recycling program; Mindy Burger taught art at its school; and Mary Lennard runs Sunday classes for young churchgoers. Together they opened Scrap It Up in an 800-square-foot space in July 2017, collecting donated art and craft supplies and reselling them at a discount. Another parish connection, Dan Neyer, who's also a real estate developer, made the deal possible when he donated the building to the Pleasant Ridge Development Corp., which then rented it on the cheap to Scrap It Up. Good thing, because, really, asks Michel, "How much can you make selling stuff for 25 cents?" 5935 Ridge Rd., scrapitupcincy.org
---
Clarence Howell Shoe Repair
Broken heel? He'll fix that. Water stains? He'll get them out. Need quick service? Run an errand and come right back. After more than four decades in the shoe repair business, Clarence Howell has fixed Cincinnati's favorite footwear in Walnut Hills, St. Bernard, and, since 1988, Pleasant Ridge. He got a big shout out last summer when The Cincinnati Enquirer put him on Page 1 for hiring a Syrian refuge. But save your praise—and shoes—for Tuesday through Saturday. Howell closes for the Sabbath and the day after. 6089 Montgomery Rd., (513) 531-7463
Everybody's Records
Everybody's turns 40 this month, still selling vinyl, CDs, DVDs, and even cassettes from a storefront marked with its iconic logo depicting an ear and a vinyl record. It last attracted attention in 2012 as fans howled over a nearby Walgreen's plans (later shelved) to relocate to the Everybody's space. Now, it attracts new fans as neighborhood diners and drinkers wait for tables or move from spot to spot. "There's a whole lot more foot traffic," says assistant manager Harry Lushey. 6106 Montgomery Rd.,(513) 531-4500
---
Queen City Comic & Card Co.
Since 1987, Queen City Comics has been the HQ for all things comic book—along with baseball cards, movie posters, action figures, and other collectibles. Owner Geoff Hoffman lists new releases on his website each Wednesday, and advertises 50,000 back issues on site and another 500,000 in back stock. Can't get there (or his Fairfield location) for pick-up? No worries. Put your name on his Pull-List, and he'll hold what you want. 6101 Montgomery Rd., queencitycomics.com
---
Revolution Rotisserie & Bar
Nick Pesola brought a taste of Over-the-Rhine to Pleasant Ridge when he opened his second Revolution Rotisserie & Bar in January in the former Emanu African restaurant space. From the get-go, he's seen hour-long waits for his signature "chitas" (chicken+pita) and half-bird entrées. A former Dewey's Pizza manager whose pop-up Revolution tent at Findlay Market launched in 2014, Pesola is impressed with Pleasant Ridge patrons. As in OTR, strangers will sit together at community tables to snag limited seats. "Before they leave they're best friends with the people next to them," Pesola says. "It's a beautiful thing." 6063 Montgomery Rd., revolutionrotisserie.com
Goodfellas Pizzeria
Alex Coats and Eric Boggs snagged the hottest spot in Pleasant Ridge—a long-vacant two-story building at the corner of Ridge and Montgomery—for the eighth location of their Lexington, Kentucky-based Goodfellas Pizzeria, set to open in December. Downstairs, they'll sell pizza by the slice and the pie. Upstairs, in mezzanine space overlooking the main floor, they'll run Wiseguy Lounge with 300 bourbons. Coats and Boggs said they drove the neighborhood before signing a lease, attracted by well-maintained homes with manicured lawns and bustling business. "We look forward to getting neighborly," Coats says. 6099 Montgomery Rd., goodfellaspizzeria.com
Nine Giant
With 10 ever-changing taps, you'll never leave thirsty from this beer lover's spot. 6095 Montgomery Rd., ninegiant.com
Molly Malone's Irish Pub & Restaurant
Fish and lamb on the menu and Guinness on tap prove this pub knows how to eat and drink the Irish way.
6111 Montgomery Rd.
Overlook Lodge
Taking its cue from the mysterious hotel in Stanley Kubrick's The Shining, Overlook Lodge is all-drink all the time. 6083 Montgomery Rd., thatshiningbar.com
Facebook Comments