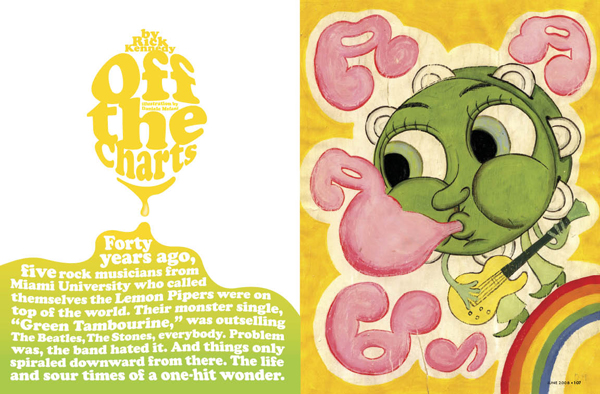 It was the summer of 1967—the Summer of Love. Acid rock queen Grace Slick was belting out "White Rabbit," the Beatles were making history with Sgt. Pepper's Lonely Hearts Club Band, the streets of Haight-Ashbury were swarming with flower children, and the psychedelic revolution was in full swing. Around these parts, Mt. Adams hippies painted row houses in rainbow colors and fans flocked to hear the local counterculture favorite—the Lemon Pipers. Five Miami University students with driving rock riffs and a wild, high-pitched singer, the Pipers packed recreation halls, parks, and college bars like the Boars Head in Oxford and the Black Dome near the University of Cincinnati. They were set to open for Jefferson Airplane at Cincinnati Gardens in December—a huge booking for a local band. Even better, the Oxford boys had just signed with a new label from the Big Apple, Buddah Records, hungry for its first hit.
It seemed like marmalade skies were the limit when Paul Leka, a Buddah producer and songwriter, came to town that August to map out a recording strategy for the group. He got together with the Pipers at the Oxford home of Bill Albaugh's mother. Nineteen-year-old Albaugh, the group's drummer, was joined by keyboardist Bob Nave, a recent Miami grad and elementary school teacher; baby-faced sophomore Steve Walmsley, who'd made a name for himself blasting his bass in his frat house; bearded singer Ivan Browne; and Bill Bartlett, a lanky, long-haired virtuoso guitarist.
Albaugh was the de facto leader of the Pipers, not just because they practiced in his mom's garage and his phone number was on their business cards, but because his vision for the band was contagious. He's the one who came up with the band's name and even created its trippy logo—a lemon-headed cartoon child with his long tongue hanging out. Gathered around the out-of-tune Baldwin spinet chez Mere Albaugh, the band was excited as Leka sat down to play. This was it: the brass ring was coming their way. Banging out simple block chords, the record producer sang the tunes that Buddah execs had in mind for their newest band. And as he did, the boys looked at one another and silently passed around the same thought: What is this shit?
"We thought of ourselves as a psychedelic blues band," explains Nave, now a 63-year-old retired investment counselor. But what Leka was offering to them was pure saccharine-laced pop. The most tolerable song of the bunch was a whimsical number about a poor street musician. The label's brass in Manhattan considered it a sure hit, and Leka made it clear that Buddah would expect them to record it. They listened as he sang the words penned by lyricist Shelley Pinz:
Drop your silver in my tambourine,
Help a poor man fill his pretty dream,
Give me pennies, I'll take anything,
Now listen while I play…my green tambourine.
"We knew we could play it," Nave recalls with dry humor. "And you can't look a gift horse in the mouth." So the Lemon Pipers agreed to record "Green Tambourine."
In doing so, they hitched their wagon to a chart-topping comet. Six months later, they were the best-selling band in the country, even beating out such pop behemoths as The Beatles and the Rolling Stones. They earned a place in rock and roll history with one of the biggest hits of 1968. Then, almost as quickly, the Lemon Pipers were history.
Today, the song "Green Tambourine" is a curious icon of the psychedelic era—simultaneously embodying the heady optimism and post-adolescent brio of the time as much as the schlocky co-optation of the Baby Boom generation's cultural awakening. Sure, the Lemon Pipers' story is a classic music industry cliché: An unknown band rockets to stardom playing a formulaic hit concocted by its record label; then the band's demise is cemented when the fickle public moves on. But nobody sets out to become a one-hit wonder; you only recognize what has happened in hindsight. And even 40 years later, the road that led to the Lemon Pipers' fleeting fame is spiked with bittersweet memories.
BACK IN 1967, Bob Nave was the beatnik Piper, the one with dark hair and a trim, dark beard. Now the beard is white, as is the hair flowing over his shirt collar. But it's his deep voice that marks him. From 1984 to 2005, he hosted The Bop Connection on WVXU; jazz fans still mourn its passing. One afternoon, as we talk in a restaurant near his Newtown home, a woman passing the table stops in her tracks. "When I heard that voice, I knew it was you, Bob!" she gushes.
For years, Nave rarely used that voice on a bandstand. Now, in a musical life that has come full circle, he has dusted off his battle-worn Hammond M-3 organ—the one he bought second-hand in 1966 from promethean British blues bandleader John Mayall—and he's playing his flying flatted scales once again with a new group of music veterans called the Blues Merchants. Relaxing after the previous night's gig, Nave cuddles a cup of black coffee and recounts the decision that earned the Lemon Pipers a slice of '60s rock fame.
Initially, he says, the musicians were incredulous. In signing with Buddah, they expected to record the psychedelic riff-based blues written by Bartlett, Nave, and Browne, not pop ditties created by Leka and Pinz. But, he says, Albaugh (who died in 1999 at age 53) assumed a cheerleading role when the musicians huddled to hash things out. "Bill thought this was our chance to go beyond being a local band," Nave says, and he urged the others to snap up Buddah's offer.
All the remaining band members agree that it was a take-it-or-leave it situation. "Either cooperate or the label wouldn't back us," recalls bassist Walmsley, 59, who lives near Oldenberg, Indiana. Bartlett, who is now 65, says the Leka songs "weren't what I would go out and buy, but my wife and I talked it over that night and decided it was called the music business for a reason. Time to get a taste of the big time."
Nonetheless, decades later, the sting of the decision remains. "Imagine how we felt," singer Ivan Browne, 63, yells over the telephone from his home in rural California. "We got famous for playing crap!"
A month after meeting with Leka in Oxford, the Pipers found themselves in the studios of the Cleveland Recording Company on the fourth floor of Loew's State Theater in downtown Cleveland. Leka was there, too, but it was hardly the kind of recording session a band dreams of when they get their big break.
Instead of the Pipers telling their producer what and how they would play, they were handled like studio musicians under Leka's direction. He gave them music charts for "Green Tambourine," determined the tempo, and detailed how it should sound. "He wasn't nasty or overbearing about it," Nave recalls, "but he coached us into giving him what he wanted." Leka had even rented an electric sitar for Bartlett to play, so that the Pipers could achieve the George Harrison–meets–Ravi Shankar sound that had infected innumerable pop confections that year.
They recorded "Green Tambourine" as the A-side of a 45-rpm single, plus a hard-driving Pipers original for the flip side. Then Leka took the "Green Tambourine" master tape back to a New York studio and transformed it. Inspired by the groundbreaking soundscapes The Beatles had created on the Sgt. Pepper's album—that summer's runaway hit—Leka added soaring strings, Chinese bells, and a reverb echo to Browne's distinct vibrato tenor (Listen while I play…ay…ay…ayyy…). The result of this studio sorcery was a song with a playful, carnival quality—sort of "psychedelic lite." The Pipers barely recognized themselves in the final mix. "No one was talking about how we would recreate the record on stage," says Nave.
But it was magic on the radio. Buddah released "Green Tambourine" in December 1967, hustling free demo records to influential rock DJs nationwide. The Pipers watched in amazement as it climbed the Billboard charts. On January 20, 1968, "Green Tambourine" was No. 5, sharing the hit list with Union Gap's "Woman, Woman," Aretha Franklin's "Chain of Fools," The Beatles' "Hello Goodbye," and the parody tune "Judy in Disguise (with Glasses)" by John Fred and his Playboy Band. Then, on February 3, the Lemon Pipers breathed rarefied air: "Green Tambourine" hit No. 1.
They were the best-selling band in America for seven days, remained in the Top 40 for weeks, and ended up with one of the best-selling singles of the year. By anyone's definition, the Lemon Pipers were a success. And you can't argue with success, right?
THE PIPERS WEREN'T new to performing. When he was only a high school student in Centerville, Browne had a band—Ivan & The Sabers—that had opened for the Rolling Stones and the Beach Boys in Dayton. Albaugh and Bartlett had played with a group called Tony & The Bandits for a couple years, and Nave joined them a few months before the Lemon Pipers formation in 1966. Walmsley came on board in '67 to replace an unreliable bassist. With that, the band's chemistry was cemented. "Bartlett was the music talent, Albaugh was the leader, Ivan the wild guy up front," Walmsley explains. "And Nave and I were the sane ones."
They played clubs in Oxford and Cincinnati, but their big break came early in the summer of '67 in Mansfield, Ohio, at an outdoor music festival called the Balloon Farm. "It put us in front of rock DJs from Cleveland who were influential," Nave explains. Impressed, these DJs started playing the group's unreleased demo of Bartlett's "Turn Around and Take a Look." That caught the attention of two aspiring music managers in Cleveland ("hippie wannabes" Nave recalls), who led them to Buddah Records.
If things seemed to be moving fast before they went into the studio with Paul Leka, nothing prepared them for the whirlwind that followed. As "Green Tambourine" sales soared, Browne was rushed back to record the lyrics in French and Italian for European listeners. ("It helped that I took French in high school," he recalls.) And suddenly their band was the poster child for overnight success.
"There was no time for it to sink in," Nave recalls. "The next thing you know, we were measured for stage clothes, flying on airplanes, and it was 'Sign here, sign here, sign here.'" Nave resigned his teaching post at Pleasant Run Elementary just after "Green Tambourine" was released; by the time fall term was over, the rest had put college on hold. Then they hit the road.
The success of "Green Tambourine" made the Pipers genuine rock insiders. They toured with The Young Rascals, opened for B.B. King and The James Gang, and rubbed elbows in Manhattan nightclubs with Howlin' Wolf, Jimi Hendrix, and Paul McCartney. An unknown New York songwriter named Tony Orlando pitched tunes to the Pipers with no success.
Along for the ride went their teenage roadie, Terry Williamson. Now 59, Williamson oversees vintage motorcycle parts at Western Hills Honda these days, but his memories are vivid, especially of Manhattan's legendary nightclub, The Bitter End, where—small world—the band hooked up with The McCoys, the group from tiny Union City, Indiana, that had triumphed with "Hang On Sloopy" in 1965. "We were hanging out when [McCoys front man] Rick Derringer brought to the stage these two unknown albinos from Texas," Williamson recalls. "They amazed us; we'd never heard of these guys." "These guys" turned out to be Johnny and Edgar Winter. Little-known at the time, Johnny became a wildly popular blues singer and Edgar had the early 1970s rock hits "Free Ride" and "Frankenstein."
The Pipers' mountaintop experience came on March 22, 1968. They were on a bill at the historic Fillmore West in San Francisco with Moby Grape, Spirit, and Traffic (with a 19-year-old Stevie Winwood on the organ). At last, they were in psychedelia's epicenter, sharing a stage with bands they admired, roaring out their own music to a sea of stoned hippies.
"We were playing Bill's [song] 'Through With You'" Walmsley says. "And Moby Grape, the heaviest band around, stood on the side of the stage really digging us. The bass player [Bob Mosley] gave me the thumbs up, and that was my rock and roll moment."
Legendary promoter Bill Graham, the show's organizer, later told Bartlett that the other bands were primed "to make fun" of the Pipers, but were surprised. "Because of 'Green Tambourine,' they thought we were a pop band like, say, Herman's Hermits," Bartlett says. "But we sounded like the San Francisco psychedelic bands."
One week later, the Pipers were in Hollywood, headlining at the Whisky-a-Go-Go, the grooviest nightclub on the Sunset Strip. Motoring through Tinseltown in their Cadillac limousine (they bought it from the Catholic Archdiocese of Cleveland and dubbed it their "Lemonsine"), the boys pulled up to a stoplight next to a flashy convertible. Behind the steering wheel sat none other than The King. "Picture Elvis looking over and these long-haired characters in a limo are flashing him the peace sign," Williamson laughs.
But there was no free ride to rock stardom for the Pipers. At first, the band was traveling to their bookings by airplane and performing with rented equipment. But that was costly; by the end of their first tour they were $17,000 in the hole, Nave recalls. After that, they mostly trekked the highways in their Lemonsine and an equipment truck. Everyone took turns driving (except Browne—"Some of us were better drivers than others," Nave says) and it was grueling. "One time, I drove all night from Montreal to Minneapolis in a blinding snowstorm," Nave recalls. Another classic rock and roll moment, for sure.
TOURING WASN'T THE only thing wearing thin. The Pipers chafed under the burden of the musical persona that Buddah had created for them. Nave refers to "the strange duality" of their situation. In concert, when they could augment Leka's music with their own, they were a hard rocking band. But they were frequently presented as an irreverent, family friendly pop group à la The Monkees on programs like American Bandstand and The Mike Douglas Show. The Pipers hated these TV gigs, and they generally showed up, well, worse for wear.
Their TV appearances can be found, like so much these days, on YouTube. Check out their performance on Upbeat, a syndicated show for teens produced by Cleveland's WEWS-TV, where they're riding a cardboard carousel flanked by a robot and a giant teddy bear. The scene is giddy and surreal, with Bartlett and Nave abusing the stuffed animals, Albaugh strumming his drumsticks like a violin, and everyone playing out of sync. When the cardigan-sweatered host interviews Browne afterward, the loopy-eyed lead singer talks about the band being "col-ledge stooodunts." As one comment on the YouTube site cheerfully notes, "On the stone-o-meter, I give Ivan a 9."
Bob Nave demurs when asked to fill in the blanks about that particular performance. "I honestly don't remember doing some of that stuff now on YouTube," he says sheepishly.
At the base of their frustration was Buddah's demand that the group perform bubblegum pop—catchy novelty tunes. Bubblegum was the genre in which Buddah had staked its claim (the label's other hit single at the time was "Yummy, Yummy, Yummy" by The Ohio Express), and they weren't about to let that success slip away. During 1968, the Pipers recorded two respectable albums for their label—one titled Green Tambourine and the other Jungle Marmalade. Both were a mishmash—a smattering of established rock songs and Pipers' originals alongside Leka's tunes, with their studio effects and lightweight lyrics. "The albums sound like two different bands—Leka's sound [and] our sound," Nave says. "The Lemon Pipers were the Jekyll & Hyde band of the late 1960s."
"I distinctly remember being in an 80th floor office in New York saying to myself, 'I don't want to record these stupid songs!'" Browne recalls. And it wasn't long before it showed. The Pipers despised the follow-up single to "Green Tambourine," a goofy ode to matrimony called "Rice Is Nice" (Rice is nice, that's what they say! Rice is nice, throw some my way!). At a New York awards show where they received gold records for "Green Tambourine," the Pipers deliberately butchered "Rice Is Nice" in front of horrified Buddah executives. After that, they refused to play it live. Eventually, they wouldn't play "Green Tambourine" live either, unless it was specified in a contract. Needless to say, "By our second album, there was clear resistance between us and the label," Nave says.
By December of 1968—barely a year after they'd recorded their hit—the Lemon Pipers had soured. "Green Tambourine" sold millions of copies, but follow-up singles—the despised "Rice Is Nice" and a tune called "Jungle Marmalade," stalled on the charts. And, in spite of their hit, in spite of months of touring, in spite of impressing the Rock Gods and making nice on American Bandstand, the Pipers were nearly broke.
Worse, a slow burn between Bill Bartlett and Ivan Browne had neutralized the band's good chemistry. Browne liked being the front guy, while Bartlett wanted the Pipers to become more an instrumental jam band. Traveling constantly in the "Lemonsine" created tensions that were inflamed by fatigue, stress, drugs, and alcohol. "When you are that close together, you learn each other's idiosyncrasies," Nave says. By late 1968, the group had split acrimoniously with Buddah, and Browne left the band.
The passage of 40 years clouds the details of Browne's departure. Browne says that by September 1968, he was looking at $25 for a month's work, "So I said, 'Hell with it' and went back to school. After I graduated in 1969, I moved to California and never looked back." Bartlett recalls Browne leaving "without thinking about the rest of us," and Walmsely says Browne was fired. Nave recalls being deeply conflicted. "While I thought Bill was great, I also thought Ivan was our meal ticket," he says. That said, Browne's departure, "made it easier on everyone."
The four scraped along for a while as a jam quartet, opening for national acts that came to town and enduring slights. Grand Funk Railroad refused to share a dressing room with them at Jim Tarbell's Clifton rock venue, Ludlow Garage; when they opened for Robin Trower, the English rocker complained about being on the bill with a pop group; and promoters held up pay when the Pipers—still struggling to shed the bubblegum image—refused to play "Green Tambourine." The travel got old; revenues declined; wives and girlfriends complained. In the spring of 1970, the Pipers disbanded, their brief day in the sun long since eclipsed.
TODAY, THE BAND is enshrined at Cleveland's Rock and Roll Hall of Fame and Museum in the "Hang On Sloopy: The Music of Ohio" exhibit. Like blues legend Robert Johnson's mythical deal with the Devil at the crossroads, the Piper's success came at a price. And each of the musicians has made his peace with it in his own way.
These days, the long-haired, wild-talking Ivan Browne is a long-silver-haired, wild-talking postal carrier living in Potter Valley, California. He and his wife, Isa, have performed together for 30 years; fans can download their music at their Web site, www.ivanandisa.com. Ivan's distinctive tenor has given way to a deeper, tougher voice, and the couple's tight rock riffs are a far cry from "Rice Is Nice" and "Green Tambourine." "I'll admit that 'Green Tambourine' was good, and Leka created a great orchestration for it," Browne says. "But the other stuff they made us record messed with my mind for years." But no hard feelings, Browne jokes. "Now I have a separation, and I'm not suicidal." He recently participated in the PBS documentary My Music: My Generation—The 60s, filmed in West Virginia. "I'm walking through the hotel lobby and the first person I see was Rick Derringer!" Browne says. "Boy, do we go way back."
Walmsley never lost the rush of plugging his bass into an amplifier, regardless of the crowd. He's played continuously in area bars; his current band is called Second Nature. The gray-haired rocker accepts the "one hit wonder" tag with growing appreciation. "At the time, we would have been happier as a cult band with a loyal following," he says. "But it's nice to be part of history. 'Green Tambourine' is a great conversation starter."
Bartlett, who lives a quiet rural life near West College Corner, Indiana, experienced a second brush with rock stardom when his later band, Ram Jam, scored a hit single in 1977 with "Black Betty." It's something of a cult classic these days, covered by musicians around the world ("A Croatian band does a great version," he says), and even made it on the soundtrack of Johnny Depp's 2001 film Blow. Nave and Walmsley prodded him to join them last year at the sold-out "Summer of Love Reunion" concert at Old Coney, but Bartlett declined. "I'm burned out on that," he says. "I enjoy playing as a hobby, and I still pick up my old Telecaster and give it a whirl." His Piper memories have mellowed with time. "I only need to remind myself that in high school I drew pictures of guitars in the margins of my notebooks," he says. "Six years later, I was playing guitar for a living."
"The itch had to be scratched," Nave says of his return to the local music scene. In 2006, he joined three of Cincinnati's veteran blues musicians—guitarist Chris Kepes, drummer Dave Koenig, and bassist Phillip Buscema—to form the Blues Merchants. They play weekends around town, including the Southgate House in Newport, The Avenue in Covington, and Shady O'Grady's in Loveland. And in August, Nave, Walmsley, and Browne will reunite for "Summer of Love Two" at the Starlite Ballroom.
Considered the Pipers' heart and soul, Albaugh died in 1999 after struggling with alcohol. In his absence, Nave has become the nexus of Piper-related communications. Which is curious in a way, because he's not one to bask in past glory, and he talks about his Piper days with a certain bemusement. But he happily re-connected to the remaining Pipers after Sony BMG purchased the Buddah Records catalog five years ago, audited the books, and calculated that the band was owed nearly $70,000 for decades of back royalties. In a stunning act of ethics in the record industry, Sony tracked down the Pipers and—after Nave filed the paperwork—paid what was due. Now the Pipers get "several hundred dollars each" in annual royalties from their 40-year-old hit, Nave says. "Green Tambourine" accounts for the vast majority of the band's royalties on CD anthologies, iTunes, and airplay on satellite radio.
Pondering the song's longevity, Nave hunches his shoulders. "Success in the music business isn't always about talent," he says. His dig is aimed at "Green Tambourine," he's quick to point out, not his old band. It pleases Nave that all four Pipers still hold a deep love for the music despite their roller-coaster ride through the cutthroat business. "Success was always more than a paycheck," he says. "Watching those screaming kids was the best."
Still, he can't help but ponder what might have happened if the Lemon Pipers had had a little more luck. "What would have happened with a different label, and if we were given the opportunity to develop our own material," he says. "Would we have been a sustained success? We will never know."

Originally published in the June 2008 issue.
Illustration by Daniele Melani

Facebook Comments