The Northern Wrestling Federation might be the minor leagues compared to the WWE, but it's majorly fun—and quite literally a "school of hard knocks." Aspiring pro wrestlers can learn the tricks of the trade during twice-weekly classes in Elmwood Place, then put those crowd-pleasing moves into high-flying, body-slamming action during weekend public matches at Bircus Brewing in Ludlow, Hits Sportsplex in Covington, and the Mt. Orab Sports Complex.
Heroes and Villains
Big Boss Anika (who purportedly hails from Russia) taunts the crowd at Bircus Brewing. Fans drink it up as they drink their pints, but fellow female wrestlers Big Mama (leather jacket) and Savannah Sweet are not amused.
Bare Bones

Aspiring NWF wrestlers start out learning basic holds and maneuvers and how to take a fall without hurting themselves (too much). Not many last beyond the first month of classes due to the demanding physical nature of practice sessions. "The first time they hit that mat, their eyes get as big as their head," says Roger Ruffen, owner of the NWF since 1997. "Oh, I thought it was like falling on a mattress, they say. No, it's not."
From Student to Teacher
Ruffen began his wrestling career 40 years ago before shifting to refereeing, promoting events, and training other wrestlers, and now he runs the NWF along with his wife, Natasia. Trainees pay their dues (and their tuition) at their Bonekrushers Training Center in Elmwood Place before getting into the ring at the weekend events. A $100 deposit is all it takes to reserve a slot, and the pay-as-you-go model maxes out at $1,800. Once you've hit that mark, you're welcome to continue taking classes for as long as you'd like. "We train factory workers, college students, office workers, people from all facets of life," says Ruffen. "They're fans first. It usually takes them about a year before they're match-ready."
Guts Before Glory
At the NWF venues, every seat is close enough to the ring that wrestlers can clearly hear the fans cheering and jeering. Ruffen estimates that regulars who make nearly every show comprise 50 percent of the crowd.
Grappling With Success
Lord Crewe puts a leg lock on Great King Titan. Crewe is the latest in a long line of NFW performers who have gone on to bigger stages (and better payouts) in national and international pro wrestling organizations.
Slam City
Former champ "Hollywood" Adam Swayze gets the upper hand on Beck Reeves.
Larger-Than-Life Characters, Small-Town Charm
The NWF circuit also includes outdoor summer shows at Swine City Brewing in Fairfield and "future stars" events at the Elmwood Place training center, where students can get their first taste of wrestling in front of a crowd. Weekend NWF events typically draw 250 to 300 fans. Wrestlers who have completed their training get paid for participating.
Star Time!
Current NWF champion Star Rider started taking training classes the week after his 19th birthday back in 2016. He took his lumps while learning the moves and honing his technique, but over time his athleticism (including daring leaps off the top ropes) turned him into a fan favorite.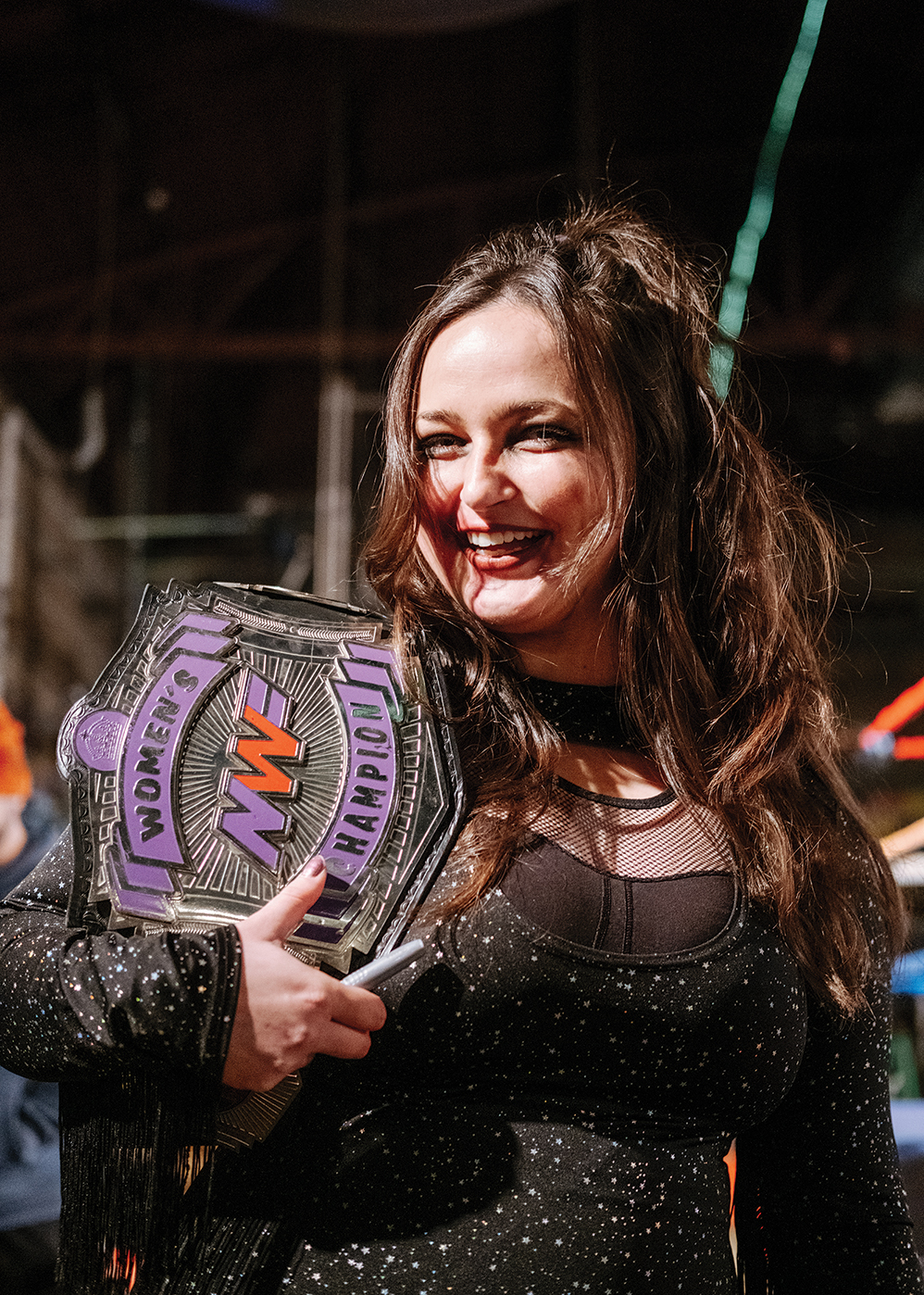 Scream Queen
Women's champ Ella interacts with fans during a meet-and-greet session at intermission. The mild-mannered annuities department customer service rep by day is a straitjacket-wearing wrestling champ at NWF. "I can't imagine my life without wrestling," she says.
"The women wrestlers have become a lot more popular over the last several years," says Ruffen. "They've made such a big leap forward in their performances and their abilities."
Facebook Comments