The city's new Interactive Kiosk Experiences (IKE) were unveiled earlier this summer by Mayor Aftab Pureval in a Findlay Market ribbon-cutting ceremony, and the state-of-the-art tech promises to showcase all the city has to offer. Currently, five IKEs are installed throughout downtown and Over-the-Rhine, but up to 30 will eventually be rolled out through the rest of the year and into 2023.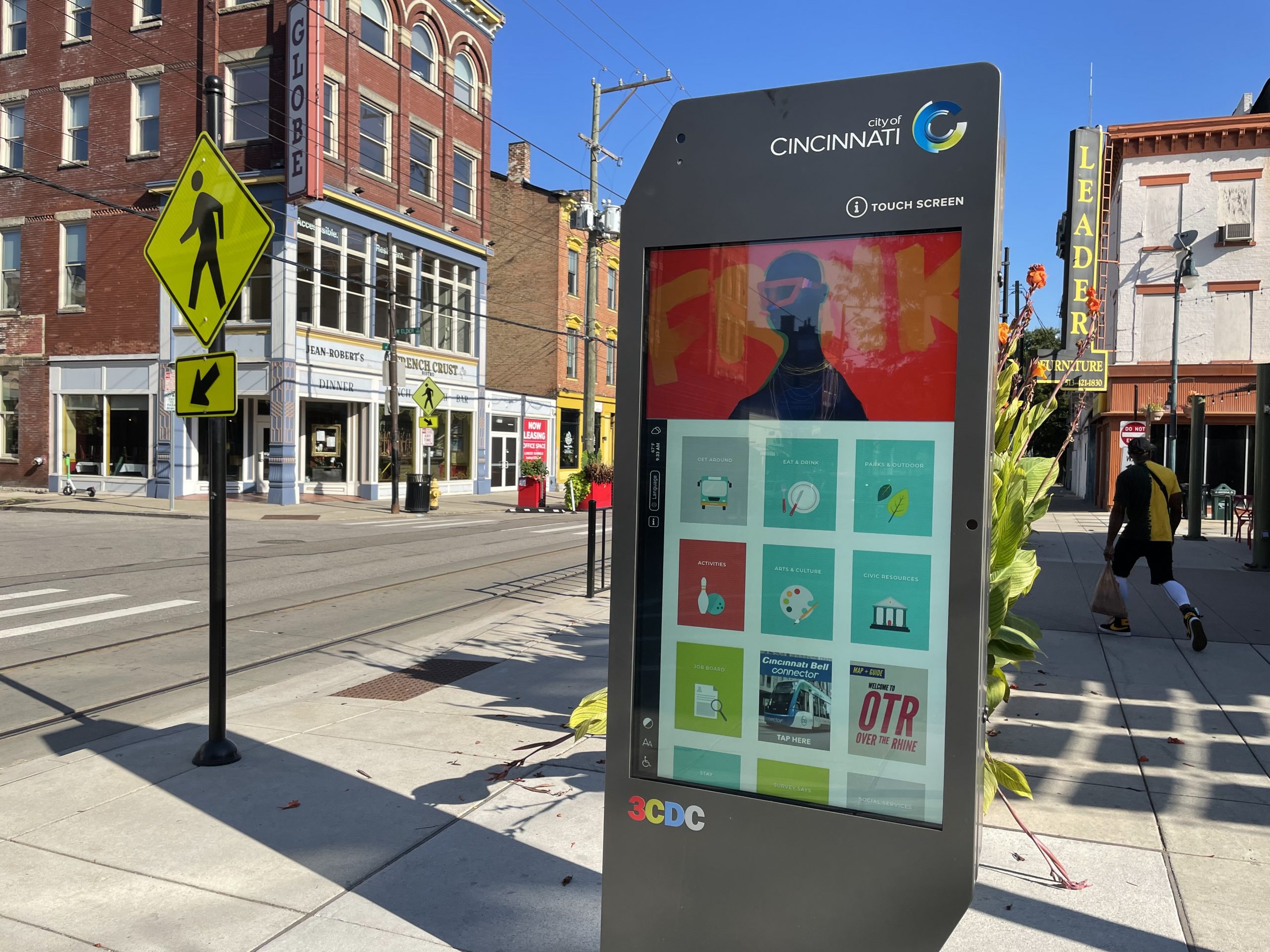 This new technology is the product of a 2020 partnership between the City of Cincinnati, the Cincinnati Center City Corporation (3CDC), and IKE Smart City, a national technology company providing the hardware. Cincinnati joins St. Louis, Columbus, Cleveland, and Baltimore as a kiosk collaborator. According to IKE Smart city, the kiosks "complement a city's identity through customizable hardware, branding, interface design, and hyper-local content," adding to the city's character, rather than detracting from it.
IKEs can serve up a variety of services and content, from trip-planning features to business directories, free WiFi hotspots, and emergency alerts. All content is multilingual with useful resources like food support and addiction recovery information. Severe weather, active shooting, fire, and FEMA alerts will also be broadcast through the system.
The technology poses "no cost to the city or its constituents" through IKE's business model, bringing in revenue through paid advertisements on the kiosks. Small local and independent businesses are offered discounted and even free promotional opportunities on the new installations as well. In addition, one of the eight ad slides is "dedicated to the city to use for the promotion of community initiatives."
What makes the partnership particularly special is the customization of the technology to Cincinnati's history and culture.
Each kiosk features the historical importance of its location through a custom app. Additionally, IKE Smart City's Director of Community Engagement & Partnerships is dedicated to pursuing partnership with local artistic organizations, like ArtWorks. Advertisement from the nonprofit and promotions of local exhibitions will be a large portion of the IKE ad loop. At the time of the project's launch, the work of artist Gee Horton was displayed alongside visual artist James Brown.
This technology and all its features is continuously evolving under the company's in-house Product and Software Engineering team, aiming to keep IKE on the cutting edge.
Facebook Comments