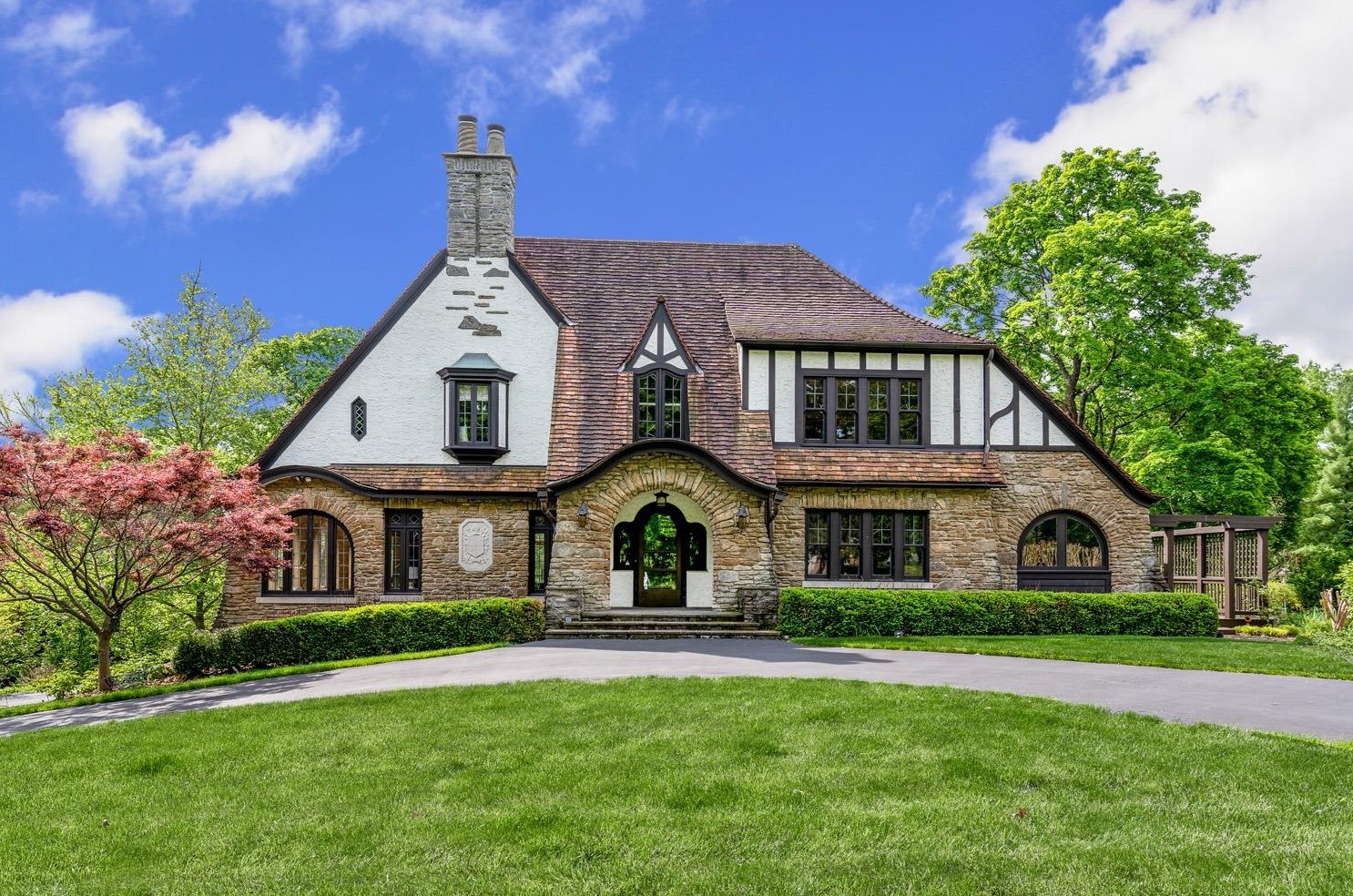 12 Forest Hill Dr., Hyde Park, $1,375,000
In 1928, just as the Roaring Twenties were about to come to an end, Hattie Meyers was busy building her dream home on a prime piece of land off Erie Avenue. An invitation to the 5,000-square-foot Tudor was a coveted one in 1920s Cincinnati society. But let's be honest: We'd be just as flattered to get an invitation to a house like this in 2023. 
The home sits at the crown of a winding private drive between Hyde Park and Fairfax, just a stone's throw away from Hyde Park Country Club. In 2010, the owners embarked on a restoration mission that lasted more than seven years and brought the historic home into the 21st century while maintaining the old-world charm that makes the property special. 
Inside, angel doors (yes, they're called angel doors) open into a foyer that features hardwood floors, a custom chandelier, and restored iron balusters weaving up the curved staircase and down into the living room, where a magnificent Rookwood fireplace anchors the space. 
Original arched windows draw the eye into a bright and airy sunroom. The same leaded glass panes continue into the formal dining room, where they're featured on two sets of French doors that frame the space. 
In the recently updated kitchen, you'll find top-of-the-line appliances (including a swoon-worthy Thermadore range), a deep farmhouse sink, custom cabinets, and hardy quartz countertops that add a little extra sophistication. Even with all the updates, the past still finds ways to shine through—like in the family room, where exposed original stone makes up a cozy accent wall.
Upstairs, the primary suite is a world unto itself, featuring not just a spacious bedroom (one of five), but a cavernous walk-in closet and dressing room that connects to a contemporary en suite bathroom (also one of five!). 
And while we'd hardly blame you if you chose not to leave the house, there's plenty of space to roam, especially in the rolling backyard lawn. With thoughtful landscaping and a canopy of mature trees keeping the yard cool and private, it's easy to see why Hattie chose a spot like this nearly a century ago. 
Facebook Comments