It should come as no surprise that folklore and urban legends are alive and thriving in Cincinnati. The tri-state has been settled by humans for more than 10,000 years, and over time, many scary stories—both real and paranormal—of monsters, murder, and mayhem have taken permanent root within these hills. This city has its very own history of local cryptids, ghosts, serial killers, and other horrors. Here are a few you ought to know.
There's a handful of people and organizations who are keeping local lore alive, and digitizing it for future audiences: Rick Fenbers of Creepy Cincinnati, Greg Hand's Cincinnati Curiosities Tumblr blog, the Tri-State's 'Most Haunted' Places Google map from WPCO, the Southwest Ohio Folklore Collection at the University of Cincinnati, Haunted Cincinnati and Southwest Ohio by Jeff Morris and Michael Morris, The Ghosts of Eden Park by Karen Abbot, and many more. This research was made possible by their tireless work.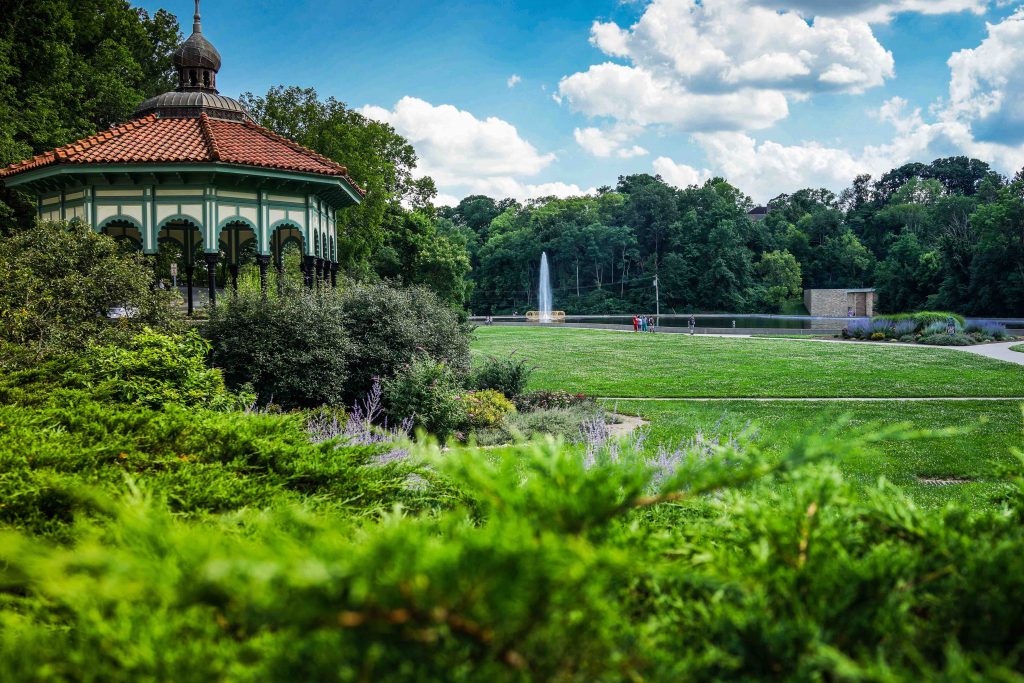 Imogene Remus
The Spring House Gazebo in Eden Park is said to be home to one of Cincinnati's most famous ghostly legends: Imogene Remus. In 1927, she was murdered by her husband, George Remus, a known bootlegger who had been recently released from a three-year-long stint in prison. On the day of her death, Imogene was driving through Eden Park on her way to the courthouse to divorce her husband when he stopped her cab and shot her in the stomach. To the horror of onlookers, including Imogene's daughter, George Remus walked away. He hitched a ride to the police station and turned himself in. The trial that followed became notorious due to the fact that George Remus pled temporary insanity and was acquitted for his wife's murder. Imogene Remus allegedly haunts the gazebo in Eden Park, wearing all black and often appearing at dusk and dawn. Sightings of her are said to be most common during autumn, so if you're looking to meet her, the time is now!
The Loveland Frogman
Cryptids are hot right now. However, some Cincinnatians may not realize that one exists in our own backyard. In the suburb of Loveland, along the Little Miami River, sightings of the Loveland Frogman have been reported since 1955. This gigantic frog apparently stands between four and six feet tall on its hind legs. The Loveland Frogman has never hurt anyone, but it most certainly has the power to frighten. In 1972, two Loveland police officers separately reported sightings of the creature. The second officer shot the animal in question and it turned out to be a large iguana without a tail. That said, this incident in no way debunked the mystery, and people continue to report sightings of the Frogman. The most recent sighting happened in 2016 by a young couple playing Pokémon Go near Lake Isabella.
Lick Road
North of Cincinnati, there's a stretch of road that winds alongside the Richardson Forrest Preserve and ends abruptly at the edge of Hamilton County. Lick Road is known for a few local legends, including the now-demolished "Munchkinville," but its most famous ghost is named Amy. There are several tales of how she came to be there. One involves her being murdered by a boyfriend on prom night; another involves her being killed by a man—possibly her stepfather—in the woods beside the road; or she might have been murdered by an unknown assailant and dumped at the far end of Lick Road. Regardless of how she ended up there, Amy now haunts the road and surrounding woods, crying and yelling from the shadowy gaps between the trees. Some say that if you park your car on Lick Road and walk away, when you return, Amy will have written "help me" in the fog on your windshield. She is also known to haunt an abandoned bridge in the woods beside the road, where she can be summoned by shouting, "Amy, I have your baby!" Although there is no evidence that Amy was a real person, the most likely inspiration for this legend is from a real murder case, in which 15-year-old Linda Dyer was killed in August 1976 and dumped near Lick Road. Her killers were never caught.
The Ruppert Murders
Although this story is part of local lore, it is, sadly, true. On Easter Sunday in 1975, James Ruppert murdered 11 members of his family as they gathered in their Hamilton, Ohio, home for dinner, making this one of the deadliest shootings inside a private residence in U.S. history. Ruppert killed his mother, brother, sister-in-law, and eight nieces and nephews. He is currently serving two consecutive life sentences at the Franklin Medical Center in Columbus. Meanwhile, the residence remains occupied. As of 2014, the current owners of the house said they could still see bloodstains from the massacre under their floorboards.
Bobby Mackey's
Of Buzzfeed Unsolved fame, this hotspot of paranormal activity is located across the Ohio River in Wilder, Kentucky. The slaughterhouse-turned-country club-turned-bar allegedly contains a portal to hell in its basement, and there have been multiple mob-related murders and other deaths on or near the premises. Perhaps the most famous spirit associated with the bar is that of Pearl Bryan, a 22-year-old pregnant woman from Indiana who, in 1896, was found decapitated less than three miles away from where Bobby Mackey's now stands.
The Cincinnati Strangler
In 1965 and 1966, seven women—mostly middle-aged and white—were assaulted and murdered in neighborhoods across Cincinnati. The city plunged into terror, with local locksmiths and hardware stores struggling to keep up with the demand for new locks. The ensuing investigation and public response highlighted local racial tensions: According to witnesses, the perpetrator was black. Police rounded up black men from Avondale indiscriminately to participate in line-ups. The final victim, Alice Hochhauser, was the wife of the chief surgeon at Good Samaritan hospital. She was killed in the treelined Gaslight district in October 1966. Two months later, police arrested Posteal Laskey, a former cab driver with a sex offense on his rap sheet. He was identified as the Cincinnati Strangler by eight witnesses. On December 15, 1966, he was indicted for only one of the seven murders. He died in prison in 2007.
Facebook Comments