Even if you've lived in Cincinnati all your life, chances are, you've never visited the American Sign Museum. A passion project of founder Tod Swormstedt, who was the fourth-generation editor of Signs of the Times magazine, the museum began in 1999 and moved into its permanent home in Camp Washington in 2012. Easily one of Cincinnati's best-kept secrets, discovering this museum is a totally wonderful, magical experience. And in 2021, we can all use a little magic in our lives.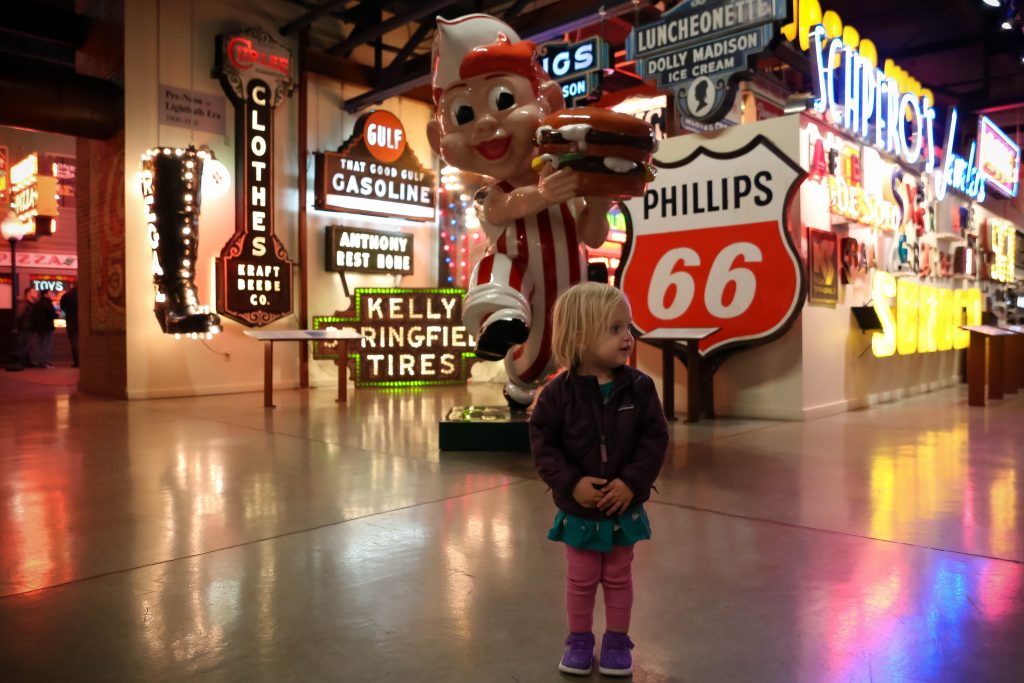 The American Sign Museum celebrates the art (and artistry) that went into the bright, eye-catching signs in the first half of the 20th century. There are elegant glass signs from the early 1900s, "pre-neon" signs from the teens and '20s, and bold neon numbers from the '30s, '40s and '50s.
The American Sign Museum is a bright, shiny slice of living history that's as accessible to kids as it is to adults. These two- and three-dimensional displays are the original iPads; they blink, flash, and spin, much to any kid's delight. The signs all feature something that will appeal to younger audiences: recognizable imagery from popular culture (Ronald McDonald, Big Boy, and Colonel Sanders), known objects (cars, bears, spinning globes,) and vivid, bold colors.
If visually stunning places are your thing, the American Sign Museum is as Insta-worthy as it gets. The main room is set up like a Main Street, complete with classic restaurant signage, spinning barber shop poles, giant motel signs, and various mechanic shops. The overhead lights in this space are dimmed, so the signs really stand out. It looks like something out of a family-friendly film noir.
A couple things you'll want to be aware of before you go: advanced timed-ticket entry is required for everyone; face masks and temperature checks are required upon entering the museum; and guided tours are temporarily cancelled. (However, the museum is doing a new "virtual tour" experience, where you can take a live, curated tour led by a museum staffer. This would be a fun at-home date idea!)
American Sign Museum, 1330 Monmouth Ave., Camp Washington, (513) 541-6366
Facebook Comments