Editor's Note: e|19 permanently closed on July 27, 2022, according to a post on the lounge's Instagram.
On October 4, a new bar and disco lounge opened adjacent to Findlay Market and across from Rhinegeist Brewery in Over-the-Rhine. Founded by Richard Cooke and his husband, Martin Wagner, e|19 Lounge Bar & Discothèque seeks to provide the underserved LGBTQ+ community with an inclusive, fun, and diverse entertainment space.
A number of Cincinnati's gay bars have closed in recent years, including On Broadway and Simon Says in 2017, and The Dock, an iconic cha-cha palace founded in the 1980s—known, in part, for being the destination of gay rights demonstrations—closed in 2018. Shooters, a downtown country-western gay bar, closed in 2016 but has since been replaced by the Birdcage.
Cooke and Wagner hope that e|19 will fulfill a demand for quality music and dance in a safe and welcoming setting.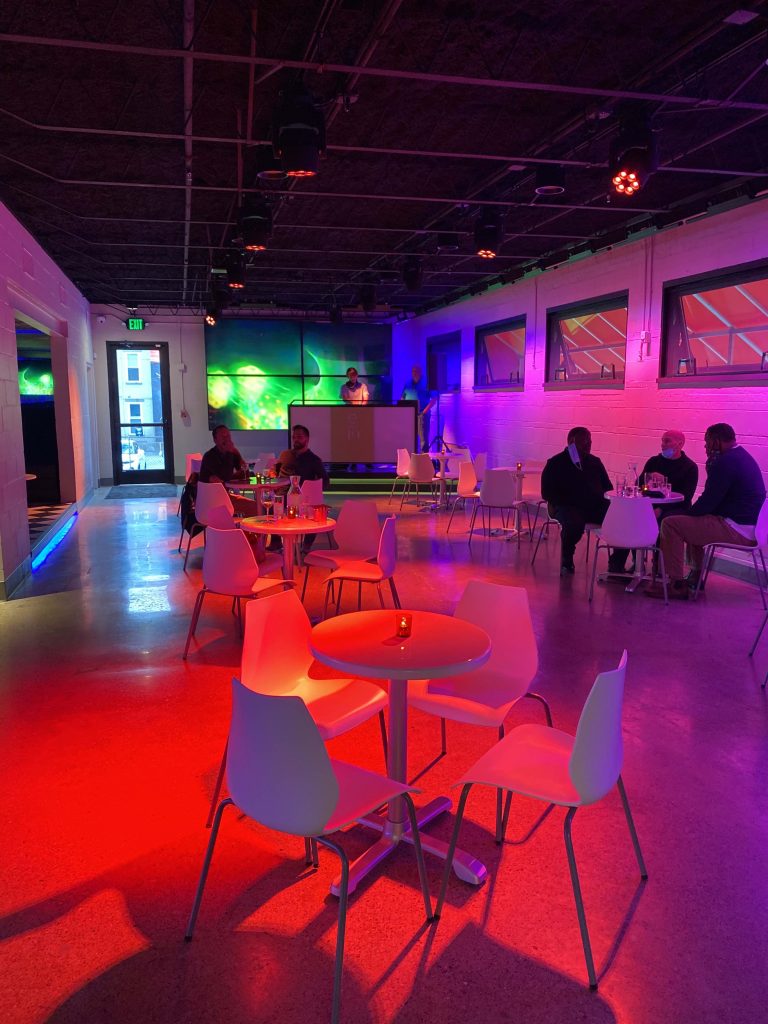 In April 2017 the couple reintroduced the concept of Tea Dances to Cincinnati, hosted at venues around the city. The original "underground" gatherings date back to the 1950s, when same-sex couples could not freely dance together in public without fearing repercussions, so they began gathering together to dance on Sunday afternoons under the guise of afternoon tea. "In the year running up to the COVID [pandemic]," Cooke says, "we routinely hosted 400-plus people at these Sunday afternoon dances."
Cooke and Wagner were inspired by the success of Tea Dance Cincinnati to found e|19, and their goal is to make sure every guest feels comfortable and welcome. There are a range of drink offerings, including canned and bottled beers, wines, craft and classic cocktails, and nonalcoholic drinks such as juices, coffee, and tea. Guests can also order light snacks.
The venue has a capacity of up to 400 customers, and the space is divided into a lounge bar area and a disco area for dancing and private events. Throughout the evening, the music will go from lounge music to upbeat EDM with DJs.
"Unfortunately," Cooke says, "we are not able to accommodate dancing on the disco floor at this time due to COVID restrictions, but we do encourage people to 'chair dance' (could this be a new thing?) within their seated group."
For now, patrons are expected to follow CDC guidelines regarding social distancing and mask requirements to enter, exit, and move around the space. All staff members have also received extensive safety training.
According to Cooke, the project was made possible despite these difficult times with the help of the construction team, Urban Sites Construction, consultant JS Held, architect and design team Beck Architecture, interior designer Evan Hunter Van Winkle, C&D Audio, bar consultant and cocktail curator Jake Sulek, and mural artist Jenny Ustick and her team.
e|19 Lounge Bar & Discothèque, 1905 Elm St., Over-the-Rhine, (513) 910-9875
Facebook Comments