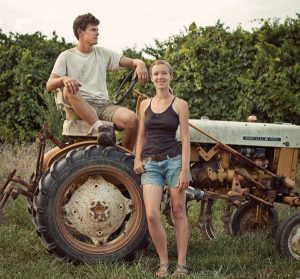 Folks waiting in the drive-thru lane at First Financial Bank on Montgomery Road may be surprised to hear mooing as traffic whirs past. The bovinal lowing emanates from Finn Meadows Farm, about a tenth of a mile off Montgomery Road.
Co-owner Marc Luff, 27, returned to Cincinnati after graduating from Harvard and started an unfulfilling job search. "I was in a rut, looking for jobs, not being satisfied," he says. His mom told him he had to do something, so he took a job working on a farm. And loved it. After a stint at Turner Farm in Indian Hill, he learned the 200-acre Montgomery property was available for lease. He and Claire Godschalk, herself a back-to-the-Earth recent college grad who worked at Turner, talked it over and decided to stake their own claim to the farming life. They were married on the farm (the name is a nod to Huck Finn) last summer.
Three years later, they raise cows, pigs, geese, and chickens and grow five acres of fruit and vegetables, which they sell through a 140-member community supported agriculture program. They also sell produce at the farmers' markets in Montgomery and Hyde Park.
"Farming's the best teacher I've ever had; you learn everything the hard way," says Marc. It's enough to keep both of them, plus Claire's Mom, Sally Godschalk, and a few interns, very busy. On a hot summer morning, Marc observed that he hadn't had a day off in over a month. Luckily, he doesn't have far to go to work. He and Claire live on the farm, smack dab in the middle of suburbia.
Finn Meadows Farm
8100 Perin Rd.
(513) 608-6585
Finnmeadowsfarm.com
Facebook Comments