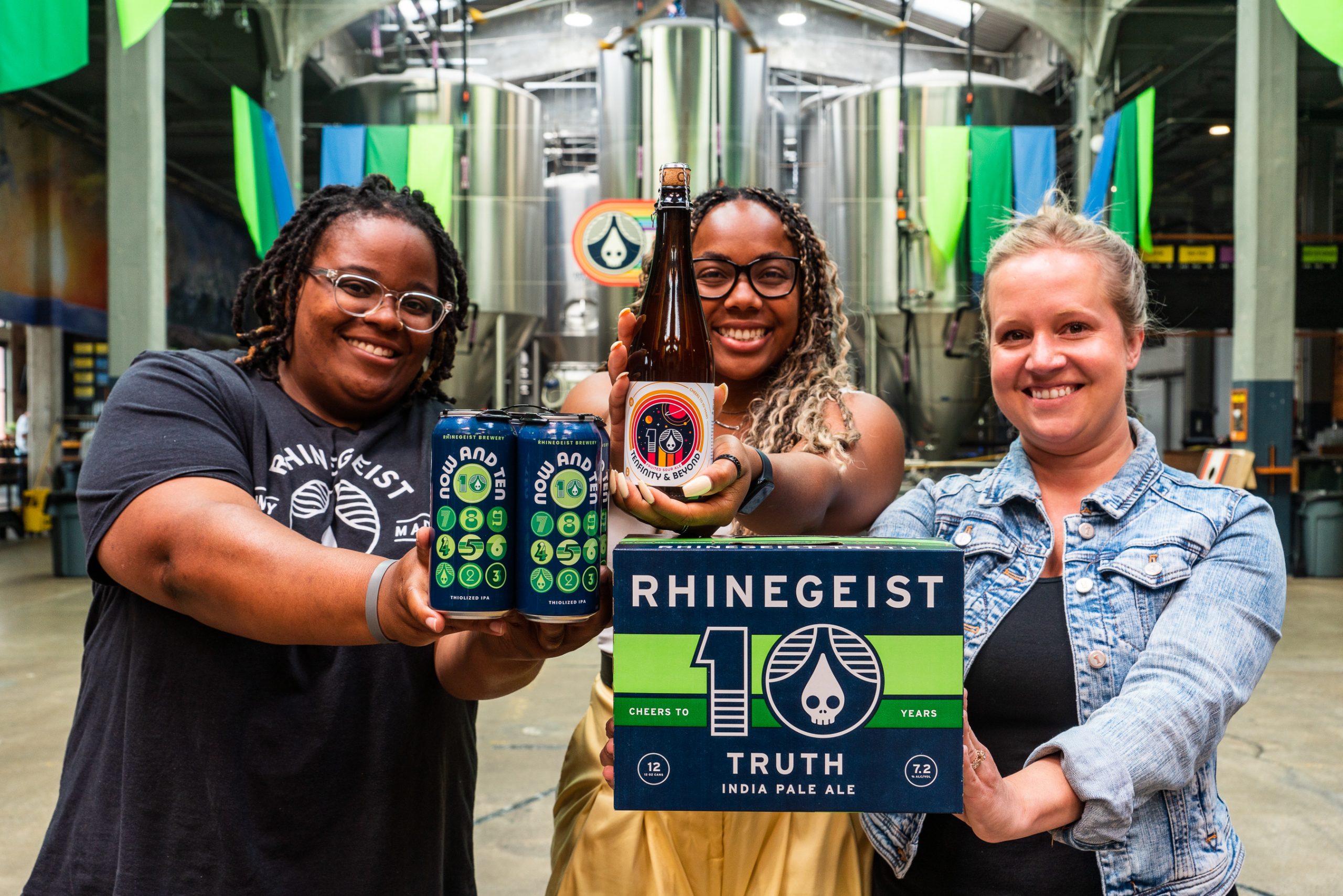 Since first opening on Elm Street in 2013, Rhinegeist Brewery has carved out its place as a local beer staple and has become a shining example of how Cincinnati's long and storied brewing industry has made a modern comeback.
It all started in 2005 with two former San Francisco consultants, Bob Bonder and Bryant Goulding. Bonder saw potential in starting a coffee business in Cincinnati and left San Francisco to start coffee shop Tazza Mia. Around the same time, Goulding left California for South America, returning with a serious interest in the beer industry. While Bonder was operating his coffee shop, Goulding started working in sales at Dogfish Head Brewery on the West Coast.
Several years later, Bonder considered another business venture—brewing—and called up Goulding to gauge his interest in opening a brewery in Cincinnati. After much planning, a brief stint at a Los Angeles brewing startup, and a lot of help from chemist, brewer, and eventual father of Truth IPA Jim Matt, Rhinegeist opened its doors on June 29, 2013 inside a former Christian Moerlein packaging hall at 1910 Elm St. To honor Over-the-Rhine's brewing history and its revival, the pair came up with the name "Rhinegeist," or "river ghost" in German. Over the past 10 years, Rhinegeist has put Cincinnati back on the map as a brewing haven and established itself as a force to be reckoned with in the craft beer industry with flavors like Truth, fruity RG Bevs and Cidergeists, a tea venture, crowd-pleasing seasonal brews like Dad, Franz, and Hustle, and many more ways to wake the ghost within.
Today, interim CEO Adam Bankovich is proud of the brewery's contribution to the local craft beer scene and how it impacts the Cincinnati community. "Greater Cincinnati is known to be a beer city," he says. "The more opportunity there is for other people to create their vision and dream and open their brewery and put their spin on it, then not only are we serving the needs of Cincinnati, but to bring people here and say, 'Look at all these great breweries we have in town along with everything else that's great about Cincinnati.'"
Bankovich has been involved in the beer industry since he was a student at the University of Cincinnati, going from managing Catskeller on campus to working for Stone Brewing, a brewery in southern California. However, Bankovich was based in Cincinnati the entire time.
Living in Cincinnati and working in the craft beer industry, it's only natural that Bankovich was a fan of Rhinegeist and got to know the founders. He eventually joined Rhinegeist last October as Chief Commercial Officer. "I was thrilled to be able to be part of a local craft brewery in my hometown, especially Rhinegeist," Bankovich says.
Since his appointment to interim CEO at the end of April, Bankovich has looked forward to inviting Cincinnati beer fans to see what's in store for the future. "We have a lot of ideas out there, a lot of things that are really exciting for us to think about," he says. "We want to continue to grow the Rhinegeist experience and allow people to experience it for themselves, and there's a lot of really fun ideas on how we might be able to do that in years to come."
Recently, Rhinegeist announced its first-ever light lager venture, Cincy Light. This beer is made in collaboration with Cincy Reigns, a name, image, and likeness collective that supports UC student athletes. A portion of the proceeds from each case will go to Cincy Reigns and is set to hit the shelves this fall.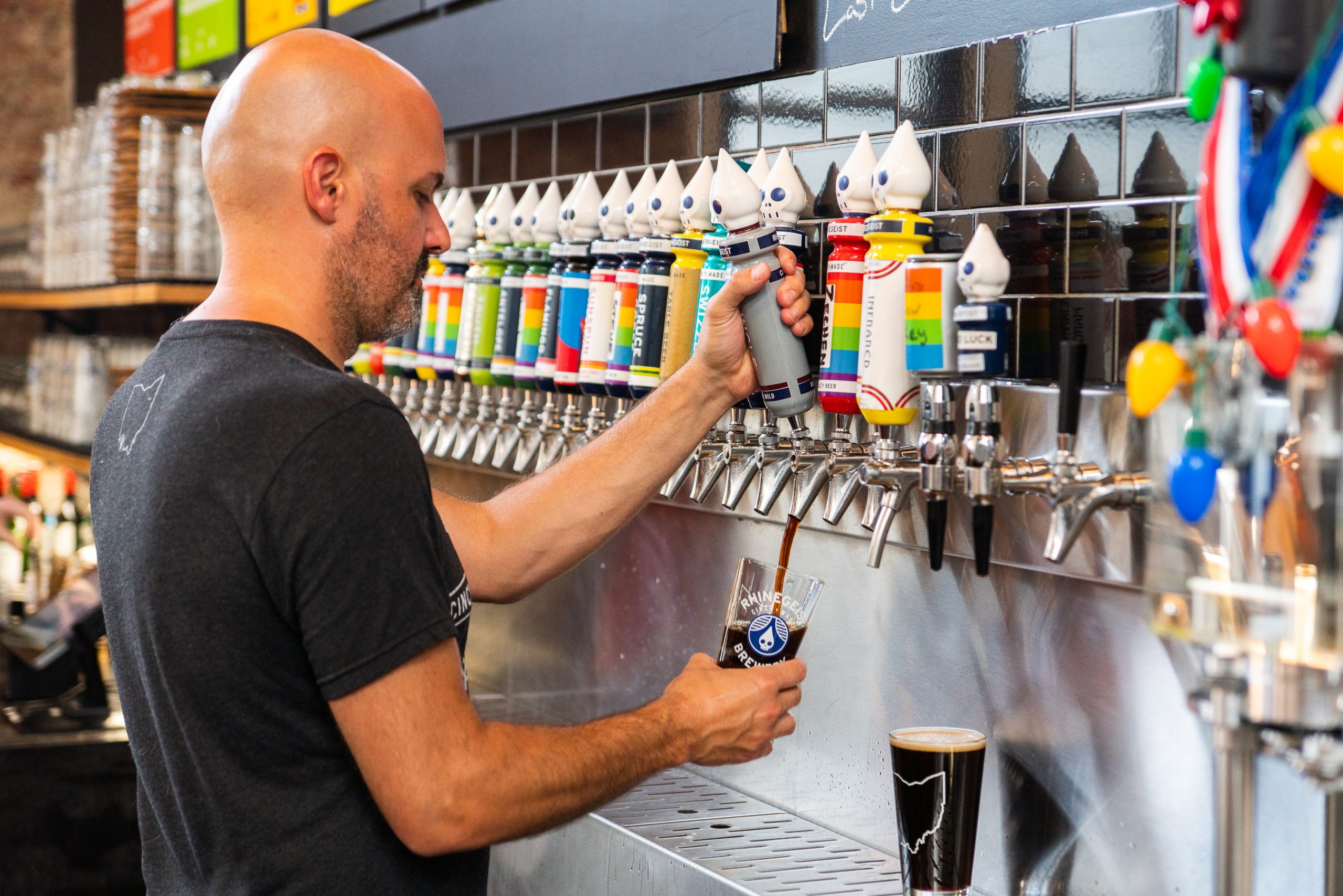 And even after smashing growth records, Bankovich says Rhinegeist still operates everything within the company, including the brewing, freighting, and marketing. According to Bankovich, it's all because of the Rhinegeist team. "I love that we have all this opportunity to do a whole lot more because we are so diverse," he says. That's also why the company is working on implementing employee stock ownership plans (ESOPs) to give back to the folks making the Rhinegeist experience possible. "The employees obviously are the lifeblood of the company because we do so much ourselves," he says. "The next iteration of that is the ESOPs, and so over the course of the next 10 years, it's continuing to fund that ESOP to transition ownership to the employee."
As Rhinegeist continues to innovate while reflecting on the company's past, they can't forget the beer that helped get them here in the first place. "I don't think we could look back on the past 10 years without talking about Truth," Bankovich says. Jim Matt created the IPA as an at-home brewing experiment that later turned into a Rhinegeist's flagship flavor available in bars and stores around the city and in seven states.
Another Rhinegeist product of note, the apple, peach, and cranberry-tinged Bubbles, is not quite a beer, and not quite a seltzer. Bankovich says it's a beverage that was "ahead of its time" and something else entirely. "I love that Rhinegeist has always been innovative and doing things that aren't out there," he says. "Rhinegeist's ability to innovate and create something new that's not on the market is really worth mentioning in terms of the past 10 years and how we got here."
To celebrate with the community, Rhinegeist will host an anniversary celebration at the taproom where it all began. The festivities start Thursday, June 15, with a charity auction collaboration with Rookwood Pottery featuring six hand-painted anniversary beer steins. Proceeds from the auction will be donated to the brewery's non-profit partners Starfire, Queen City Charities, The Well, Our Daily Bread, Green Umbrella, and Cancer Free Kids. Anniversary steins will also be available for pre-order until June 18.
On Saturday, June 17, the free main anniversary event will be held at the taproom, featuring an art installation sharing stories from the community and employees, and an interactive timeline showing the company's history. There will also be rare and specialty beers on tap as well as two anniversary brews: a Thiolized IPA called Now and Ten and fruited sour ale Tenfinity & Beyond.
Facebook Comments