When Holly Young's 10-year-old son Roman was diagnosed with autism as a toddler, Cincinnati didn't have a store where she could find supplies or toys geared for him. No gel tiles to piece together and squish beneath his toes. No bubble tubes to flicker and shimmer with changing light. No weighted blankets to cocoon and soothe. Young could only find those items online, and at a huge markup. "I thought, Surely, someone's going to open a store to help parents like me," she says. "I waited years and years, and it didn't happen, so I opened that store."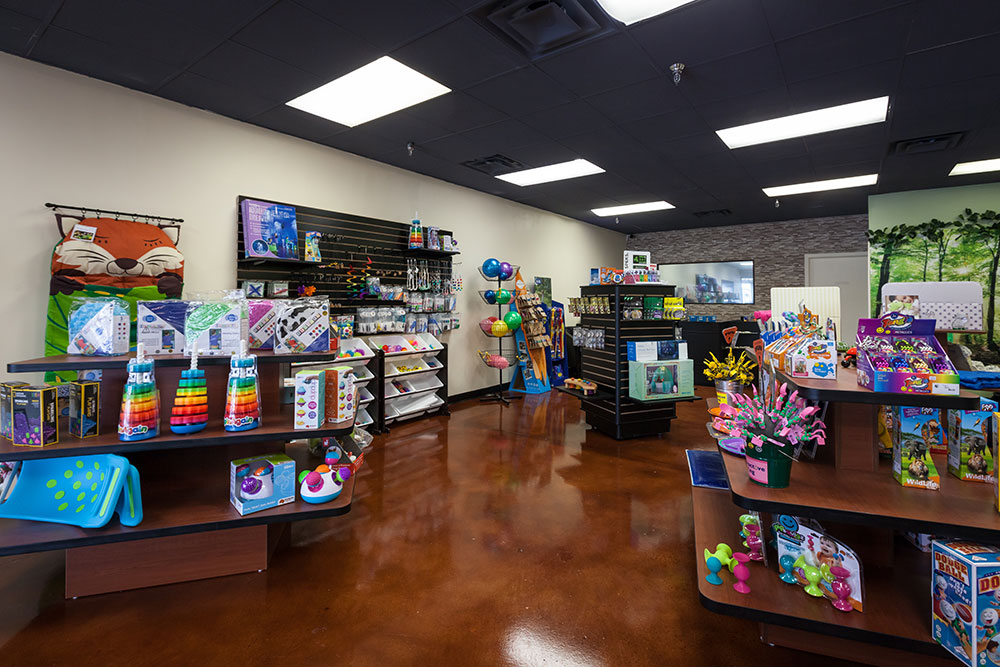 Puzzle Pieces, which Young opened in spring 2018, caters to people with sensory issues and other functional needs, including autism, spina bifida, and Alzheimer's disease. Customers have driven as far as five hours to visit the store, where they can try items before they buy.
At Puzzle Pieces, customers also find reasonable prices and, Young says, hope. "I have parents walk in who immediately ask if I'm the owner, and they hug me," she says.
In addition to the retail space, Puzzle Pieces has a sensory room that immerses people in a place meant to calm and soothe. The lights are dim, save for some spot lighting like bubble tubes and a projector casting a lime green pattern on the wall. A jellyfish canopy drapes around a beanbag chair, and LED lights dangle inside. Large furry rugs and pillows invite visitors to have a seat. And then there's everyone's favorite: the huggle pod. This pod, which looks like a tent, is suspended from the ceiling in the sensory room. People can bring a glow item inside and drop the flap, providing a secluded space to enjoy the muted lighting.
Stores like Puzzle Pieces cater to a population that finds the bright lights and loud sounds of traditional stores overwhelming. They're also a respite for parents who feel they can't bring their children to stores.
"There are people who frown at you when your child takes something off the shelf or knocks something over. It's very intimidating and very stressful," Young says. "To have a store that encourages your child to pick things off of the shelf, and it's OK if they drop it. It's OK if they pull it out of the bins and throw it. We understand. That's priceless as a parent."
Puzzle Pieces plans to expand into the space next door, which would add 2,100 square feet. Owner Holly Young had a grand reopening scheduled for April 18, but put it on hold indefinitely due to the coronavirus pandemic.
Puzzle Pieces, 11912 Montgomery Rd., Symmes Township, (513) 583-1874
Facebook Comments