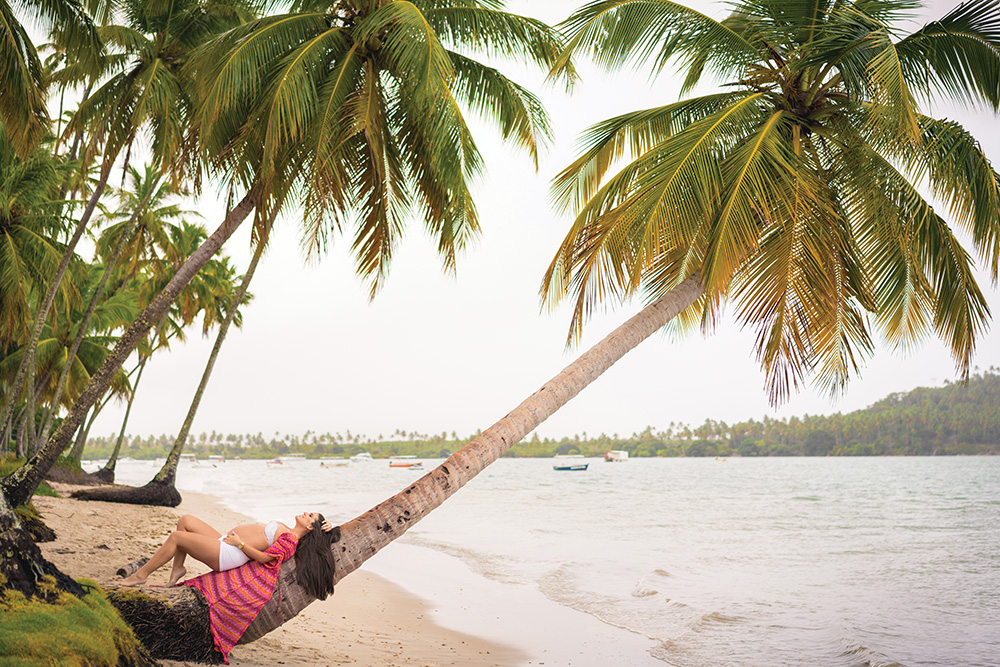 Ever since Kanye whisked a pregnant Kim off to Paris in 2013, the babymoon—a last-hurrah couple's trip before baby arrives—has gone from celeb luxury to mainstream must-do. It makes sense: No one deserves a break more than a woman who's battling nausea and fatigue, all while carting around a growing belly, working, making time for family and friends and, oh yeah, preparing for the tiny human who's about to change her life forever.
Surveys indicate that U.S. couples take more than 2 million babymoons every year, says Kristen Pike, CEO of Atlanta-based travel rm KK Travels Worldwide, and an estimated 60 percent of parents-to-be have taken a babymoon (defined by an overnight stay away from home). "We have planned a significant number of babymoon trips in the past four years compared to previous years," Pike says.
KNOW BEFORE YOU GO: Flying? Cut-off dates for pregnant passengers vary by airline, so check your carrier's rules before booking a ticket.
The travel industry has pounced on this niche with a growing number of hotels offering babymoon packages that include perks for expecting parents—everything from pregnancy pillows to 24-hour "craving menus" that o er pickles, cheese, and cookies whenever the urge strikes. (It's worth calling your intended hotel to check specials before booking.)Regardless of where you're at—both geographically and in your pregnancy—the point of a babymoon is simply to savor those last pre-baby moments with your partner before life gets crazy. Here's our trimester-to-trimester guide to doing just that.
---
The First Trimester:
For most women, the first trimester brings queasiness, exhaustion, and sore boobs—not exactly the recipe for a dream vacation. In fact, around your seventh or eighth week, when morning sickness typically kicks in (thanks, surging hormones!), you may feel more like taking a nap than packing your bags. If you are up to traveling, run the plan by your doctor, who may first want to examine the pregnancy with an ultrasound. "Ensuring the pregnancy is where it's supposed to be—in the uterus—is the No. 1 concern in the first trimester," says Dr. Sarp Aksel, an OB/ GYN in New York City.
KNOW BEFORE YOU GO:
Check the safety of your vacation spot's drinking water to avoid contamination risks.
Beaver Creek, Colorado
The fresh mountain air in Beaver Creek, Colorado, a glam ski resort 110 miles west of Denver, is an antidote to that pesky morning sickness. Made up of three interconnected villages (Beaver Creek Village, Bachelor Gulch, and Arrowhead Village), the area is best known for its pristine slopes, but its beauty peaks in summer, when gorgeous mountain views are framed by perennially sunny skies, wild flowers are in bloom, and 1,800 acres of trails are primed for hikers. There are lots of first-trimester-friendly activities to be found: Hit the local spa circuit for some R&R (there are several excellent full-service spas between the villages), take a mountainside yoga class, or pack an al fresco picnic.
PREGNANCY PRO-TIP:
Beaver Creek Village sits 8,100 feet above sea level, and for pregnant women, whose bodies are already working overtime, the thinner air can lead to dizziness, headaches, and nausea. If you're not used to altitude, plan on spending
a couple days at
a lower elevation (like Denver, which is at 5,280 feet)
to acclimate to
the change. Also, minimize strenuous exercise and drink lots of water, which can help ward off altitude sickness.
Stay
Set at the base
of Beaver Creek Mountain and surrounded by towering trees,
The Ritz-Carlton Bachelor Gulch is postcard-perfect. The interior isn't too shabby either, with
a 21,000-square- foot spa offering treatments including a facial with diamond-infused cream and a full-body mud wrap featuring minerals extracted from Colorado's mines.
Do
Book a guided, private hike with the hotel's resident naturalist and wind through the mountains at your own pace. (You'll also get a tutorial on the area's native plants and wildlife.) Just make sure to return by 4 p.m., when the resort hosts DIY s'more making on the back terrace.
Kohler, Wisconsin
This quaint village an hour north of Milwaukee is babymoon-approved for its Kohler Waters Spa, one of only 64 worldwide to snag the prestigious Forbes Five-Star award. The spa, located beside the elegant American Club resort, specializes in hydrotherapy treatments and has a pool with an eight-foot waterfall (fitting, as Kohler manufactures plumbing fixtures). The resort also boasts two championship golf courses, a full menu of fitness classes (from prenatal yoga to Zumba), and five restaurants serving everything from local cheese to fresh-caught Great Lakes fish.
Asheville, North Carolina
A quick hop from many East Coast and Midwest cities, Asheville draws crowds for its thriving music and art scenes, farm-to-table cuisine, and historic Art Deco buildings—features that have earned it the moniker "Paris of the South." Tucked between the Blue Ridge and Smokey Mountains two hours northwest of Charlotte, Asheville has a low-key, hippie vibe (catch the Friday night drum circle at Pritchard Park). Book a room at the Parisian-inspired Windsor Boutique Hotel, within walking distance of Asheville's lively downtown.
---
The Second Trimester:
Congratulations, you're in the travel sweet spot! With your nausea likely settled, your energy levels rebounding, and your belly not big enough to slow you down, the second trimester is prime time to hit the road. "The best time to travel is between 14 and 28 weeks," Aksel says. "By 14 weeks, a lot of the 'settling in' of the pregnancy will be done, plus there's a lower risk for complications than in the third trimester."
Still, think twice before jetting across the globe: Sitting for hours, like on an overseas flight, can further increase your risk for potentially serious blood clots, which are already more likely in pregnant women. In any case, drink lots of water in transit and move around often to get your blood owing; both can help prevent clots.
KNOW BEFORE YOU GO: Make sure Zika, malaria, and other infectious diseases aren't a problem wherever you're headed. The Centers for Disease Control website (cdc.gov) is a fantastic resource for pregnancy-related travel precautions.
Hawaii
Travel time for non-West Coasters aside, there's a reason Hawaii is a babymoon hotspot (celebs like Hilary Duff and Olivia Wilde vacationed there while pregnant). For one, it's paradise— hello, dreamy beaches, swaying palm trees, and lush rainforests—but it also offers activities for every type of traveler, whether you're into exploring the outdoors, cultural experiences (luau time!), or simply lounging by the pool. Perhaps most importantly, it's a solid bet for a tropical, Zika-free vacation, and you don't even have to pack your passport.
Hawaii has eight major islands, and each offers something different. We like Maui for its stunning scenery, more than 30 miles of beaches (don't miss the black-sand Honokalani Beach) and boho surf towns (check out artsy, super-chill Paia).
PREGNANCY PRO-TIP:
Hawaii is an adrenaline junkie's dream, with volcanoes to hike and waterfalls to dive off. Your inner daredevil may be raring to go, but doctors recommend avoiding activities that involve jolting motions or carry the risk of falling, like ziplining. A good rule of thumb: Keep your activities as simple and safe as possible.
Stay
Set on 15 acres overlooking Maui's famed Wailea Beach, the Hotel Wailea is a posh, adults-only resort that offers activities like sunset sailboat cruises, cooking classes, and gourmet picnics by the ocean. Grab a handcrafted mocktail and enjoy.
Do
One of Maui's top attractions is the Road to Hana, an approximately 50-mile highway that winds past waterfalls, gardens, and stands selling fresh-baked banana bread. Hire a driver (there are tour companies galore) for the trip, which can take two to four hours one way, although you can turn around at any point. Just FYI: The road is packed with hairpin turns and isn't for the faint of heart—or stomach.
Sedona, Arizona
Growing a baby can be stressful, and Sedona is the perfect place to catch some Zen vibes. A small desert town two hours north of Phoenix, Sedona is known for its stunning red-rock formations and New Age-y spirit: It's thought to be home to "vortex sites" that release healing energy. Soak it in, then check out Sedona's 80-plus art galleries, many within walking distance of each other. Stay at the tranquil L'Auberge de Sedona, which offers everything from forest bathing sessions (i.e., meditative walks through the trees that have proven stress-busting effects) to maternity massages with essential oils designed especially for pregnancy.
Bemuda

Most Caribbean islands are off limits to pregnant travelers due to Zika concerns, but roughly two hours from the East Coast by plane, Bermuda boasts equally idyllic beaches without the risk. The genteel, 21-square-mile island has no shortage of eye candy, from pink sand and turquoise waters to pastel-hued buildings to natural wonders like the underground Crystal Caves. The newly renovated Hamilton Princess Hotel houses an unparalleled art collection (works by Matisse and Warhol are on display), a restaurant from celeb chef Marcus Samuelsson, and a full-service spa offering barre and yoga classes.
---
The Third Trimester:
In your third trimester, sticking fairly close to home is smart, say doctors, should complications or anything unexpected arise. (Going into labor in your hotel room: not a fun vacation memory.) If you haven't hit 36 weeks— when most airlines won't let you fly domestically—consider visiting a city that's reachable via a short flight or road trip. Past that point? Staycation! "I'd say no traveling during the last month of your pregnancy," Aksel says. "Staying close to your provider and minimizing the number of unexpected events that could happen is key to ensuring a quality birth experience."

KNOW BEFORE YOU GO: Research distance to the nearest hospital and make sure medical facilities are up to par should you need a doctor while you're away.
Savannah, Georgia
As your due date creeps up, you probably won't be moving very fast. And that's just fine in slow-paced Savannah, Georgia. In fact, a leisurely stroll is the best way to take in the city's Insta-worthy sights: elaborate antebellum homes, boutique-lined cobblestone streets, and the Spanish moss-draped oak trees lining its 22 historic public squares. Despite Savannah's sleepy Southern charm and reverence for the past (the city is the largest National Historic Landmark District in the U.S.), it's experiencing a development boom, with buzzy new restaurants and hotels springing up, as well as the Plant Riverside District, a $280 million entertainment complex with shops, restaurants, and live music venues slated to debut this summer.
PREGNANCY PRO-TIP:
If you're tired of shuffling around town, hop on Savannah's free trolley, called the Dot, which cruises around the city's historic district and has 37 attractions (from museums to homes built in the 1800s) within steps of its stops.
Stay
Opened in 2018, the Perry Lane Hotel is a luxury addition to Savannah's B&B- heavy scene, with three restaurants, in-room spa treatments, and rooms decorated with works by local artists. Come for the killer views (catch a panorama of the Savannah skyline from the rooftop pool) and stay for the Southern hospitality (cookies await in your room).
Do
Walking tours are popular in Savannah, and there's one
for everyone, from foodies to architecture buffs 
to supernatural seekers (the city has a rep as America's most haunted).
Santa Barbara, California

Santa Barbara is only about 100 miles from Los Angeles, but it feels like a different world. Known as the "American Riviera" for its Mediterranean climate and resemblance to ritzy European hotspots like Cannes and Porto no, this seaside city is brimming with dazzling natural beauty (ride the elevator up the Santa Barbara County Courthouse clock tower for 360-degree views of the Pacific and Santa Ynez Mountains), world-class art, and more delicious food than your pregnant belly can handle. (Of course, it's also famous for its wine, which you'll have to return post-baby to sample.) Stay at the stylish Hotel Californian, which opened in 2017 and sits just steps from the beach.
Saugatuck, Michigan

There's no ocean in sight, but Saugatuck is a first-rate beach town. Set on Lake Michigan, this small city 40 minutes southwest of Grand Rapids has been called "Provincetown of the Midwest" for its resemblance to Massachusetts's party-centric, gay-friendly resort town. Indeed, Saugatuck comes alive in summer, with bustling cafés, art galleries, boutiques, and, of course, beaches. If you can, climb the 282 stairs up the Mount Baldhead sand dune for sweeping views of beautiful Oval Beach, then retire to the recently renovated Hotel Saugatuck, where every room features a hydrotherapy tub.
---
KNOW BEFORE YOU GO: Clear your travel plans with you doc— no-brainer!
Pregnancy packing list:
Traveling while pregnant requires some extra baggage—and we're not just talking about your baby bump. Here, a few must-bring items.
SPF Fluctuating hormones make skin more sensitive, so sunscreen is a must.
Comfy shoes Excess fluid can trigger swollen feet, which means sneakers are essential.
Water bottle Aim for 64 ounces of H20 a day to keep amniotic-fluid levels healthy.
Snacks Pregnancy can make you ravenous; keep nutritious food, like fruit or nuts, handy.
Medical records If unplanned events arise, easy access to your health history is key.
Babymoon or Stay-Be-Moon?
For some moms-to-be, the ideal babymoon involves a trip somewhere far-flung and exotic. We get it: Who wouldn't want to wake up in an overwater hut in Tahiti? But for a growing number of pregnant women, there's no place like home.
In 2018, travel researchers identified the "self-care" staycation as one of the year's top trends—and indeed, lots of moms-to-be opt to stick close to home, i.e., a "stay-be-moon." (We can't take credit for coining the term.) It's an easy, low-key option, especially toward the end of pregnancy when you can't, and probably don't want to, venture too far.
It also opens up options you may feel guilty embracing if you spent big bucks on a blowout vacation—like binge-watching Netflix in bed. That's not to say your stay-be-moon can't be action-packed. Try that new restaurant, hit a gallery opening, spend a day at your local spa, whatever strikes your fancy. "We see couples do everything from recreating their first date to simply unplugging their electronics for the weekend and focusing on each other," says Ashlee Neuman, senior editor of parenting site The Bump. "The point is just to spend time with your significant other and enjoy the two of you before your family expands."
Facebook Comments