One of the most interesting things about being a parent is watching your kids discover their passions. I'm not talking about "truck" and "princess" phases, but rather, the kind of deep dives that happen when your kid becomes completely and wholly fascinated about something.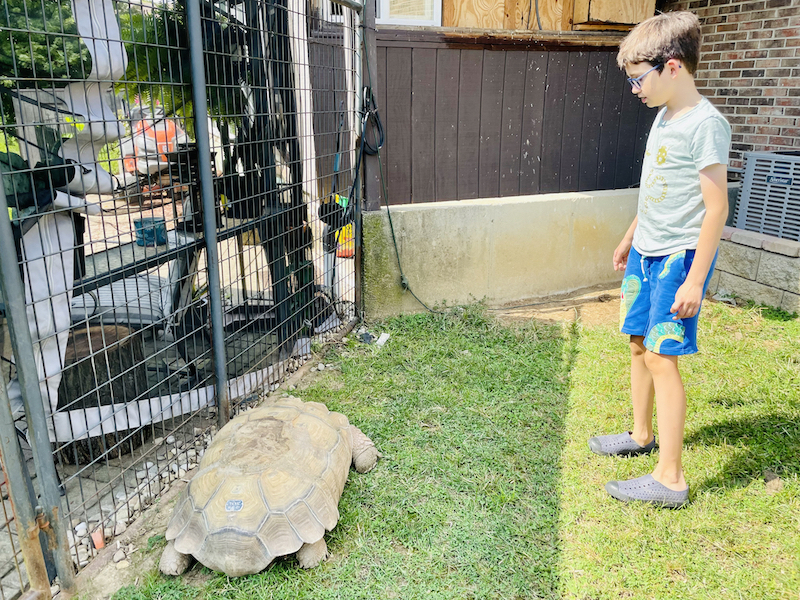 In our family, this "something" includes art and drawing, flamingos and dogs, and, as it were, herpetology.
Yes. Herpetology. As in the study of reptiles. As in turtles and salamanders, and (ahem) snakes.
I, like Indiana Jones, have a visceral, total body reaction to snakes. They're slithery and leg-less and completely alien to me. So of course, my 12-year-old is obsessed with them and has, for the last several years, been begging for a snake.
But. The last thing I want to do as a parent is project my own fears on something that truly fascinates my kid. So after doing a bit of research, we landed on a compromise: volunteering at Arrowhead Rescue, a local nonprofit that accepts unwanted reptiles, rehabilitating them for reentry into the wild and also, much to Julian's delight, serving as a temporary home for exotic pets in need of adoption.
To volunteer, you need to fill out an application and attend training, which includes everything from learning how to clean habitats, moving and preparing equipment for intakes, and, as it were, fostering reptiles while they wait for their "forever homes." Arrowhead Rescue has everything from leopard geckos and ball pythons to African mud turtles and bearded dragons.
What's great about the reptiles up for adoption at Arrowhead is that, for the most part, they're all considered great "starter reptiles" for those interested in reptile ownership. Ball pythons fall into this category, explained Julian—but it was the bearded dragons that caught my eye. They are like tiny dinosaurs and they love eating fresh greens. They're known for being especially emotive and personable. They're rough but not prickly, definitely not slimy and slithery.
You know the way that, when you visit a pet shelter or adoption event, you're basically agreeing to come home with a new family member? Well. This is how, against all odds, we ended up not simply fostering a bearded dragon named Atlas, but we ended up adopting her and somehow, she has become my little BFF, office buddy, and emotional support lizard. Julian thinks it's fantastic and so do I. I can say, without hesitation, that I would never ever have adopted a lizard on my own, but I am so very glad I have—and I have my budding herpetologist and Arrowhead Rescue to thank for this welcome addition to our family.
Arrowhead Rescue, Cincinnati. Please note that, as Arrowhead is volunteer-run, you'll need to contact the rescue for location and other information.
Facebook Comments