When Buddy LaRosa founded his pizzeria in 1954 on Westwood's Boudinot Avenue, his family never dreamed it would grow into the Cincinnati institution it's become today. Now, LaRosa's is three generations deep—Buddy's sons Mike and Mark run the show, and Mike's son Nick is the company's executive vice president—and LaRosa's is synonymous with the city itself at this point as one of Cincinnati's most iconic eats. That Boudinot Avenue location is still open 68 years later, but its dining room has been closed since July for a top to bottom renovation including a new dining room, bar and beverage station, event center, drive-in/carry-out lanes, and plenty more to show for it.
The dining room has been expanded with massive windows on one wall, allowing plenty of natural light, and several new seating areas—including three large round booths, all branded as "Buddy's Table." Indeed, much of the new decor pays tribute to the restaurant's storied history, with private rooms named after Buddy's previous upscale restaurants The Wine Cellar and The Italian Inn, a large booth decorated with memorabilia from Buddy's activism with the Cincinnati Golden Gloves, posters of older LaRosa's ads lining the walls, plaques recognizing outstanding team members from past decades, and more.
But what's remained from the original restaurant? All three LaRosas laugh and mention "Buddy's favorite," the hanging Tiffany lamps he frequently procured. There's seven hanging over the high-top tables in the middle of the dining room, and one over each of the three large round booths.
While working in the restaurant at a younger age, Nick LaRosa remembers times when new Tiffany lamps arrived and the staff would scramble to find a place to hang them in the restaurant, saying they were "over every table and every possible nook and cranny in the dining room." The elder LaRosa was always an aficionado of antiques and fine art and would frequently purchase lamps not only for his restaurant, but for his children's homes, too. "There was a time when we all had those in our homes. But we, uh [laughs] kind of changed with the times and they went elsewhere," Mike LaRosa said. "To this day, he'll say, 'What did you ever do with that one Tiffany I gave you?' and I'll say, well, I gave it to Mark, I don't know what he did with it!"
Most intriguing at the new restaurant is just how many former workers are recognized, with the names of former staff scattered around the dining room. If you point to one area, someone will tell a story of a person who served tables at the restaurant for decades or somebody who fundamentally changed the way LaRosa's delivers their pizza. In each and every conversation, the family stresses how they wouldn't be where they are without the people that work in their restaurants. "That's what makes our business successful, right?" Mike said. "There's a lot of other pieces and parts that play into that, but our people hold the keys to the locks. I try to do everything I can to get the best out of our people …  because that's where the rubber meets the road."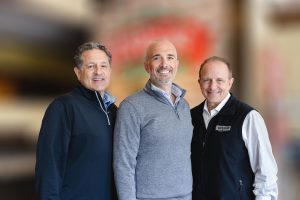 It's not just the younger LaRosas that think so: even at 92 years old, Buddy LaRosa still likes to come in and work tables in the dining room. "There'll be time and time again where any one of us encounter a guest and [Buddy will] know the grandfather, know the dad, know the son, and then he'll meet the grandson," Mark said. "He'll remember generations. Faces and names. It really touches them, and they'll share those stories time and time again."
It's not just the guests or founders of LaRosa's that are generational, either: almost all of their franchisees are family-owned too. "When we talk with suppliers or purveyors, they'll ask: What's the secret? Why have you been able to survive? Survive national stiff competition and really challenging local competition? How can you maintain and sustain for nearly 70 years?" Mark said. "It's all about our people. And we have incredible franchise owners that have been drinking the Kool-Aid for 30, 40, 50 years, second, third generation. There's not many groups like ours. I think it's a major point of strength."
LaRosa's is one of the last of its kind: family-owned-and-operated, large enough to seat a group of 20 but cheap enough to feed them without breaking the bank, a unique option that strikes the perfect balance between a low price point and a high level of quality. A quote from Buddy LaRosa is mounted above one of the larger booths: "Good, better, best. Never let it rest until your good is better and your better is best." Cliché, certainly, but it's a sentence each of the three descendants try to follow.
"That's what helps LaRosa's remain relevant with different generations over time. When people show up here, this is going to be one of the nicest restaurants on this side of town. And it's family oriented. And it's a value," Mike said. "My dad started feeding teenagers in the 50s, and we're still feeding teenagers today."
The LaRosa's store at 2411 Boudinot Ave., Westwood, reopens for dining on Monday, October 17. Learn more here.
Facebook Comments