After four years at its cramped Main Street location, Lalo closed its doors this week to get ready to open at 26 W. Court St. in early March. "We'll leave the past behind," says co-owner Tobias Harris, laughing optimistically.
When Harris opened the Latin/Asian fusion restaurant with Trang Vo and Eduardo Reyes, the group expected that there would be problems. After all, in 2013, Harris, Vo, and Harris's friend, Jennifer Eng, started Huit Group, of which Lalo is a property, as "restaurant rookies." The original members are designers or architects by trade, and they created the restaurant group to experiment with concepts and learn how to run a restaurant along the way.
"Before, we did not know a system, we did not know how to line up servers," Harris says. "I mean, we are a bunch of designers so what do I know about HR, right?"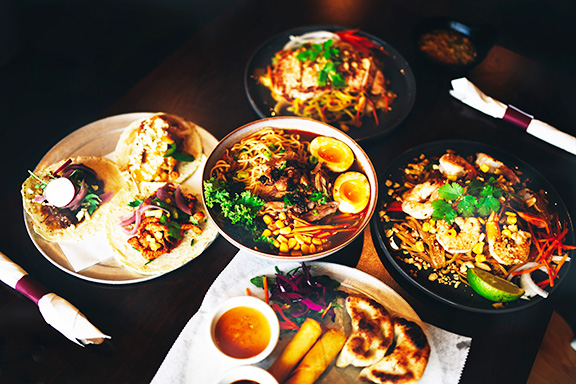 Despite their inexperience, the crew opened Huit at 29 E. Court St. Soon after, the group acknowledged that "the city was not ready" for their Asian-inspired craft barbecue, and they were not ready as restauranteurs. They pivoted, replacing Huit with Lalo and its more "democratized" cuisine. "We needed to kind of find the balance," Harris says. "I think Lalo is the success story of that balance."
In 2017, Harris, Vo, and Reyes transplanted Lalo to the more spacious Main Street location. The trio recognized that the space was not perfect—the layout is awkward for dining and  the building needed repairs—but without investors, it was what they could make work as they continued to grow and learn the ropes of the restaurant world. Now with their lease up and more experience under their belts—Neuf, Crzy Monk, Dope!, and Hop Ping Hog are also Huit Group properties—the team decided Lalo was ready for a move.
Lalo loyalists can expect a building that was actually "built to be a restaurant," at the new W. Court Street location, Harris says. He describes the kitchen as more efficient and the dining room as "roomier, warmer." He hopes that the new environment will be better for the employees and attract strong talent. "Cincinnati has been forgiving to us, and we want to serve them better in this new location," Harris says. "We can act not as rookies anymore."
Restaurant goers can also expect some changes in Lalo's cuisine as a result of this move. Favorites like the pad thai, ramen, and tacos will remain, but the group plans to expand the Chino Latino concept. Harris points to offering quinoa "fried rice," adding their chicken wing thai sauce to a rice bowl, and introducing a new pork belly adobo in tacos, burritos, and rice bowls. Lalo also plans to work with Queen City Exchange, the nearby stock-market themed bar, to offer the establishment's customers a menu of bar bites.
As for the Huit Group, the brand promises to keep innovating. "We want food that is familiar to us, and we want to share it with the people that we love," Harris says. "We want to share our passion with others in Cincinnati because we love it here."
Facebook Comments