At a critical time in our world, healthcare workers are more important than ever. The Christ College of Nursing & Health Sciences is educating nurses of the future, including recent graduate Hannah Hess. Hess entered college as an animal biology student at another institution and realized in her second year she wasn't pursuing her passion. A short stay in a local hospital triggered a new career path—nursing.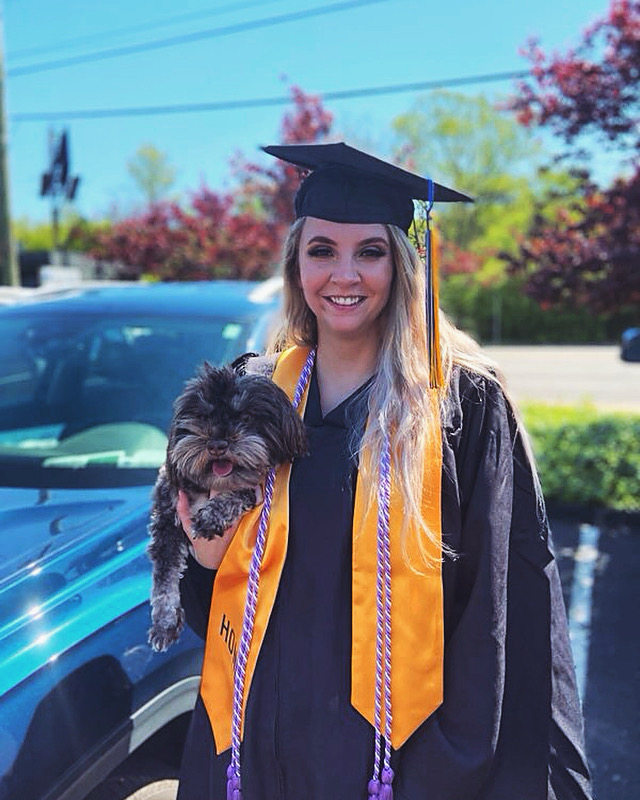 On top of being a full-time student, Hess worked part time as a PCA (patient care assistant) at The Christ Hospital to offset the cost of college. But she credits assistance from the Lydia Jackson Scholarship Fund during her college career as a relief. "It's one of the best feelings knowing that someone is noticing the work that you're putting in and they believe in you to the point where they're willing to financially sponsor you," says Hess. "I still had to take out loans and work, but any bit of relief is so helpful [and] financially it was a breath of fresh air." The confidence boost and nursing specialty The Christ College offered allowed Hess to focus on her education with little distraction. Before the pandemic, her hands-on experience with a working nurse made her more prepared for entering a pandemic environment post-graduation.
Hess says her transition from student to nurse was made easier even with the pandemic wreaking havoc on daily life and putting stress on the healthcare system. She was prepared and ready. "As chaotic and crazy of a time this has been, this is one of the most important times we could've been released into the nursing world," says Hess. "We're having a much bigger impact on the nursing field and on patients in general than we even realize."
Students like Hess rely on the assistance and scholarships that The Christ College offers. With more than 1,000 students enrolled this past fall, 98 percent require some form of financial assistance. Additionally, 71 are first generation—a population that often struggles financially with college tuition. The Christ College is equipped to provide support for about 20 percent of all students, making scholarship offerings essential to offset the costs of being a student.
Make an impact on a student like Hess and join The Christ College community on May 6. The "Future Health Care Heroes" event is a virtual silent auction that will raise funds to directly support current and future students as they work to become hometown healthcare heroes. To sign up and participate, visit thechristcollege.edu/HERO
Facebook Comments