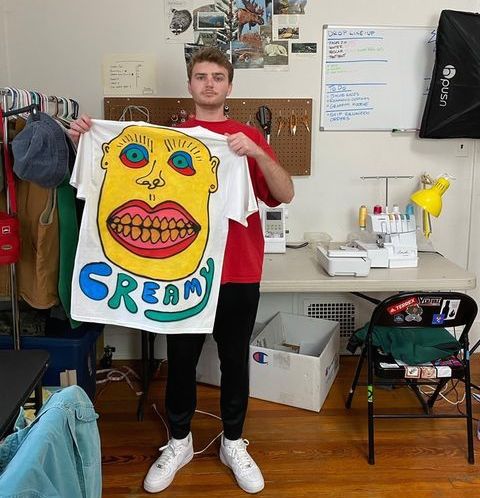 Cincinnatians Peter and Stephen Barrett were introduced to thrifting at a young age. With their mother's passion for thrift shopping, the brothers grew up wearing hand-me-down clothing. Though they weren't crazy about having a wardrobe full of used clothing at the time, Peter jokes, the idea of extending the life of an item through upcycling stuck with them and eventually led to the creation of their design brand, Creamy Studios.
Founded with the intent of being an environmental advocate in the streetwear community, Creamy curates and redesigns lightly-loved clothing. Through cutting and sewing, embroidery, screen printing, airbrushing, and hand-painted designs, the Barrett brothers add a unique artistic flair to each Creamy product. "We were always going to the thrift shop and looking for cool shirts, and we've always really loved art," Peter says. "We took art all throughout school."
Born out of a necessity to fund Stephen's backpacking trip in 2018, Creamy started with just a few hand-painted clothes sold to friends and family. At the time, Peter was just finishing his first year of college and Stephen was finishing his third, both at Ohio University in Athens. With a tight-knit creative community surrounding them at school, these first few pieces received a much larger positive response than the brothers anticipated.
"After [the first piece], Stephen painted on a bunch of different items from the thrift store or clothes my mom gave us or clothes from our closet, and sold them online," Peter says. "People really liked them because they were unique, and people liked that they were on thrifted clothes because it didn't contribute to the waste or anything."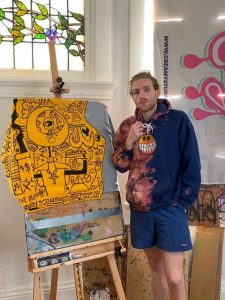 Balancing a full class schedule while trying to grow a new brand came with its challenges, but the community responsible for Creamy's initial popularity was also an asset when generating its marketing content. Whether it was classmates studying photography taking product shots, designers helping with graphics, or friends willing to model the new clothing, Peter says he and Stephen were never short of support.
The brand gained popularity both on Instagram and in Athens. Soon, it wasn't uncommon to see students on campus sporting its latest looks. From tie-dyed and bleached T-shirts to painted hoodies and embroidered jackets, there is an article of clothing in Creamy's inventory to fit everyone's taste. Currently, the custom graffiti airbrushed hoodie is the brand's bestseller, Peter says.
When Stephen graduated in 2020 and Peter took time off due to COVID-19, it only made sense for Creamy to relocate to Cincinnati. Growing up just outside the city in Wyoming, the Barretts were already familiar with Cincinnati's arts and culture scene, and they now run Creamy out of their apartment-turned-studio in Clifton. "Our supporters have continued to support, the engagement is also there with all of them, and we try to keep up with everyone," Peter says. "We just try to keep everyone involved wherever we can."
With educational backgrounds in graphic design and fashion merchandising, Peter and Stephen are solely responsible for making each piece of clothing and running Creamy's online presence. They also collaborate with photographers and other creatives whenever possible. One day, they hope to take on the company full-time and open a brick and mortar studio and storefront to spread Creamy's mission.
"We hope it encourages everyone to maybe look toward secondhand clothing first before going to the store and buying fast fashion," says Peter. "We want to change the image around thrifting, and I think it's already changing pretty quickly."
Facebook Comments