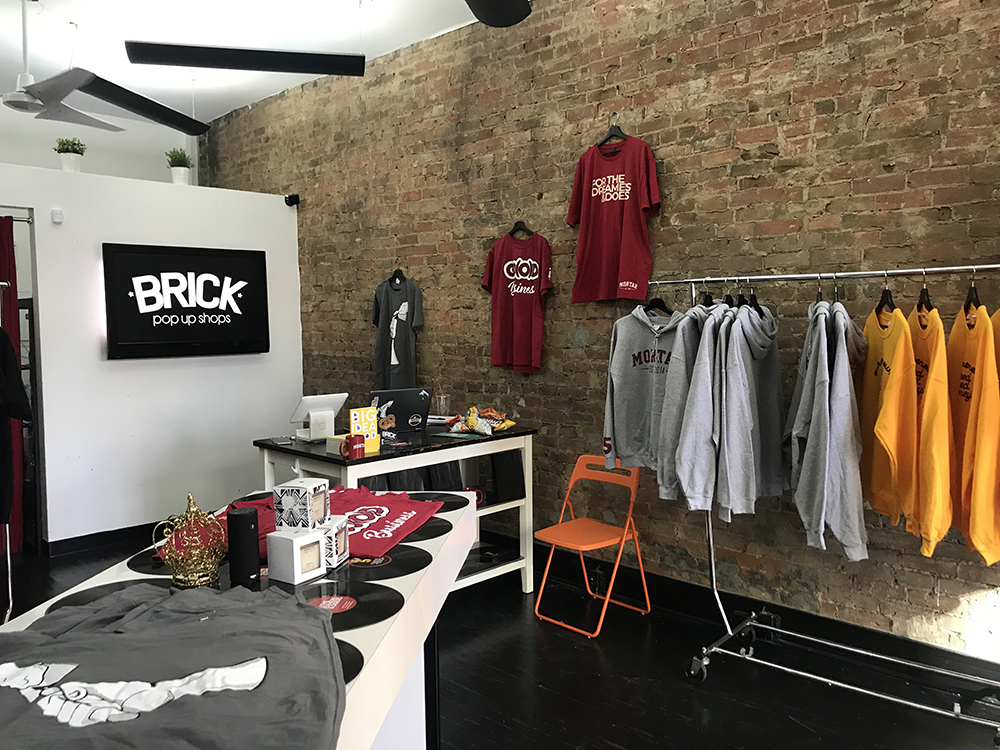 The impermanence of a pop-up shop makes visiting one feel more like an event than a shopping trip. There's the thrill of buying a product that can't be found anywhere else; the joy of taking a selfie in front of a DIY storefront and sharing it with your friends, encouraging them to get to the location before it's gone. Behind the scenes, entrepreneurs are hungry for this type of reaction. They're hoping the format will generate feedback on new goods and services. Maybe they're looking to expand their brand or build their customer base. Whatever the case, launching a business as a pop-up shop is a valuable opportunity to work out some kinks before committing to a permanent space.
Cue Brick Pop Up Shops, which exists to help entrepreneurs do just that. The company is an extension of MORTAR, the entrepreneurship incubator that offers management courses with a focus on minority- and women-owned businesses. After completing the program, participants graduate to an alumni network that provides additional resources, tools, and support. For many alumni, turning their concepts into a pop-up shop is the next logical step.
"The businesses in [the MORTAR] program don't always have the capital to get their own brick and mortar space," says Shannon Hooten, who has managed Brick Pop Up Shops for two years. She helps businesses get into temporary rental spaces equipped with TVs, display racks, and a point-of-sale system. "Some of these businesses are just starting out and don't have anything, so they ask for help with setting up and promotion—generally learning what the feel of a retail space should be."
Brick Pop Up Shops has four rental locations. Two are on Vine Street in Over-the-Rhine, which Hooten says are prime spots because of the shopping district's heavy foot traffic. There's also one in Walnut Hills, and a long-term rental space on Short Vine in Corryville, which currently houses a year-long pop-up called Pause that's headed by four MORTAR alumni and offers florals, juices, massages, and other feel-good services.
Ultimately, Hooten says the biggest draw to Brick Pop Up Shops is affordability. "We only charge $300 to $400 for a weekend or $1,250 for a month, which is probably a third of what a normal pop-up charges," she says. "The businesses we work with are small or just starting out, so we want to keep our rates low because the whole purpose is to give them a chance to grow."
Brick Pop Up Shops OTR, 1327 + 1329 Vine St., Over-the-Rhine
Facebook Comments