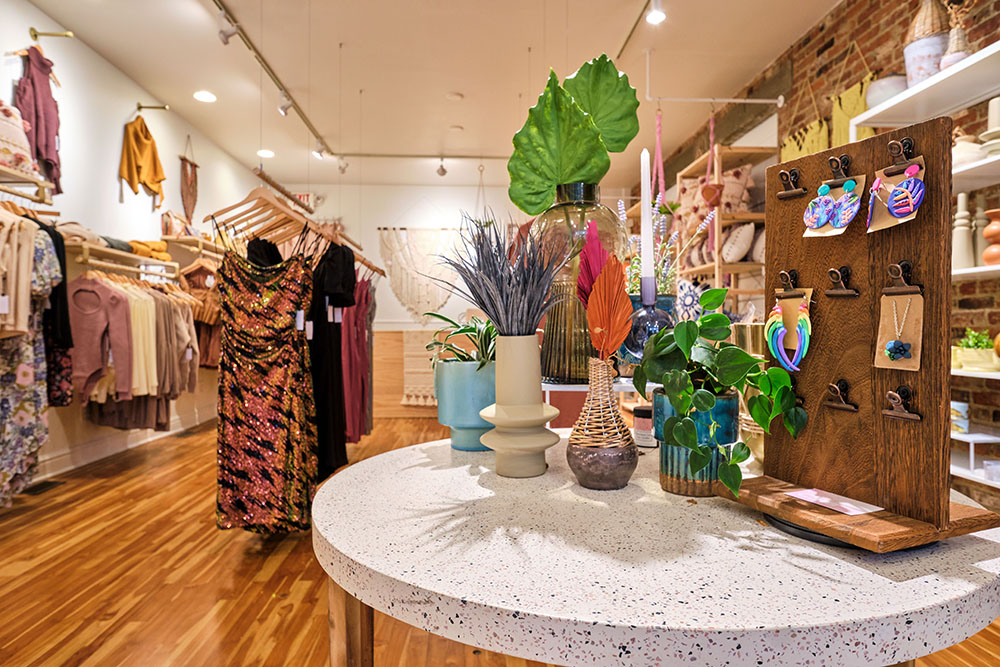 There's something about a small business launching during a global pandemic that signals it has a little more grit than your average boutique. That's especially the case when the storefront's physical opening coincides with its biggest year.
Amanda Miller had been hosting pop-up shops for her handmade macramé decor and accessories anywhere she could: Washington Park's City Flea, Art on Vine, Rhinegeist Brewery, Fountain Square, the WestSide Market in downtown Cheviot. When the pandemic shut down large gatherings last year, she didn't want to shutter her business. She'd been selling on her Etsy shop, A Modern Take Fiber Art, but she wanted to keep a connection to local Cincinnati shoppers.
Enter Boutique Cala Home & Fashion in Over-the-Rhine, which opened its doors a week before Christmas 2020.
Boutique Cala—derived from the Greek kala, which means most beautiful—is airy and bright. Miller wanted to create a space that wasn't overwhelming, where customers could relax and feel at peace, but inspired. The shop is simple, accented by unstained, light wood and exposed brick. The floors are teak, and plants abound.
The boutique sells jewelry, clothing, and home decor, but the most popular items are the macramé pieces, which include wall hangings, chandeliers, and plant hangers. Miller taught herself macramé years ago when she couldn't find a plant hanger she liked. "I figured I'd DIY it like usual," she says.
When the pandemic slowed shipments—she said in December, "I just got inventory I ordered in February for immediate delivery. My spring order never showed up. I got half of Christmas. I'm like, I'll take what I can get."—she turned to Etsy to find small businesses to support, like a Michigan nurse who makes polymer clay earrings.
But aside from the macramé, Miller's most popular items have to be her dresses—including slip dresses featuring bold floral prints or shimmering sequins, like the ones in the window. Many retailers switched to leisurewear during the pandemic, and they didn't switch back, Miller says.
"The reason I have a lot of dresses is because nobody else does," she says. With wedding season on the horizon, guests can turn to Boutique Cala to assemble the perfect outfit—and Miller is happy to help them. "I've worked in retail before, but I've never worked anywhere where I can honestly say every person who comes in my shop has been a joy to me."
Boutique Cala Home & Fashion, 1321 Vine St., Over-the-Rhine
Facebook Comments