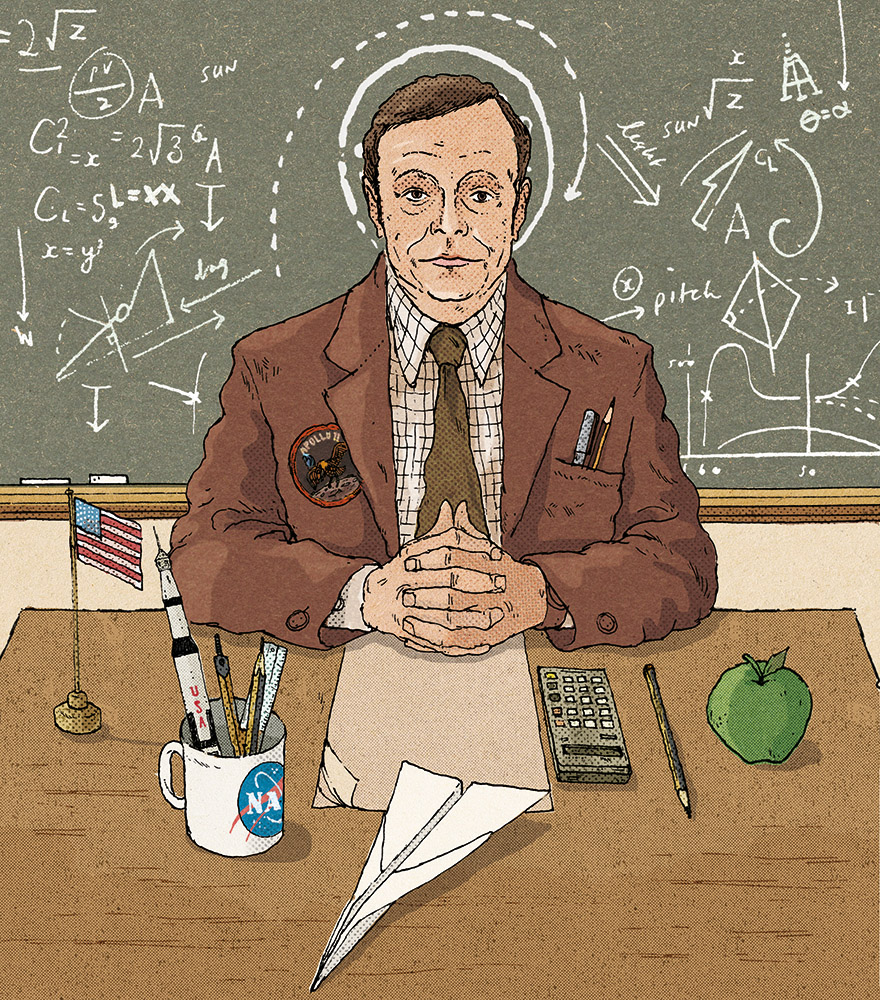 As the first hint of daylight softened the sultry Florida darkness, 15-year-old Tom Black peered through his telescope, absorbing the moment. He couldn't believe he was here on the water's edge, a witness to the beginning of mankind's greatest adventure. He looked up and down the beach at the thousands of people peering at the massive rocket before them. As the sun rose, the brilliant searchlights at Launch Pad 39A dimmed and then extinguished.
Black didn't know it, but he wasn't just watching the launch of Apollo 11—his future mentor was the star of the show. Neil Armstrong was a mythical figure on July 16, 1969, but in just a few years the astronaut would be chalking out math equations on a University of Cincinnati blackboard and lecturing Black and his classmates on the finer points of aircraft design.
It's been 50 years since Armstrong (who died in 2012) left the first footprints on the moon, but it's likely he'd be more enthusiastic discussing the footprints he left at UC as a professor of aerospace engineering. Now in their 60s, his former students still speak of Armstrong with awe. Many of them say he directly influenced their career choices and their character. He helped secure co-op positions for some and stayed in touch years after he left UC, following their careers and inquiring about their families.
"He had that uncanny ability to go to the chalkboard, derive the theory, and then sit on the edge of his desk and tell a story from his test flight days that gave life to the equation he had just written," Mark Stear remembers. "I have to say we were captivated, and not because he was Neil Armstrong. We were learning something."
---
After Armstrong walked on the moon in July 1969, he took an administrative job at the National Aeronautics and Space Administration. It was a desk job perhaps better suited for a bureaucrat, not a test pilot. Armstrong stuck with it for a little over a year, but he became restless and decided he wanted to teach. He also wanted to escape the NASA bubble in Houston and raise his two young sons in Ohio, where he'd grown up.
Mark Armstrong, who still lives in the Cincinnati area, was only 6 when his father went on what he called "a business trip" to the moon. He recalls the media camping out on the sidewalk in front of their home and his mother, Janet, closing the blinds to keep out prying eyes. Reporters shouted questions, starved for any morsel of comment.
In a British Broadcasting Corporation documentary about the Apollo 11 mission, a segment records Janet's post-mission visit with the three quarantined astronauts while Mark flits in and out of the picture, clearly excited and, as he says, "amped up." He says it was just good to have his father home, but at that age he didn't understand the significance of the extended "business trip."
If Neil Armstrong could have scripted his life after the moonwalk, he probably would have avoided the outpouring of enthusiasm, attention, and sheer ecstasy his adventure engendered. He and his fellow astronauts were sent on an around-the-world goodwill tour through 24 countries in a dizzying 38 days, starting with a mind-numbing day of ticker tape parades in New York, Chicago, and Los Angeles. So when Armstrong arrived on the UC campus in 1971, he was likely hoping for a little peace and quiet. He didn't get it.
"He wanted us to know there was more to engineering than just math. Not to understate the math, but he knew the challenge was to use that math creatively. He valued creativity."
Reporters besieged him the first day with cameras and microphones and shouted questions. Students remember Armstrong as unrattled but clearly annoyed, especially when a reporter tried to enter his classroom. When the class ended, he walked to the door and pushed his students out, slamming it behind them. Armstrong was prepared to wait the press out.
In the classroom, students describe a quiet, plain-spoken professor with a three-ring binder always at his fingertips. He would frequently pose a question to the class or write out an equation on the blackboard and explode like a supernova if a student answered it correctly.
Ralph Spitzen, a former student who now lives in Columbus, recalls that Armstrong would often challenge students to apply the blackboard equation to the elements of aircraft design. "He wanted us to know there was more to engineering than just math," Spitzen says. "Not to understate the math, but he knew the challenge was to use that math creatively. He valued creativity."
As part of his deal to come to UC, Armstrong received what was, in effect, a double office in Rhodes Hall. An assistant occupied the outer office with responsibilities ranging from keeping the press at bay to screening office visits and organizing the avalanche of photo requests that came in every day. Students always had priority.
By the time he arrived on campus, Armstrong's strong desire for privacy had been well-documented. Stear, who now runs the Embraer Jet Operators Association at Lunken Airport, didn't recall why students never asked their professor the obvious question—they just knew they weren't supposed to. "I learned more about the man after I graduated than while I was his student," echoes Dan Littmann, now a manager at Flight Dynamics in Tulsa. "He would talk about his test flights, but all that had happened on the moon? He just didn't talk about it, and we didn't ask."
Black, who is now a professor at UC and teaches some of Armstrong's engineering classes, noted Armstrong would occasionally bring it up "on his terms." That meant no generic "how did it feel to walk on the moon" query was allowed—but questions about the lunar lander's technology, spacecraft maneuverability, and moon geology were welcome. Armstrong, Black says, was "the classic introverted engineer" who considered getting to the moon the real story, not the two hours and 18 minutes he spent walking on the dusty surface.
---
Armstrong was a veteran spaceman, but a rookie professor at UC. And he knew it. Former professor Gary Slater remembers the day Armstrong came into his aircraft dynamics class and took notes in the back of the room so he could improve his technique. He also recalls that Armstrong had to drop the practice of posting grades outside his office. "People would rip them off the wall because his signature was on it," says Slater, laughing.
For a man who longed for privacy, the day in 1974 when Gina Lollobrigida came to UC must have been challenging. Armstrong had met the famous Italian actress on his post-Apollo around-the-world tour, and now here she was at Rhodes Hall. She had taken up a new career in photojournalism and was shooting a series for Ladies Home Journal of a man she marveled "did not lose his head…and should want to be completely unknown as if he didn't do anything."
As Armstrong's aircraft design course finished one afternoon, Spitzen remembers "this very special-looking woman" appearing in the doorway. Most of the all-male class didn't recognize Lollobrigida, but they were entranced. Armstrong matter-of-factly introduced her as if she were a visiting professor and then asked the students to change classrooms for the photo shoot. The magazine spread shows a relaxed Armstrong sitting on the edge of his desk chatting away.
While he was soft-spoken, relaxed, and deadpan humorous, Armstrong was also competitive. Black remembers a student-faculty happy hour in the Rhodes Hall basement lab, where Armstrong engaged in a death-match euchre game. "He was intense," Black says. "He took everyone to the cleaners and never broke his poker face."
"Yeah, that was Dad," says Mark Armstrong. "He was very competitive in a good-natured way. We played golf for years, and when I finally got better than him, he was fine with it. But do not try to beat him in horseshoes."
Armstrong was less popular with his fellow faculty, recalls former colleague Ron Huston, now a professor emeritus at UC. "Some of them felt he didn't belong there because he didn't have a Ph.D.," he says. "There was resentment about the size of his office and that he had a secretary."
It was also a dicey time on UC's campus, and relationships between the administration and the faculty weren't good. Professors were in the process of forming a union, and not only was Armstrong disinterested, says Huston, but his contract was structured to shield him from union recruitment. Armstrong had just a few friends on the faculty, but they included notable professors like George Rieveschl and Henry Heimlich.
Armstrong might have given up his spacesuit for UC, but not his derring-do love of the sky. In 1979, his last year of teaching, he and a copilot set a "time to climb" world record flying the new Learjet 28, rocketing from sea level to 15,000 meters (49,213 feet) in 12 minutes, 26.7 seconds. Enduring a strong headwind on the return flight, Armstrong relied on his creativity under pressure to squeeze out every drop of fuel and land safely. The next day, the plane ran out of gas as soon as technicians hit the ignition switch to return it to the hanger. Meanwhile, an unruffled Armstrong flew back to Lunken Airport, drove directly to campus, and taught his classes. Nothing special.
Armstrong's students paint a picture of a man comfortable in the classroom—an engineer first, a pilot second, a teacher third, and a forever-famous astronaut dead last. His son Mark agrees, adding "a father" to the list. But even his students, some of whom wept during my interviews as they reflected on Armstrong's impact, never quite got that "one small step" out of their minds.
"I remember getting into the flow of the class and, for the moment, he was just another professor," Stear says somewhat wistfully. "Then you'd look down just a few inches from where you were sitting, and you'd say to yourself, 'Oh my god, that's the foot and it's right there in front of me!' "
Facebook Comments