Among the pastel brick buildings and multicolored awnings that line Findlay Market's charming streets sits a storefront that's had seemingly no real significance for the past two decades—until now. After being vacant for more than 20 years, the doors at 126 West Elder Street are no longer locked, and on April 26, customers will once again buzz in and out of the newly renovated space for the grand reopening of Lucca Laser Workshop's new storefront.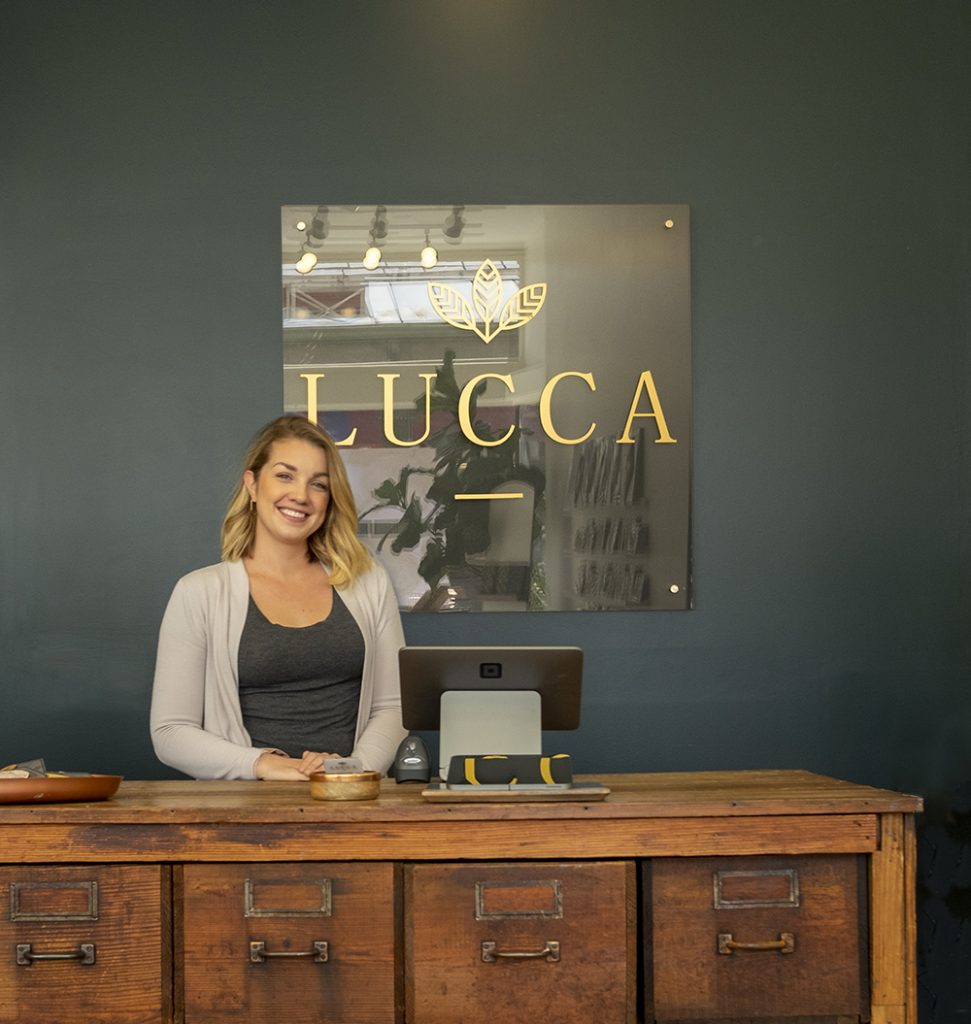 Formerly located on Main Street, the Cincinnati-based wood and paper laser design shop/studio was established five years ago by Lindsey Estes, whose father owns a machine shop in Sharonville. "He would teach me the art of putting logos on things," Estes recalls from her childhood."[In high school], I started creating all of my own products." In 2014, at 24 years old, she bought her own laser machines and launched Lucca Laser in her East Walnut Hills home to carry on her father's legacy. Breaking into the laser design industry, Estes says, wasn't easy, especially as a woman. "I think often times people just really underestimate my capabilities and aren't fully on board with my business plan," she says. Yet, she persisted, and today, Lucca Laser staffs a team of female machinists and employees who are capable and eager to work in the industry, including Estes's older sisters, who help with sales and production.
By January 2015, Estes's business had outgrown the top floor of her home, so she moved Lucca Laser into a Main Street storefront in Over-the-Rhine. Originally, this space served as a retail boutique and workshop. Customers could simultaneously browse wood and paper home decor and gifts and get a behind-the-scenes look at how each piece is designed and laser cut. But Lucca Laser quickly outgrew this space, too, and Estes realized she'd have to trade spaces in order to expand inventory. She considered closing the retail shop completely, but when she found a spot at Findlay Market that was triple in size, she says she knew it was the perfect fit. "I love Findlay Market; it's such a great community," Estes says. "I thought Lucca would be a cool little implementation into the market. You can come in during the day and pick out one of our custom boards, get it customized by us on the spot, shop for your food, and then come back."
The building's history is an added bonus. Originally built in 1863 and numbered 62 Elder Street, it's housed various local artists. Previous tenants include chinaware businesses in the 1800s, a millinery shop, and even John Breiner's dry goods store, an Over-the-Rhine icon. Estes says she's excited that Lucca Laser is joining this list.
Estes and her team packed up the former Main Street space at the end of January and have since been working out of her father's machine shop while the new space was completely renovated. With its grand reopening, Lucca Laser will introduce a new product line, including bigger custom items like furniture. Five new machines and two new employees have also joined the team. The Findlay Market storefront will still include a small studio, but it won't be Lucca Laser's primary workshop. Estes says she's already started looking for bigger warehouses. "I would really love to be close to Findlay Market and downtown and have production where I can hire more people and have more machines," she says.
Lucca Laser's retail sales comprise only 30 percent of total revenue. The rest stems from custom designs for local companies, such as Hotel Covington, Music Hall, Union Terminal, the Cincinnati Zoo & Botanical Garden, and Rhinegeist Brewery. "We have our own product line, but then we also develop many product lines [for other companies]," Estes says. "The possibilities of what we're able to make are endless."
Click through our gallery to see more photos of the new storefront:
126 W Elder St., Over-the-Rhine, (513) 214-0255, luccaworkshop.com
Facebook Comments