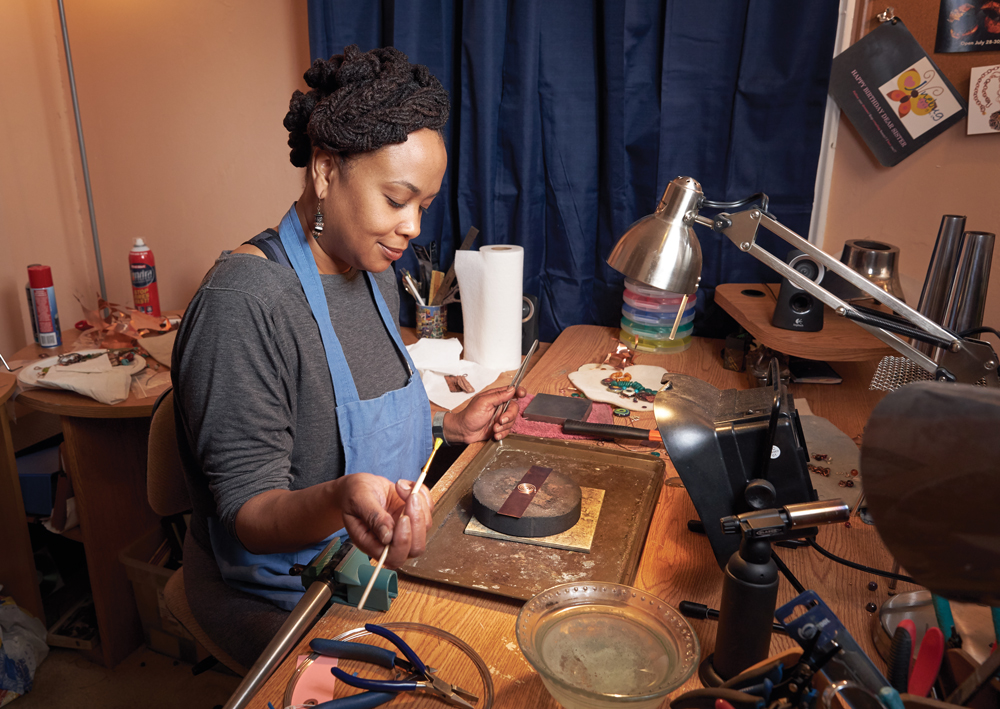 Cutting, heating, bending, hammering, soldering, antiquing, polishing—it's a lengthy process creating one of Dawn Grady's metal jewelry pieces, but the journey is everything to her. "The freedom and flexibility to literally start with a piece of sheet metal or one long wire and cut it, shape it, and solder it into something magnificent is addictive," she says.
In the past 11 years, Grady has grown Junebug Jewelry Designs (named after the childhood nickname her father gave her) from the ground up, starting with a UC
Communiversity bead-stringing class that grew into a lucrative hobby. Curiosity led her to metalworking, where she found her true passion, and she gradually developed her skills watching YouTube tutorials and taking classes with master metalsmiths in Philadelphia. Now she sells her jewelry online and in Mortar's Brick pop-up in Over-the-Rhine.
Working primarily in copper and Argentium silver, she creates intricate, wearable works of art, and no two are exactly alike. The final designs manifest organically, taking detours from her original concepts. "I let [the metals] talk to me and tell me what they need to be," she says. Grady harnesses the science behind metalworking to manipulate finishes and shift the entire look: oxidizing copper with mustard to give it a green-tinted patina, torching copper to create an iridescent rainbow effect, or adding liver of sulfur to silver to give a faux aged look. Grady still works a day job in PR but hopes to soon make her business a full-time gig. "I would do it even if I never sold anything," she says.
Facebook Comments