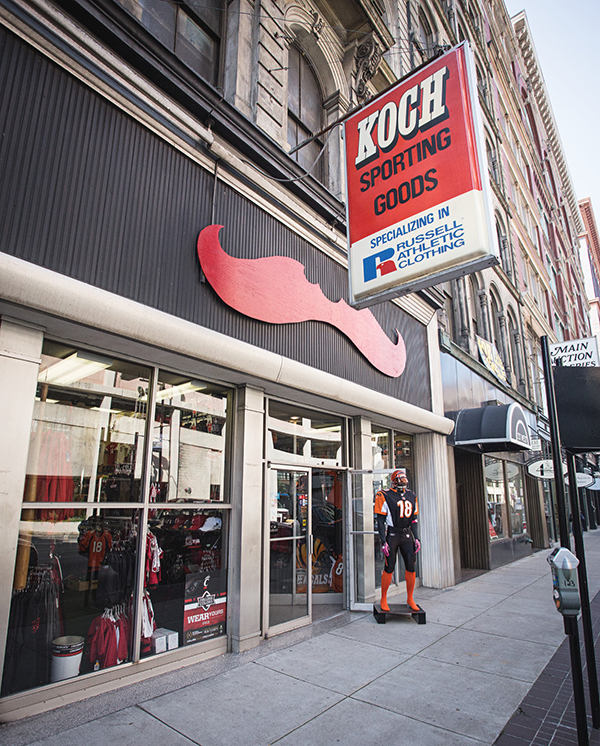 It's become an unofficial mascot, the seven-foot mannequin in full Reds or Bengals uniform propping open the front door of Koch Sporting Goods on West Fourth Street. "He's an icon," says owner Greg Koch. Much like the store he stands guard for.
Koch is the paragon of our local sporting goods culture, the preeminent spot for everything from shoulder pads to a Bearcats stocking cap—which is a pretty stark transition from its early years sewing theater curtains destined for New York City. The company started as Hoffmeister Braid in 1888, an embroidery business housed in the old Cincinnati Traction Building. Edward Maximillian Koch, great-grandfather of Greg and a tailor at Hoffmeister, bought the company in 1891. "Sporting goods didn't exist then," says Greg.
It wasn't until the 1960s that Koch became a traditional sporting goods business, providing uniforms and equipment to youth and high school teams around town—and by the early '70s, to the Reds and Bengals. This was before licensing, before brands were paying millions of dollars to slap a logo on every jersey, and in turn, before retail was a viable option. Greg, however, saw potential. Taking on a larger role in the late '70s after graduating from UC, he wanted more than a warehouse of uniforms and equipment. "People always saw team and retail as two separate things," says Greg. "I thought putting them together was the way to go."
As the uniform business trailed off over the next few decades—with pro, college, and even high school teams stolen away by branding deals—the retail business soared. Today, the breakdown is roughly 50/50. "People are crazy about this now," says Greg, motioning toward his wall of team hats, racks of Reds T-shirts, and enough Bengals jerseys to outfit his own 53-man roster.
It's still a one-stop shop, though. Retail is contained on the ground level, but Koch inhabits all five floors of its building, with on-site silk screening, embroidery, and inventory. If you walk in and ask for 500 printed shirts by tomorrow, they'll simply ask what color you want. It's allowed them to continue doing business with the Reds and Bengals—small, immediate jobs, like stitching the nameplate on a Reds jersey for an impromptu minor league call-up—and a big reason why the shop has stayed downtown. "You need to have everything in one spot, and we're right here in the middle," says Greg. "This is the best place to be."
Facebook Comments