Cincinnati Magazine presents Savor Chef's Table
April 11–14, 2023
6–10 p.m.
An unforgettable dinner series featuring one-time only menus from two Cincinnati chefs each night.
Cincinnati Magazine's four-night dinner series returns to celebrate the Queen City's robust culinary scene. Each night, we pair two celebrated chefs from different restaurants and challenge them to design a five-course meal featuring items not available at their restaurants. Courses are paired with wine and will never be available again. At Savor Chef's Table, we throw open the kitchen door and invite the chefs to show our guests the final prep and plating of each course for a truly once-in-a-lifetime experience.
First Course
Tostada with Smoked Andouille, Black Bean Crema, Pickled Peppers, and Micro Cilantro
Second Course
Potato Leek Soup with Crispy Pork Belly, Herb Oil, and Vinegar
Third Course
Sea Trout with Bean Ragu
Fourth Course
Pork Tenderloin with Brown Butter Apple Puree, Pickled Apples, Carrots, and Squash
Fifth Course
Passion Fruit Cream Filled Puff with Passion Fruit Jam and Edible Flowers
First Course 
Sopa De Moros, Smoked & Confit Onion, Lime & Cumin Crema. Tajin Spiced Plantains
Second Course 
Gulf Shrimp Ceviche, Corn & Rice pudding, Avocado, Tomato Jam, Peruvian Puffed Rice
Third Course 
Arroz con Queso Croquettes, Lamb Neck Barbacoa, Butter Greens, Radish, Lamb Fat Vinaigrette
Fourth Course 
Medianoche, Berkshire Pork Tenderloin, Swiss Mornay, Ham Jus, Aji Amarillo Mustard, Pickled Vegetables
Fifth Course 
Flan Napolitano, Guava Caramel, Churro Spiced Puff Pastry 
First Course
Tapioca Dumplings with Shrimp and Prosciutto with Rhubarb Fish Sauce, Lion's Mane, Jicama, Chives, Watercress
Second Course
Ragout de Langue do Boeuf with Pickled Carrot, Taro, Wood Sorrel
Third Course
Crispy Skin Pork Belly with Vietnamese Coffee Red Eye Gravy, Beans, and Radish
Fourth Course
Earthy Delight with Seaweed Simple Syrup, Unsweet Longan, Fungus, Barley, Jujube, and Ginger
Fifth Course
Assorted Cheeses with Red Papaya Custard and a Buckwheat and Sorghum Brittle
Friday's menu is coming soon!
Presented by Our Sustainability Partner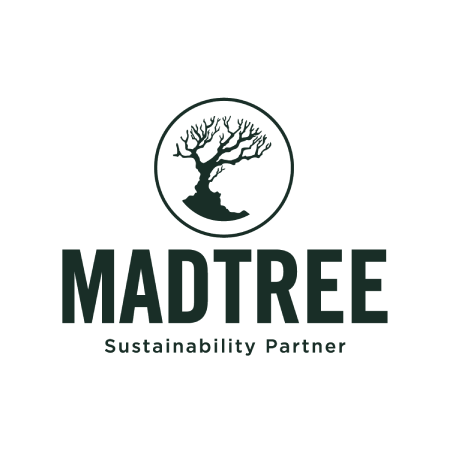 "We embrace our name MadTree and work to celebrate and protect nature, while reducing our impact on the environment. We are proud members of 1% For the Planet, with a commitment to donate 1% of our sales to non-profits focused on environmental sustainability."
A Special Thanks to Our Presenting Sponsors
Thank You to Our Savor Sponsors
See Photos from Savor Chef's Table Fall 2022!
Entrance to the event constitutes permission for Cincinnati Magazine to photograph and film you while on the premises and to use those pictures and videos for any lawful purpose without providing you any compensation.