Just three weekends a year each spring, summer and fall, a former Clydesdale horse farm in Lebanon, Ohio transforms into a 56–acre vintage wonderland. When shoppers, affectionately known as "Charmers," arrive at Charm at the Farm Vintage Market, they are awed by the plethora of vintage, handmade and repurposed items from more than 115 local and national vendors. Whether it's rustic furniture, statement jewelry, home decor, or clothing, Charm offers unique and trendy pieces that can't be found elsewhere.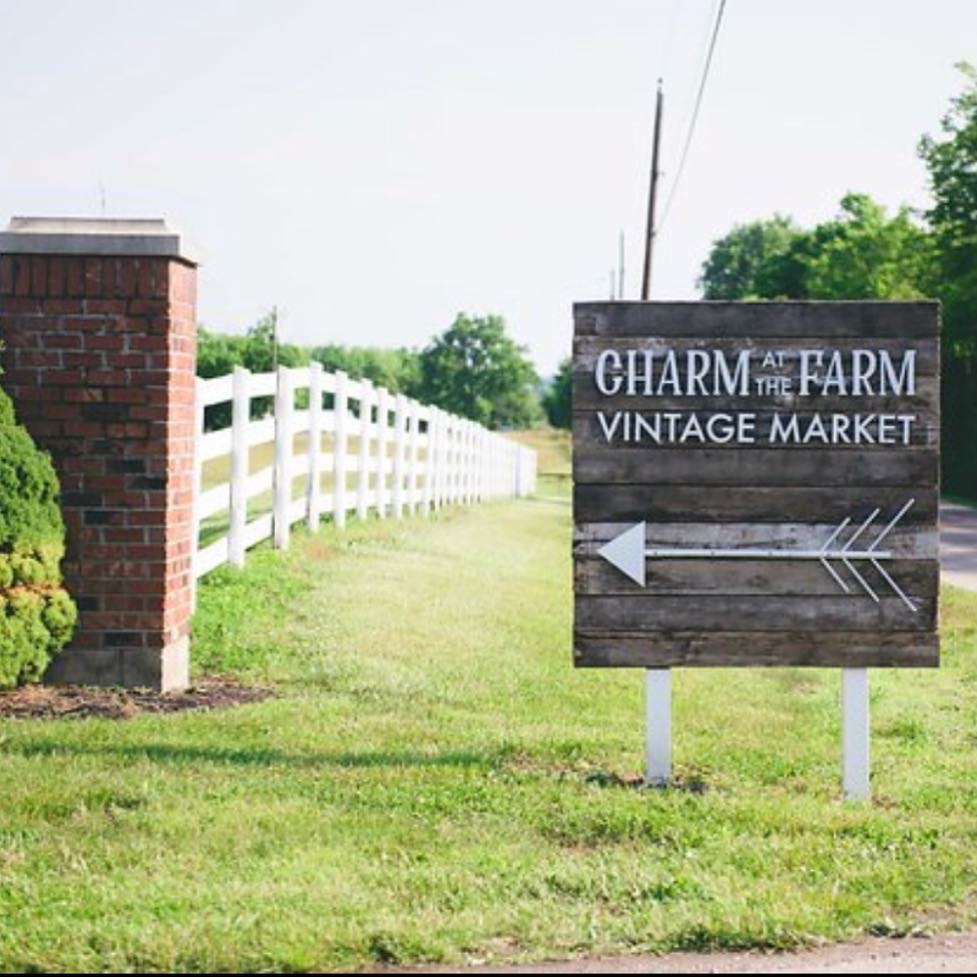 "We love unique one-of-a-kind pieces," says co-owner Amy Doyle. "That's the thing about vintage, each piece has a story.  Our vendors have done the hard work to find them for you to enjoy."
In addition to shopping, guests can also take part in the creation process. Charm at the Farm provides exclusive DIY sessions, where vendors teach guests how to make handmade items; from door mats to string art and succulent pots to wooden signs (and even slime for the kids). Some vendors who sell large items like industrial or farmhouse tables will also work with guests to create custom versions to fit their home's style.
Each year, Charm at the Farm aims to provide a different experience than the last. This year, guests can expect to see additional national vendors, a new venue-wide sound system for giveaway announcements, and even more vintage and repurposed treasures than ever before.
Here are the top 10 decor trends to look out for at Charm at the Farm Vintage Market this June 21–23, August 23–25, and October 18–20.
Tickets range from $5 to $15 and may be purchased at charmatthefarm.com.
1. Unique lighting
"Light fixtures are one of the first things you notice in a room. Choosing ones that are unique and made from repurposed pieces will completely change a room for the better," co-owner Jayme Kuenkel says.
2.Vintage seating
"The perfect vintage chair can give a space just the right amount of character," Amy says.
3. Lots of drawers and cubbies
"Jayme and I have a hard time saying no to any piece with drawers and cubbies!" Amy says. "It's the perfect amount of storage, decorating, and organization."
4. All the textures
"We love adding texture to a room," Amy says. "It's the perfect way to complete your space."
5. Tablescapes
"This five-row Harvester from Union Farm Goods is the perfect piece!" Amy says. "There's something to be said for a piece that can be used year round; I just change out for each season and my table looks amazing all year long."
6. Customized statement pieces
"Why buy a table from a chain store when you can have one customized to meet your personal taste and family's needs?" Jayme says.
7. Pops of florals and greenery
"The right amount of florals and pops of green can complete your look without costing a lot of money," Amy says.
8. Vintage mirrors and frames
"Vintage frames and mirrors have such a unique look to them," Jayme says. "They add such character anywhere you put them."
9. Fun signage and pillows
"Your walls and couches can be your blank canvas," Amy says. "Find the signs, artwork, and pillows that grab your eye, have a meaningful saying, or just a cool look and enjoy."
10. Vintage accents
"Look for pieces that speak to you and don't hesitate to get them," Jayme says. "They will add just the right touch to make your space unique. You won't regret it!"
Facebook Comments