1224 Ida St., Mt. Adams, $635,000

"If that house ever goes on the market, I want it." That's what Judi Cettel always said when she drove past this Mt. Adams three-story on Ida Street. In 1976, fate called; on a blustery day in February, she and her then-husband moved in.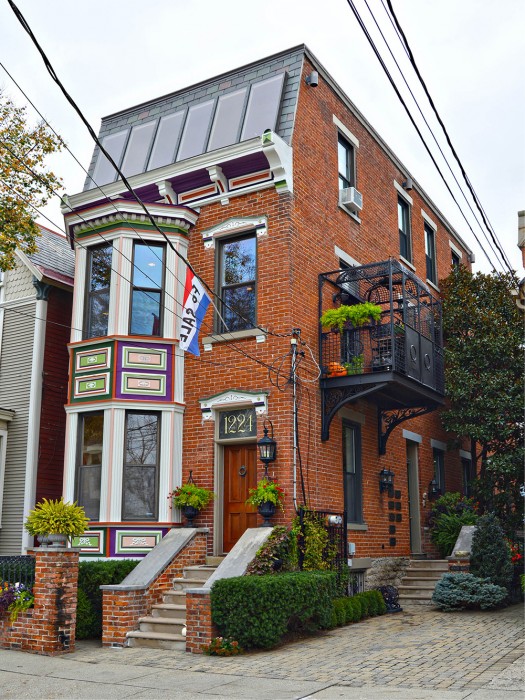 The interior was "kind of a shell," Cettel found when she first set foot inside, plus one of the windows in the mansard roof was broken, so during winter storms the central staircase filled with drifts of snow. Outside, the front stoop had been replaced with a rusting metal staircase. But Cettel saw opportunity. Since the place was pretty much gutted, she figured she could lay it out any way she wanted. Accordingly, she placed the kitchen and the family room in the front of the house (on the second and third stories, respectively) to take advantage of the home's sweeping downtown views.
All told, renovations lasted five years. Broken windows were replaced and the whole front half of the third floor was elevated 15 inches to make the view more accessible. A balcony that iconic Mid-Century Modern architect Carl Strauss designed using an iron Otis elevator cage was hung just off the main kitchen. Plus, the first floor was made into a mother-in-law-style suite, complete with two bedrooms, a bathroom with laundry, and its own galley kitchen (it could easily be rented as a separate unit, notes Cettel).

Outside, dimensional tin panels on the 1877 home's exterior bay windows were restored and painted in bold colors. A stone-paved side garden was added, too, and the rickety metal staircase out front was replaced with stately limestone steps. In the backyard, a long-term care program was set in place for a huge centenarian mulberry tree that straddles the lot's northeast corner. A visiting psychic once told Cettel the tree was grateful for her care. We're betting the house feels the same way.
Scroll through our gallery to see more photos of this Mt. Adams gem:
Facebook Comments