To say the current homeowners gutted this circa 1865 building is an understatement. Formerly three decaying row houses and a delicatessen with a flat, pale blue facade—and overrun with feral cats—the structure looked nothing like it does now when they bought it. The years-long transformation almost didn't happen when a neighbor protested the design, which included a tower partially obstructing another home's city view. But "we told the city: 'No tower, no building,'" says the current homeowner. The neighbor relented, and this three-story standout on Baum Street in Mt. Adams, designed by architect Thomas Arnold—tower and all—was completed in 2000.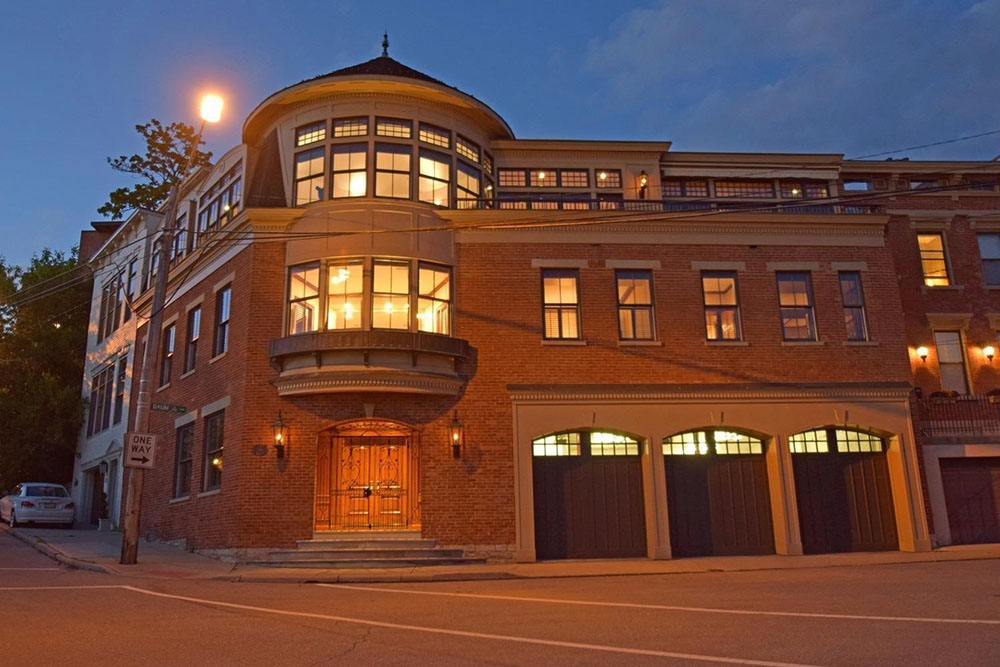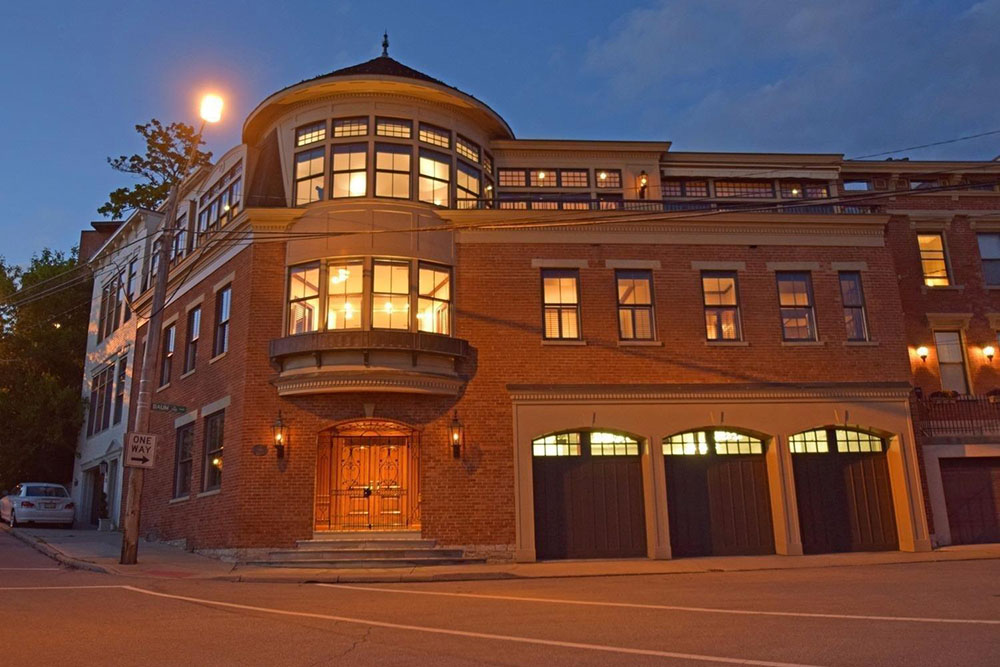 ---
Outside, three arched garage bays give the building street presence and an old-time firehouse feel; the front entry is equally enchanting with intricate wrought-iron gates and a hidden valet compartment that's perfect for dry cleaning and deliveries, says listing agent Kathy Comisar. The current homeowners also paid to have a local streetlamp relocated so passers-by could enjoy the light from two gas lamps flanking the front door.
Inside, the main staircase leads from a street-level foyer to an octagonal landing on the second floor, where you'll find all the bedrooms, and a grand paneled great room just above that—arguably the home's most eye-catching space, thanks to the domed ceiling and tower windows with near-panoramic downtown views. Other fun features include an elevator, a built-in cigar bar, an abundance of wood paneling and an adjacent one-bedroom apartment on Monastery (think "in-law suite," says Comisar).
---
For years, this property (which was under contract at press time) and others nearby fell in the shadow of the Mt. Adams incline—a nearly 1,000-foot-long funicular railway that carried vehicles daily to and from Mt. Adams. Save for a few chunks of foundation wall a block or so away, the incline is a distant memory now, and many of the neighborhood's original homes have been razed in favor of new construction. Maybe that's why we're so fond of the way Arnold made this home look older than it is; progress is inevitable (and this case desirable), but sometimes more palatable when it pays homage to the past.
Facebook Comments