Photograph by Devyn Glista
Cincinnati brothers Abram and Ben Dombar apprenticed under Frank Lloyd Wright in the 1930s; afterward, each returned home to practice what he had learned. Together and separately they designed hundreds of Mid-Century Modern homes here. This four-story gold hexagon with redwood trim holds special significance, as it was Ben Dombar's personal home.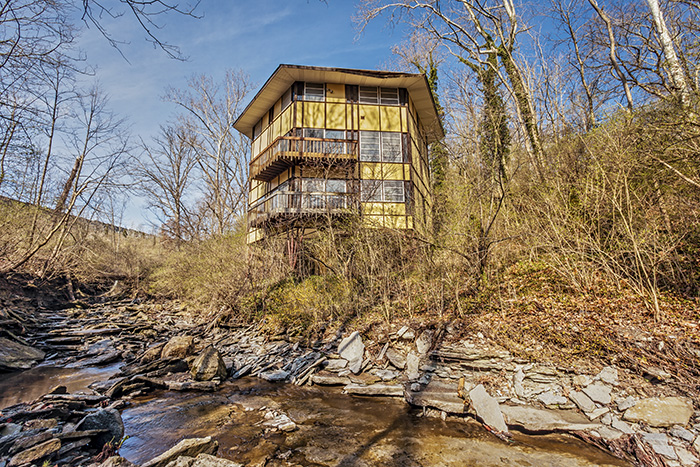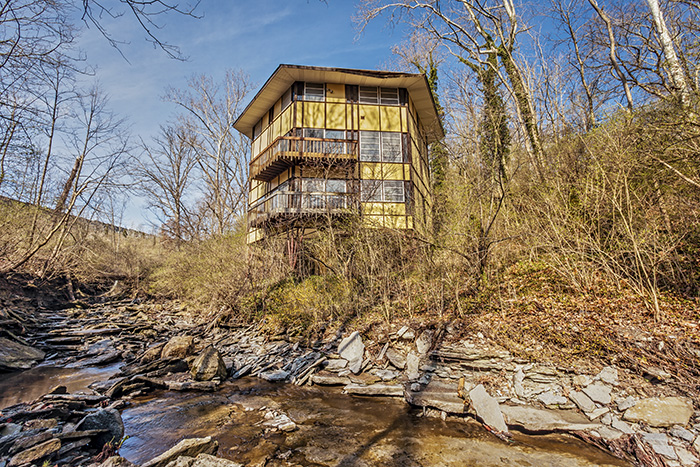 ---
Dombar started building the self-designed Springfield Township structure in 1967 with help from a local construction company. All of the stone used in the house  was selected from the adjacent Congress Run Creek bed and installed by the Dombar family themselves. Ben made the concrete art panel over the fireplace, too, and fitted the place with the top technology of its day, including central vacuum and Nutone intercom systems.
The home's main, second-floor entry is accessed via a wooden bridge-style walkway. Inside, each 1,200-square-foot story can be accessed by a circular, floating staircase and has a distinct design and purpose: the bottom level allows access to the banks of the neighboring creek and houses mechanical systems; the first floor held Dombar's studio; the second, the master suite and living/dining areas; and the third, additional bedrooms for his three daughters. There's also a crow's nest up top—an unfinished space that can only be accessed by pull-down ladder.
This home and a handful of neighboring properties are set on a rare parcel of virtually untouched forestland that closely abuts the Ronald Reagan Highway and its Galbraith Road interchange. The creek's rushing waters mask the traffic noise, though, and the surrounding greenspace hides the road most of the year. The home, which has had two owners since the Dombars, is a foreclosure that's currently under contract.
"It's kind of a homemade house," an 83-year-old Dombar once said in an Enquirer article about the place. Today, in an era of McMansions and pre-fab, "homemade" sounds pretty appealing, even if it does need a little TLC.
Facebook Comments