Three years ago, Natalie Gregory got in on a hot new real estate trend by starting WheelLife to build micro homes on wheels. When clients started asking for permanent tiny homes with poured foundations, she started up RealLife and began building those instead (with help from VP of construction Charlie Pond and Architect Hap Pendleton). RealLife's first model home—a 700-square-foot Newport, Kentucky, ranch built just this year—was so popular, says Gregory, it attracted nearly 50 buyers at an open house and quickly sold. Below, she shares why her company's tiny homes give buyers "a pretty big bang for their buck."
How did you get into the micro home business?
I was in need of a house, but in my price range all I could find was an older house that needed work. And I thought, Why is there no product out there for brand new construction that is affordable? Like little luxury homes?
What amenities come standard with your "little luxury homes?"
I always hated how homebuilders make everything extra, so we try to make everything included—outside [features] cedar, stone, and this cool, innovative metal, and inside [are] luxury vinyl planking flooring, granite countertops, custom shower tile, energy efficient and stainless steel appliances, a cool electric fireplace on the wall, and vaulted ceilings and skylights. Our standard two-story even has an awesome rooftop deck.
What's the price range on a brand new tiny home?
We have two models right now: the Newport ranch and a two-story, being built right across the street. The ranch was about $169,000 (with a basement it costs a little more). And our two-story model will probably cost more around $230,000. Also, the utility bills are amazing on a house like this.
How long does it take to build a micro home?
From start to finish it would probably take about six months.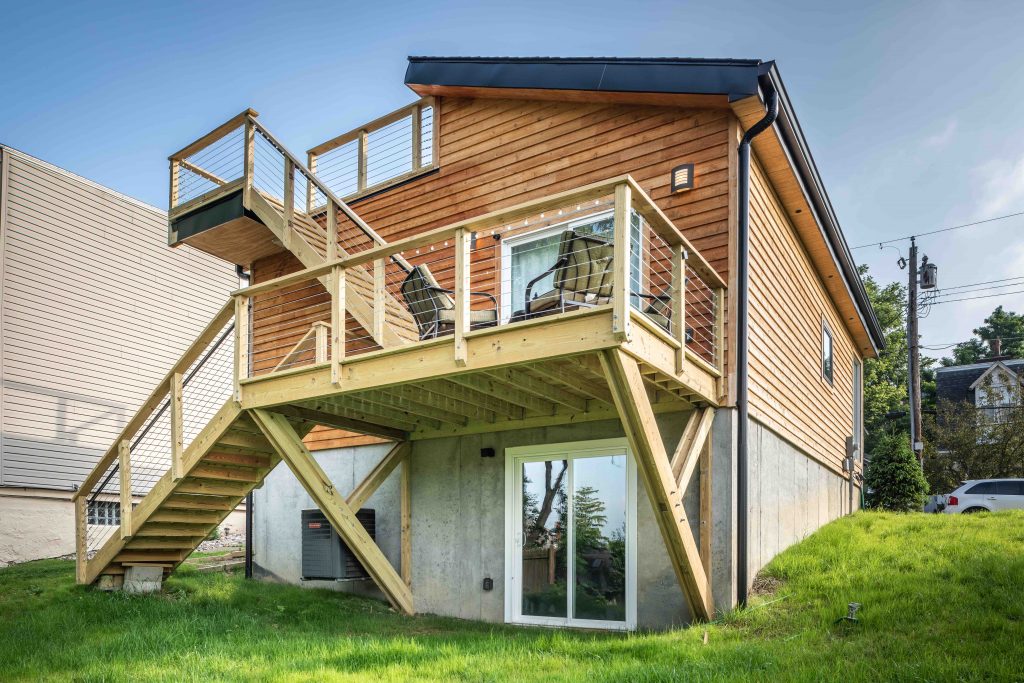 Can buyers customize their home plans?
We try to keep the [footprint] the same, but our architect will tweak it to what they want. The cool thing is we can change the facades easily. [The ranch] is pretty contemporary, but if you like farmhouse style, we can change the pitch of roof and facade to look that way. A lot of people like that flexibility.
Who's buying tiny homes?
I thought it would be millennials, which some were, because the mortgage on our model is way cheaper than what half of them pay in rent, plus banks have such great deals for first time homebuyers. But actually, it's a total mix of every demographic. A lot were middle-aged, no kids. One's single, a coach at NKU. One we're getting ready to build for is an older couple who don't want to be in condo anymore. A lot of people didn't want the condo thing; they wanted a smaller home they could keep up with, but with the nice finishes they're used to.
Where can buyers build one of your tiny homes?
We'll go anywhere in the tristate. If they have their own lot, great. If not, we have access or rights to about nine lots on Vine street in Newport. We're under contract to redevelop a trailer park in Bellevue with 20 lots for our tiny houses. On the Ohio side, we [have access to] five lots in Camp Washington. And we're realtors as well, so we can find lots if they want.
Facebook Comments